Have you adopted a mindset of continuous improvement for your job search?
If your job search skills are a bit rusty and you aren't getting results, then it's time to add some new tricks!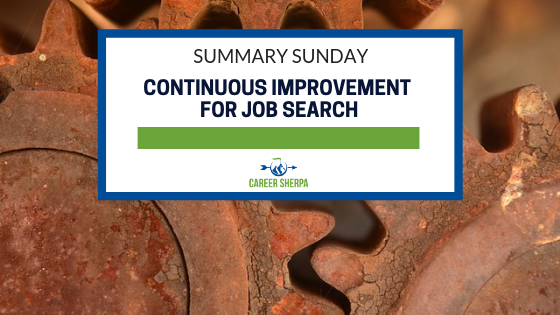 The methods and processes companies use to source and recruit candidates to fill jobs changes over time. Your job search strategies need to adjust too!
This week's summary featuring advice to help you embrace networking, especially if you are an introvert, how to interview better and enhance your LinkedIn profile. Plus you'll find a list of top recruiting firms and assessments to help you find the perfect career!
LINKEDIN
Five Powerful LinkedIn Features That Will Help You Stand Out Online
by William Arruda | Forbes
Follow some or all of these suggestions for what you can do to set yourself apart from the millions of people on LinkedIn!
NETWORKING
How to Make Connections That Count — Advice From a Silicon Valley Veteran (and Introvert)
by FirstRound
This article/interview features Karen Wickre, author of Taking the Work Out of Networking, and one of the most connected veterans of Silicon Valley. She provides 3 no-pressure networking strategies and tons of advice on how to comfortably network!
RECRUITERS
America's Best Executive Recruiting Firms
by Forbes
This is a list of the top 200 executive search firms specialized in filling positions with salaries of at least $100,000. You can sort by state. Keep in mind, some recruiting firms specialize in industry or role. Always check the listings on the firm's website to see what types of jobs they are recruiting for. And most importantly, remember that recruiting firms work on behalf of the company… not you. They will be interested in you only if you have the skills/expertise that matches the jobs they are trying to fill.
INTERVIEWING
Is This the Reason You Keep Getting Interviews That Don't Turn Into Offers?
by Lea McLeod | The Muse
Stop making this mistake during your job interviews! By following these tips, you'll win over the interviewer, not just answer their questions.
SOCIAL MEDIA
How To Do A Social Media Audit Before A Job Interview
by Ashira Prossack | Forbes
It's surprising how much damaging information is out on the internet about people. What's even more surprising is that you aren't checking or doing anything about it. Implement these three things and you'll change the way you approach your next job interview.
CAREER
These 6 Career Quizzes Could Help You Find Your Dream Career
by Ludmila Leiva | Refinery29
People often want to make a career change but don't know what career they should move into. Use one (or more) of these assessments to find your dream career.
4 Small Daily Habits That'll Have a Big Impact on Your Career
by Alyse Kalish | The Muse
I know you are busy doing your job…but these applying these 4 habits will make you smarter and more marketable!
IN CASE YOU MISSED IT
Here's How to Ask for a Raise Today | US News & World Report On Careers
My newest article provides tips on how to ask for an increase in salary.
Milestone
I hit a Twitter milestone this week! And I earned every single one of these followers organically. I never paid for followers. I just tweet great stuff about job search, careers and workforce trends!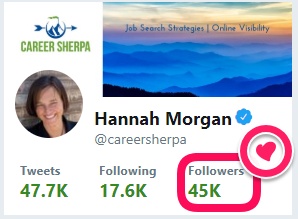 Hannah Morgan speaks and writes about job search and career strategies. She founded CareerSherpa.net to educate professionals on how to maneuver through today's job search process. Hannah was nominated as a LinkedIn Top Voice in Job Search and Careers and is a regular contributor to US News & World Report. She has been quoted by media outlets, including Forbes, USA Today, Money Magazine, Huffington Post, as well as many other publications. She is also author of The Infographic Resume and co-author of Social Networking for Business Success.