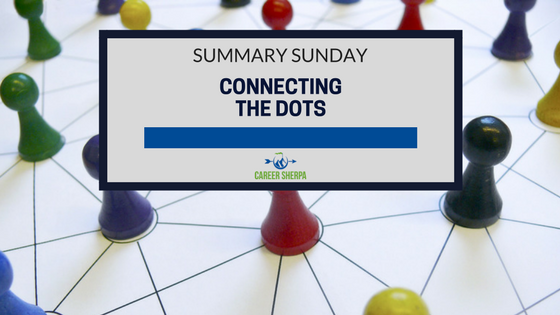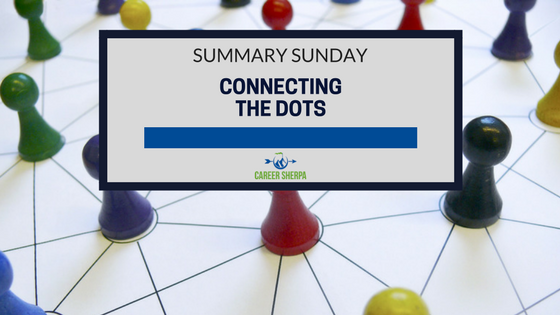 The better you are at connecting the dots between what you offer and what an employer is looking for, the greater your chances of landing the job. 
That's the theme of this week's collection of posts. And honestly, it isn't just about landing a new job, it's about learning how to show your value in terms that are meaningful to your audience. Master how you communicate your value and see what happens. I really believe this concept is one of the secrets to your success throughout all aspects of your career.
LINKEDIN
6 Things You Must Have In Your LinkedIn Profile
by William Arruda | Forbes
You owe to yourself (and your career) to review this list of must-haves! Your LinkedIn profile should stand out and represent YOU.
RESEARCH & SELF-ASSESSMENT
10 Tools to Identify Skills to Feature on Your Resume
by Donna Svei | Avid Careerist
These are 10 ways to get to the heart of your skills. The better you can match up your skills with what the employer is looking for, the greater your chances of getting noticed! Self-knowledge is pretty powerful and key to sending the right message! One of the things I like most about this helpful article is the fact that Donna has consulted with career practitioners to come up with their list of recommended resources for skill identification!
by Career One-Stop
When you are thinking about trying something new or someone suggests you look into a new type of job, how do you learn about it? Thanks to Career One-Stop, there is now a library of occupations so you can get information about skills, education, salaries and more!
PITCH
2 Ways to Create a 1-Line Elevator Pitch (That'll Make People Want to Keep Talking to You)
by Priscilla Tan | The Muse
There's no need to be boring or formulaic when introducing yourself.  The secret to a good pitch is to make it interesting. Read how!
JOB SEARCH
How To Find (And Land) Your Next Remote Job
by  Leah Ryder | Trello Blog
Identifying legitimate work-from-home jobs is getting easier. More companies are offering remote jobs and these resources should help you find them. If you haven't considered working virtually, this is just another option to increase your pool of opportunities.
PS: If you haven't heard of Trello before, it's a great project management tool!
Best Professional Recruiting Firms
by Forbes
If you want to add recruiters to your job search strategy (and you should), then here's a list of some of the best firms that do recruiting. It doesn't matter where the firm or recruiter is located. What's more important is their area of expertise or the types of industries or companies they specialize in. Too bad the list doesn't include that information. It's still a good place to start.
Value Blockers: What's Keeping You from Getting Hired?
by David Shindler | YouTern
If you have been applying for jobs, but not landing job offers, then perhaps you need to look at the five things that could be preventing you from best showing what you can do! If you haven't thought about these things (value-blockers), you should. It will make a huge difference in how you present yourself.
MENTIONS
Every once in awhile, I get to do some very cool things! On Friday, I was in NYC at the Skillshare offices for a video shoot. Skillshare is an online learning platform where you can take a variety of classes online.  I was fortunate to be invited by about.me to teach a class on personal branding.
Stay tuned…

Hannah Morgan speaks and writes about job search and career strategies. She founded CareerSherpa.net to educate professionals on how to maneuver through today's job search process. Hannah was nominated as a LinkedIn Top Voice in Job Search and Careers and is a regular contributor to US News & World Report. She has been quoted by media outlets, including Forbes, USA Today, Money Magazine, Huffington Post, as well as many other publications. She is also author of The Infographic Resume and co-author of Social Networking for Business Success.