You communicate in writing and while speaking but how strong are your skills, really? Communication skills are one of the top skills sought by employers.
This week's summary is all about how to communicate and socialize better.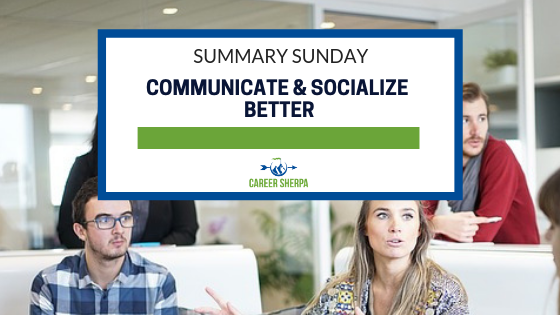 Smartphones today may not be making us smarter, but they are convenient. The problem is that these phones are hurting our communication skills and how we socialize.
The way you communicate via email, text or social media is evaluated by recruiters and hiring managers. And your face to face communication is how people you meet decide whether they like you or not. What's the root of your success? Your communication skills! So let's communicate and socialize better!
You'll find communication tips to help you write about yourself more clearly and convincingly by learning what to put in your LinkedIn profile (and what not to include), how LinkedIn is different from your resume and how to list your educational information on your resume.
You'll also find advice on how to socialize with a memorable pitch and how to use LinkedIn to expand your network. Plus get tips on what you should do while waiting for a response after an interview.
LINKEDIN
Experts Debate LinkedIn vs. the Executive Resume
by Meg Guiseppi | Executive Career Brand
Is the resume is dead, or dying? Read the summary of responses provided by expert resume and LinkedIn writers. You may walk away with a new perspective.
LinkedIn Branding Tips: Should I Indicate on My LinkedIn Profile Status Update That I am Unemployed?
by Neal Schaffer | NealSchaffer.com
If you are unemployed and looking for a new job, you have to read this! It is just one perspective on why you should NOT broadcast to your network that you are unemployed. What I think Schaffer also means is that you should not include that you are unemployed in your profile's headline or summary.
NETWORKING
The Best Ways to Use Social Media to Expand Your Network
by Doug Camplejohn, VP of Product Management @ LinkedIn | Harvard Business Review
Your network needs to be grown carefully and strategically. But how? Get tips from a senior LinkedIn employee. (He works there, he ought to know how LinkedIn works, right?) And while the title says "social media," it is really about how to use LinkedIn to expand your network.
RECRUITERS
How to Add Recruiters to Your LinkedIn Network (with Sample Messages)
by Jeff Lipschultz | Job-Hunt.org
You should know that almost all recruiters DO want to connect with potential candidates. Especially those with skills they recruit for. (It's been my experience that recruiters are more willing to connect than HR.) This article delivers a sample message you can send when you connect with recruiters, plus it's packed with information and tips to use LinkedIn more effectively.
JOB SEARCH
What Recruiters Want to Know About Your Education
by Donna Svei | Avidcareerist
I don't write about resumes…I don't even like mentioning them because there are so many experts, such as Donn, who do. Here she addresses what information to include in the education section of your resume.
How Long Should I Wait For a Job Offer?
by Lisa Rangel | Chameleon Resumes
We've all been there… you had an interview and you haven't heard back yet (and it's been a couple of weeks). What do you do? Please go read Rangel's advice.
PITCH
Sam Horn: Meaningful and Memorable Engagement
by Sarah Johnston | Curated Career Conversations, LinkedIn
The key to being memorable and engaging in your job search starts with how you introduce yourself – your pitch. This interview with Sam Horn, award winning author and CEO of the Intrigue Agency, will teach you a thing or to about how to communicate. And I hope you will take an extra 14 minutes to watch her TED Talk (linked in the article).

Hannah Morgan speaks and writes about job search and career strategies. She founded CareerSherpa.net to educate professionals on how to maneuver through today's job search process. Hannah was nominated as a LinkedIn Top Voice in Job Search and Careers and is a regular contributor to US News & World Report. She has been quoted by media outlets, including Forbes, USA Today, Money Magazine, Huffington Post, as well as many other publications. She is also author of The Infographic Resume and co-author of Social Networking for Business Success.