When you take initiative to manage your career, you start building a name for yourself, or as I like to call it, building a reputation of excellence.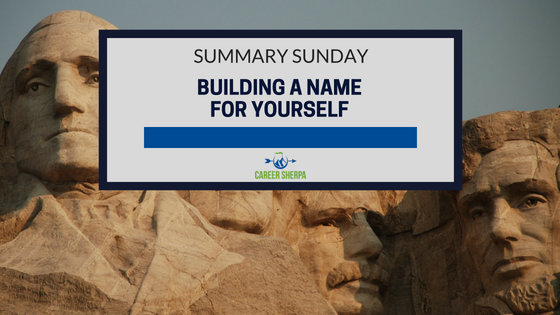 You'll find all kinds of ideas for standing out and building your personal brand. You'll also find tips to interview better and manage your career better. I hope you find this collection helpful – no matter where you are in your career.
This week, I'm trying out a new-old tool, Embedly, to display the links to articles I'm sharing. They may not show up so well in the email version, so if you're having difficulty seeing the articles, please come to the article on my website.
PERSONAL BRANDING
A few months ago, my friend Tim took a new sales job at a Series C tech company that had raised over $60 million from A-list investors. He's one of the best salespeople I know, but soon after starting, he emailed me to say he was struggling.
I've heard that this does work for job seekers! Are you up for the challenge of creating one of these slidedecks during your next interview? OR perhaps posting it into your LinkedIn summary?
As content creators, we're always looking for new ways to become more productive, not only in the process of creating content but also how it is communicated. For example, when we create content without brainstorming or outlining, we risk making …
What about showing a process your created or streamlined? Or how you troubleshoot? You can create a visual and add it under the job on LinkedIn as a picture. Just be sure to mention it in the description you provide. Also be sure to name it appropriately. Think about what the reader would want to know.
12 min read Opinions expressed by Entrepreneur contributors are their own. If you aren't fully committed to building your personal brand yet, it's time to go all-in. I'm a huge advocate when it comes to personal branding — it's how I built my first marketing agency.
Try any or all of these tips to elevate your personal brand.
CAREER
There's a strong positive relationship between how much people learn on the job and how much they love their job.
We aren't all good at setting goals, but that doesn't mean we can't be successful. One of the most beneficial and rewarding things you can do at work is to learn new things! These are great questions to ask yourself every 2-3 months. As a leader, asking these questions will help you get more out of your employees!
We've all been there-your day is going poorly and it feels like it will never end. Worst of all, it feels like you can't do anything to make it better. But that's not entirely true. This strategy won't solve all of your problems, but it's a creative way to turn a rough day into a fulfilling one.
Because we've all had bad days…get a little help pushing through or turning the day around!
JOB INTERVIEWS
When it comes to job interviews, there are so many things you can predict: the date, time, place, etc. Many of us, though, don't lump the questions the interviewer might ask in the predictable category. However, once you know the most common job interview questions asked, the better you can predict, and prepare.

An easy way to improve your interviewing skills is to prepare well in advance of an interview. Yes, you can do that by practicing your answers to these questions.
LINKEDIN
Are you stuck in a dead-end job? Not making the money you deserve? Just need a change but afraid your boss will find out if you start looking for a new job? Linkedin is the perfect tool for the discreet job seeker.
If you are a passive job seeker, in other words, you are open to new opportunities and are just waiting for jobs to find you…you may want to try some of these tips.
JOB SEARCH
Candidates don't care about every part of your job description equally. In fact, there are whole sections they pretty much ignore-and other parts where they're hanging on every word and hungry for more details. Knowing the difference can help you write more effective job descriptions. We created a heatmap study to help find out.
Job seekers, do you agree? This should help HR write better job descriptions. Let's hope we see more effort to accurately describe the role and what they are looking for.

Hannah Morgan speaks and writes about job search and career strategies. She founded CareerSherpa.net to educate professionals on how to maneuver through today's job search process. Hannah was nominated as a LinkedIn Top Voice in Job Search and Careers and is a regular contributor to US News & World Report. She has been quoted by media outlets, including Forbes, USA Today, Money Magazine, Huffington Post, as well as many other publications. She is also author of The Infographic Resume and co-author of Social Networking for Business Success.