Isn't time you brush up on the basics of job search?
To stand out in today's job search, you will need to master the basics of job search. Sadly, these skills are seldom taught or sought out, that is, until they are needed.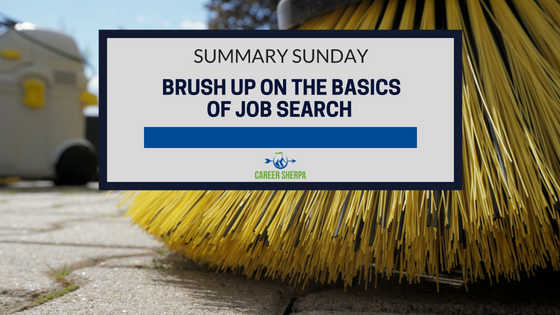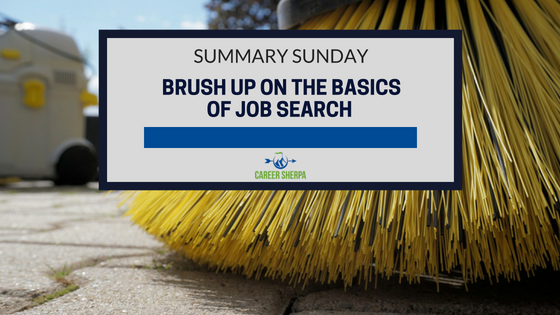 This week's collection of articles will help new grads or those new to job search brush up on the basics. Each week, I scour Twitter for articles to help up your skills and shed new light on what recruiters are looking for to give you the competitive advantage.
Feel free to follow me on Twitter to get real-time job search news you can use!
JOB SEARCH
How to Tell If a Company's Culture Is Right for You
by Rebecca Knight | Harvard Business Review
This article talks about how to decide if you should take a job. Fitting into the company's culture is as important if not more, than being able to do the job. Use these tips to help you evaluate culture before during and after the interview!
Job Hunting? 15 Ways To Stand Out From The Competition
by Forbes Coaches Council | Forbes
When you round up job search pros, you're bound to get some good advice. Check out what these coaches recommend!
Here's a tip from one of my favorites:
Testimonials from former managers, colleagues and customers on LinkedIn work well. So do quantified achievements on your resume and social profiles. Don't say you can do it — prove you've already done it. – Mark S. Babbitt, YouTern
Udacity and Google launch free career courses for interview prep, resume writing and more
by Frederic Lardinois | TechCrunch
When Google gets involved, it's sure to be good! I've checked out segments of the video training on resume writing and if you're new to job search, the info will help. You just can't get enough advice on how to job search and interview better so why not check out the FREE courses!
NEW GRAD
The Biggest Mistakes Job Seekers Make After College
by Ronda Suder | Top Resume
There are some mistakes new college graduates tend to make when searching for a job.  Based on a livechat conversation with Danny Rubin, Amanda Augustine covers many of the mistakes to avoid.
RECRUITING TRENDS
What the Latest Hiring Trends Mean for Job Hunters
by Nancy Collamer | Next Avenue
Employers want to hire the right candidates and this conference was geared to help them understand what they can do to make better hires. This is a career coach's take on the Indeed.com conference for recruiting talent.
LINKEDIN
The Best LinkedIn Summaries And Advice On How To Make Yours Shine
by William Arruda | Forbes
The Summary section of your LinkedIn profile is probably one of the most important ones. Arruda shares his advice and examples of the summaries he's seen. Arruda says "The complete narrative should share your values, passions and strengths, telling people who you are and why they should care."
Secret to Powerful LinkedIn Profile SEO: Leverage Skills & Endorsements
by Susan P. Joyce | Job-Hunt.org
Don't overlook the Skills & Endorsements section of your LinkedIn profile. Having the right skills will help build credibility AND improve where you show up in search results when recruiters search LinkedIn!

Hannah Morgan speaks and writes about job search and career strategies. She founded CareerSherpa.net to educate professionals on how to maneuver through today's job search process. Hannah was nominated as a LinkedIn Top Voice in Job Search and Careers and is a regular contributor to US News & World Report. She has been quoted by media outlets, including Forbes, USA Today, Money Magazine, Huffington Post, as well as many other publications. She is also author of The Infographic Resume and co-author of Social Networking for Business Success.