Sunday is the day I reflect and share some of the favorite posts curated throughout the week! This week's posts are about the shifts in careers and work, overriding networking principles and the future of the resume.  These three themes overlap or intersect and I think help convey the fact we no longer can keep playing by the same old career rules! Read 'em an weep (or better yet, incorporate new ways of thinking about how you manage your career!)
"Realism is a philosophical state of mind that professes that truth consists in the mind's correspondence to reality" ~ Wikipedia
I mentioned this post already this week, but think it is so important to remind you of the power and control you potentially have in managing your career AND why it is important to seize it!
Keith Ferrazzi's "Never Eat Alone" led the pack of books on the topic of building and nurturing your network! If you want to stay up-to-date or just learn more about Keith's networking philosophies, tips and advice, head on over to his site,
Keith Ferrazzi.com
.
This Forbes article starts off by saying:
I don't care what your goals, industry or interests are, there's no getting around it: Personal relationships run the world.
With this in mind…learn the seven simple ways you can build instant rapport with most anyone you come across!
You've heard the term "cloud" used…cloud computing, cloud services, storing files the cloud…or any other combination. But what exactly does is the "cloud?"  According to Wikipedia:
The term cloud is used as a metaphor for the Internet…
Yes, it can be more complicated than this too, but in the simplest, easiest to understand definition for the sake of this post. That's what we're talking about.
Chris Rickborn says in this article:
It baffles me how the life-cycle of so many products and business processes can be extremely short and are so easily disrupted by innovation, yet an individual's resume is still a one or two page document.  It's still typed out in the same format it was 30 years ago and then printed, emailed or uploaded.
Scratch your head and go read his article to see his predictions and hope for the future of fixing the hiring process (because we all know it is broken!)
Enjoy what is left of your weekend! Thanks for reading!
In case you are not on Twitter (most probably are not), you can see what I am reading on Twitter (and often share) by subscribing to this free weekly summary, "Job Search Guide." Paper.li helps me share the tweets via their tool and I hope you find it pretty cool.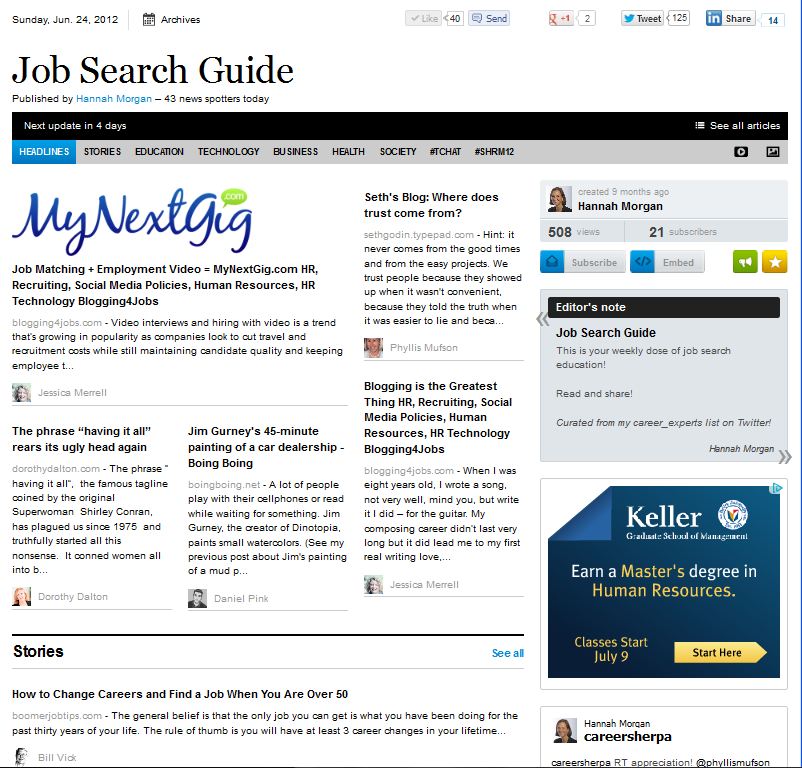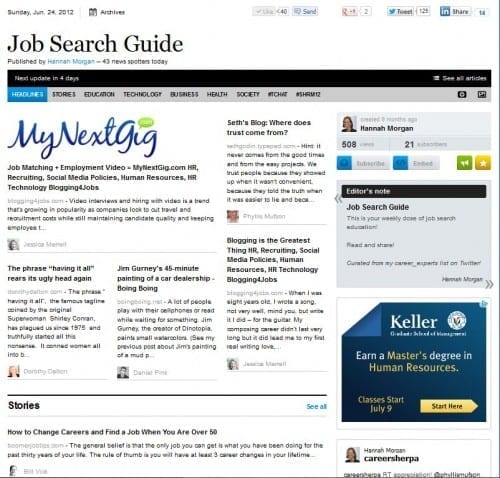 Hannah Morgan speaks and writes about job search and career strategies. She founded CareerSherpa.net to educate professionals on how to maneuver through today's job search process. Hannah was nominated as a LinkedIn Top Voice in Job Search and Careers and is a regular contributor to US News & World Report. She has been quoted by media outlets, including Forbes, USA Today, Money Magazine, Huffington Post, as well as many other publications. She is also author of The Infographic Resume and co-author of Social Networking for Business Success.