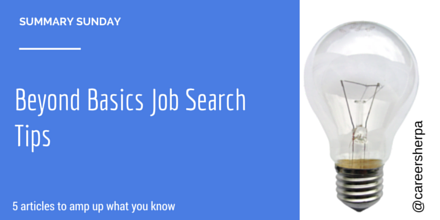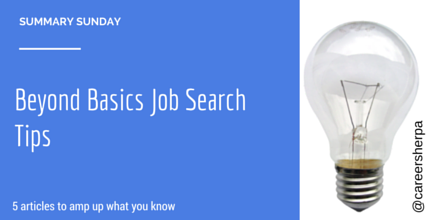 You probably need help, beyond the basics, with your job search. That's why I am sharing these job search tips.
I'm always looking for articles that answer the un-asked job seeker questions. As I talk with people about their searches, I notice there are often gaps in knowledge. It's because you don't look for a job often enough to learn the subtle nuances. You may generally understand some things, but there are scenarios or situations that you haven't experienced. Face it, you don't know what you don't know.
Every Summary Sunday is a round-up of my favorite posts others have written. I've shared them on Twitter and I want to call your attention to them here!
Put Google to Work for Your Job Search on Aol Jobs by Susan P. Joyce
In order to get the right results from your Google searches, it helps to know a bit about how to ask the question the right way. Susan shows you how to search for a specific term (or job title), how to search using multiple terms, how to search by site and more!
Breaking Into StartUps on Medium by Rubén A. Harris
Even if you don't want to work for a startup, Rubén's story applies. He chronicles every step he took to move from investment banking into the tech scene. His change was not only an industry move but geographically too, from NYC to the West Coast. If you really want to know what it takes to make it happen, please read his post. I'm pretty sure you won't. But for those who do, I think you'll pick up some great ideas. And thanks to Steve Levy for sharing this on Twitter.
Have You Found These 10 Hidden LinkedIn Features? on Power Formula by Wayne Breitbarth
LinkedIn changes a lot. If you don't use it regularly, then you may have missed some of these 10 features.
Interviewing Your Next Boss on Absolutely Abby by Abby Kohut
The interview is a 2-way street. The company is asking you questions, but you MUST ask your own set of questions. This collection by Abby is spot on! Follow her advice and you'll be much better informed about your potential new job and manager.
My First 90 Days: Slow Down and Take the Time to Learn on LinkedIn by Josh Bersin of Bersin by Deloitte.
Your first 90 days on the job are critical. They can make or break you. It is such an important topic, one not to be taken for granted, that LinkedIn featured it as a topic for Influencers to write about. You can see all the posts and gain pearls of wisdom on how to start your job off on the right foot. Here's a link to a list of all the posts written on this topic.

Hannah Morgan speaks and writes about job search and career strategies. She founded CareerSherpa.net to educate professionals on how to maneuver through today's job search process. Hannah was nominated as a LinkedIn Top Voice in Job Search and Careers and is a regular contributor to US News & World Report. She has been quoted by media outlets, including Forbes, USA Today, Money Magazine, Huffington Post, as well as many other publications. She is also author of The Infographic Resume and co-author of Social Networking for Business Success.