What does it mean to be proactive in job search? A proactive job search puts you in the driver's seat and empowers you to uncover opportunities.
Isn't this where you want to be?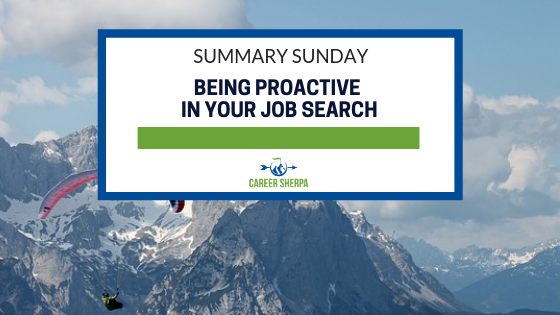 This week's summary includes articles to help you take steps and develop a plan of action for your job search and for networking. Building an optimized LinkedIn profile, tips to overcome the emotions of job search, tips for helping you genuinely network, and social media status updates to increase awareness of your expertise.
In today's rocky economy, the best career strategy is one that focuses on you being proactive in job search. I hope that you'll take some of these ideas to heart and shift your job search to one where you are in control!
JOB SEARCH
5 Steps to Shorter Job Search with LinkedIn
by Tony Restell, Social-Hire | Job-Hunt.org
Recruiters are searching for the ideal candidate. So this article will help you improve the chances your LinkedIn profile will get discovered. As Restell writes:
Today, the success of your job search is now closely tied to whether or not the recruiters who have your ideal jobs actually find your profile and are persuaded to want to contact you.
Safeguarding Your Mental Health While Looking For Work, and Other Tips For Job Seekers
by Andrew Seaman on LinkedIn
One thing job seekers struggle with is keeping a positive mindset. And that leads to difficulty staying motivated. Keep these tips in mind when your job search gets you down.
NETWORKING
Networking: 7 Proven Ways to Grow Your Career
by Sharlyn Lauby | HR Bartender
If you haven't invested much time or energy into networking, it's not too late. The real secret to networking success is to think of it as a long-term project, not something you do when you need something (like a new job). Use these 7 tips to improve your networking strategy.
SOCIAL MEDIA
If you are active on social media but looking to build out your professional reputation, try any/all of these status updates to help your network and others see your expertise.
Need ideas for updating your status on LinkedIn (this works for Facebook, Instagram and Twitter too!) #socialmedia #statusupdate #posts #jobsearch pic.twitter.com/xW80b3N6L7

— Hannah Morgan (@careersherpa) August 19, 2019
MENTIONS
You Actually *Can* Ask for More Vacation Time. How to Request (And Get!) the Time Off You Deserve, According to Experts
by Olivia Raimonde | MONEY
Did you know, only 54% of people even asked to negotiate their vacation time (according to a recent study by Monster)? Whether you are starting a new job or just need to ask for some vacation, this will help you understand when to ask for it and how!

Hannah Morgan speaks and writes about job search and career strategies. She founded CareerSherpa.net to educate professionals on how to maneuver through today's job search process. Hannah was nominated as a LinkedIn Top Voice in Job Search and Careers and is a regular contributor to US News & World Report. She has been quoted by media outlets, including Forbes, USA Today, Money Magazine, Huffington Post, as well as many other publications. She is also author of The Infographic Resume and co-author of Social Networking for Business Success.