Get out of autopilot mode and take control of your job search and career by learning new things!
There are lots of things you need to know and do in order to successfully find a new job and manage your career. You can't just set it and forget it.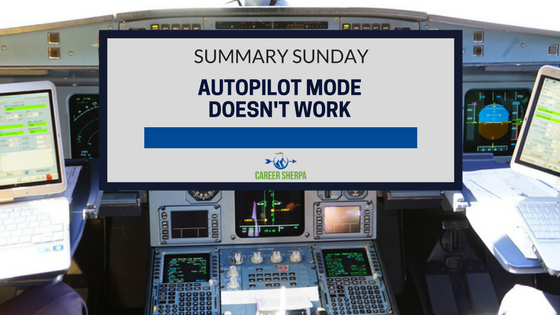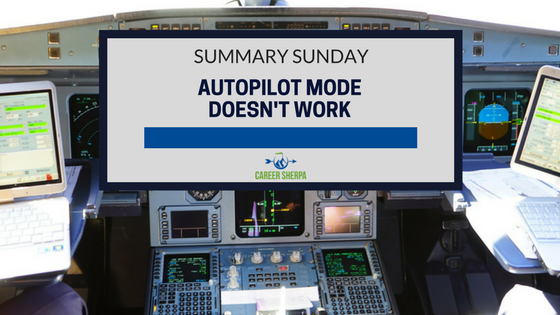 Get up-to-date information on job interviewing, what to do during your internship, a checklist of social media cleanup tips, a free LinkedIn feature that's gold, the power of job clubs and the power of storytelling.
Feel free to share any of these articles and don't forget to give a shoutout to the author!
JOB INTERVIEW
4 Tricks for Acing Your Next Interview
by Deborah Swerdlow | Idealist
The power of positive thinking can go a long way! Try one of these tricks to give you the oomph you need before your next interview!
A Top Recruiter Explains Why You're Hearing Crickets After a Job Interview
by Paul McDonald | Quartz
After an interview, you expect to hear something from the recruiter, right? Well, things happen and sometimes, all you hear are crickets. Learn the many reasons why this happens! It'll make you feel better!
SOCIAL MEDIA
How to Spring Clean Your Social Media Accounts
by Julia Campbell | Social Media Today
Tis the season for cleaning up! Use this list to clean up your profiles on LinkedIn, Facebook, Twitter, Instagram, and YouTube.
LINKEDIN
The Most Exciting LinkedIn Feature You Won't Believe is Free
by Wayne Breitbarth, Power Formula | YouTern
Did you know you can search your connection's network? So instead of asking people if they know someone….you can search their LinkedIn network and actually see who they know! And the best part is- everyone can do this (no premium membership required).
JOB SEARCH
Job Clubs — The Top Habit of Exceptionally Successful Job Seekers
by Donna Svei | Avid Careerist
If you are looking for a new job solo, you know how hard it can be. Job clubs, when run the right way, help shorten the process by teaching job search skills and providing support. Learn more about job clubs, especially where to find the ones nearest you!
The 7 Skills You Need to Conduct an Effective Job Search
by Sharlyn Lauby | HR Bartender
Today, we are all looking for our next job. It's just the new normal. These are the 7 skills you'll need to master in order to survive. Lauby says:
While this list might impress an employer during an interview, that's really not what it's for. It's designed to be a reminder that, whether you're an employee or a freelancer, you need to have some ownership of your career development. And these are the skills that will help you be good at it.
CAREER
How to Get the Max ROI on Your Internship
by Jennifer Chandler | The Muse
Is a summer internship in your future? If so, you will have to do more than perform well in your role. This is your chance to build a network and get noticed for the work you've done. There are 5 things you need to think about/do before you start your internship. Go see what they are!
Storytelling: Begin With The End in Mind
by Tanmay Vora | QAspire
The sketchnote below was inspired by an article from one of his favorite bloggers, Bernadette Jiwa. Jiwa says:
great storytelling starts with an understanding of the audience, aligning your message to needs of the context and then delivering it in a way that creates impact.
MENTIONS
100 Helpful Career Blogs and Websites for Jobseekers and Jobholders
by ThriveYard
It's always exciting to be included on a list like this! There are lots of great resources here for you to follow! Thanks ThriveYard!

Hannah Morgan speaks and writes about job search and career strategies. She founded CareerSherpa.net to educate professionals on how to maneuver through today's job search process. Hannah was nominated as a LinkedIn Top Voice in Job Search and Careers and is a regular contributor to US News & World Report. She has been quoted by media outlets, including Forbes, USA Today, Money Magazine, Huffington Post, as well as many other publications. She is also author of The Infographic Resume and co-author of Social Networking for Business Success.