Are you ready for a job search?
Layoffs can happen without notice and you never want to be caught without a plan.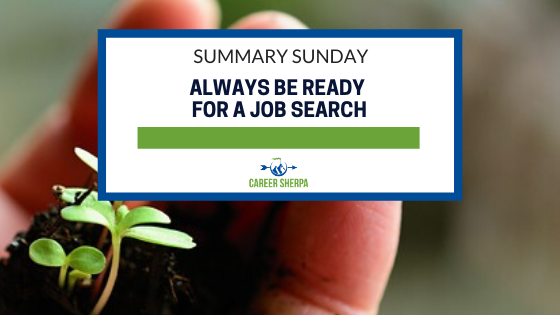 Right now, start thinking about what you would do if your job was eliminated on Monday.
What would you do first? How would you begin searching for a new job?
These are important questions that require your attention now, not once you've received your pink slip.
In this week's summary, you'll find articles to help you explore those questions. You'll also get tips about how introverts can build online visibility, what to consider before you invite someone to connect, how to write your personal brand statement and answer a popular interview question.
CAREER
How To Reinvent Yourself And Succeed In The Face Of Layoffs And A Cruel, Unforgiving Job Market
by Jack Kelly, WeCruitr | Forbes
No job will last forever. As Jack Kelly writes "It's easy and comfortable to stay complacent, but I'd highly recommend that you start planning for reinventing yourself, even if you feel safe at the moment." This is a must-read article about how to handle a layoff (or pending layoff).
ONLINE VISIBILITY
Increase Your Online Visibility Without Chasing "Likes"
by Nancy Ancowitz | Psychology Today
Nancy interviews Ross Brand, an award-winning live streamer. Brand is a fellow introvert and he suggests ways to spread the word about the value you bring without tapping out your limited social energy.
LINKEDIN
3 Reasons I Won't Connect with You on LinkedIn
by Meg Guiseppi | Executive Career Brand
Everyone has a reason or logic for deciding who they'll connect with on LinkedIn. Here are some things to think about before you send your next invitation to connect.
Best Way to Connect on LinkedIn – 5 HIGH IMPACT Invitation Message Samples!
by Madeline Mann | Self Made Millenial
High energy and solid advice right here. I've been following Madeline for awhile on LinkedIn and she dishes out helpful information.

PERSONAL BRANDING
How To Write Your Personal Brand Statement
by Rosa Vargas | Career Steering
You want to show how you differ from people with similar experiences. Well, your personal brand statement is just the tool for the job. See the formula and examples to use to craft your personal brand statement and where to use it!
INTERVIEWING
Answering the Interview Question: What Is Your Greatest Achievement or Accomplishment? (Plus Sample Answers)
by Jeff Lipschultz | Job-Hunt.org
The secret to giving a great answer is to link your achievement to the needs of the job you are interviewing for! See how to do this.
JOB SEARCH
My #jobsearch #tip4day: if 80% of jobs are filled through #networking and only 6-10% through job portals, then a lot of people need to invert their time management.

— ed han (@ed_han) October 30, 2019
Go follow Ed on Twitter for more great daily tips!
And if you want to always be ready for job search, check out my list on Twitter.

Hannah Morgan speaks and writes about job search and career strategies. She founded CareerSherpa.net to educate professionals on how to maneuver through today's job search process. Hannah was nominated as a LinkedIn Top Voice in Job Search and Careers and is a regular contributor to US News & World Report. She has been quoted by media outlets, including Forbes, USA Today, Money Magazine, Huffington Post, as well as many other publications. She is also author of The Infographic Resume and co-author of Social Networking for Business Success.