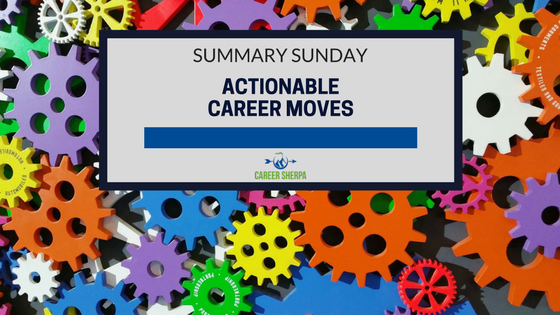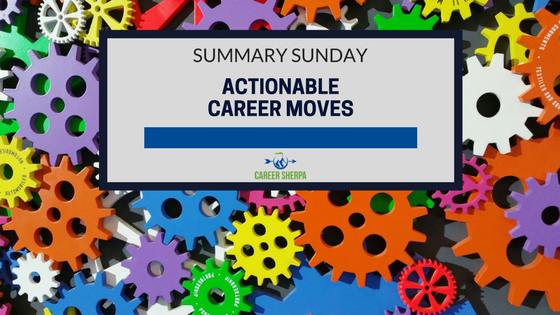 If there's one lesson you've learned so far, it's that nothing happens unless you take action.
This week's summary is filled with actionable career moves you can take right now to get headed in the right direction. From how to create a better online presence, or learning how to use Evernote, to building successful habits, you'll find information to help you drive your job search and career forward!
ONLINE PRESENCE
Have you wanted to improve where your name shows up in search results? There are tons of articles out there, but it can be confusing.
BrandYourself is the tool I've used for years to help boost how my name ranks when searched on Google, Bing or other search engines. Their business is dedicated to helping people show up in search. That's why I'm excited to hear about their "university." Learn everything you can about how to build the best online presence possible! It's easy now, if you use BrandYourself's information.
SOCIAL MEDIA
How Instagram Can Get You Ahead of the Competition to Land the Job
by Aja Frost | The Muse
If you use Instagram, why not use it to market yourself during job search?! Here are some ideas on what to post and how to use Instagram for your job search.
CAREER
18 Effective Habits of Highly Successful People
by Lolly Daskal | Inc.
"Successful people are simply those with successful habits" says Daskal, so focus on making some of these 18 things your habits.
12 Things You Wish You'd Known Before You Took the Job — Infographic
by Donna Svei | Avid Careerist
Before you start a new job, be sure you review this infographic listing 12 things you NEED TO KNOW before you start your new job!
COOL TOOL
5 Simple Ways to be More Productive with Evernote on Your Phone
by Evernote
If you've never heard of Evernote, you'll be glad you know about it now! This is a must-have tool for job search when you're on the go and want to take notes, have easy access to emails and organize your job search activities. It isn't specifically designed for job search, but with a little planning, you'll find this tool invaluable! PS: It's great for organizing your life too! Try it! (it's free!)
MENTIONS
How a Robust Online Presence Helps You Land The Best Executive Jobs
by Meg Guiseppi | Executive Career Brand
Meg is a branding expert and colleague I respect! This post provides information to help you understand the importance of having the right online presence. I am honored she referenced my article in here.
What to Do When Your Job Search Efforts Don't Work
by Mark A. Dyson | The Voice of Job Seekers
Mark and I talk about different strategies to help empower job seekers and get them out of a rut. You can about the topics we'll cover and you can also listen to the podcast!
TAKE ACTION TODAY
Win A Copy of Donna Serdula's Book "LinkedIn Profile Optimization for Dummies" 
UPDATE: Congratulations to Finley Green! She won the book!
Work Smarter Summit Vote
If you watched any of the videos from David Burkus' Work Smarter Summit, please vote for your favorite and the top 5 videos will be rebroadcast next week (for free)! Vote for your favorites by Sunday (March 5) at midnight EST
Vote here: https://davidburkus.samcart.com/referral/cruSMUWX/785091
I'll share the link to the winning 5 videos with you when it's available.

Hannah Morgan speaks and writes about job search and career strategies. She founded CareerSherpa.net to educate professionals on how to maneuver through today's job search process. Hannah was nominated as a LinkedIn Top Voice in Job Search and Careers and is a regular contributor to US News & World Report. She has been quoted by media outlets, including Forbes, USA Today, Money Magazine, Huffington Post, as well as many other publications. She is also author of The Infographic Resume and co-author of Social Networking for Business Success.