Whether you are stuck in job search, or just starting your quest for a new job, these posts will help you in navigating the tricky terrain!  Hey, kind of like a map, compass and guide all rolled into one!  If you have a topic or question, feel free to leave a comment.  I am always looking for new ideas!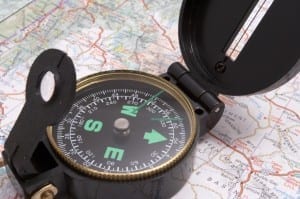 55 Hidden Job Finding Tips Without Using Social Media from JobMob
If you find your search is stalled and you aren't sure what else to do, this list will surely get you thinking.  As Jacob Share points out in his bonus tip 56:
Test, track & repeat – this article contains a lot of tips and it would take a lot of effort to try them all. Begin with the tips that seem most likely to work, and track your progress. If some work and others don't, repeat the former, drop the latter, and introduce other tips into your hidden job search.
This post contains 9  smart tips on what YOU can do to help yourself.  No, you can't get your boss fired, but you can learn new ways to "manage your manager".  Other tips include:
Shake Up Your Routine
Spice up Life Outside of Work
And more…
A Good Detective Knows Emotional Intelligence Trumps IQ– Just Ask My Dad from TalentCulture
Kevin Grossman's post shows what Emotional Intelligence looks like AND includes data on how development of Emotional Intelligence is directly tied to an increase in personal and company productivity!
How to Ask for LinkedIn Recommendations from Keppie Careers
Miriam Salpeter provides excellent advice on how to write a much more effective and HELPFUL request for recommendations! Her post emphasizes quality, not quantity of recommendations!
Recruiters Rethink Online Playbook from Wall Street Journal
If you are tired of hearing about the hidden job market, networking, and social media, you better read this.  This post shares information, if you use it right, can help you understand what is happening on the other side of the hiring desk.  It talks about the changes in recruiting strategies and practices.
If you found any of these posts helpful, please, feel free to share them with others!  If you would like to get my daily posts delivered via email, Subscribe to Guide for Lifetime Career Navigation by Email (I never, ever spam!)  I hope you decide to come back!

Hannah Morgan speaks and writes about job search and career strategies. She founded CareerSherpa.net to educate professionals on how to maneuver through today's job search process. Hannah was nominated as a LinkedIn Top Voice in Job Search and Careers and is a regular contributor to US News & World Report. She has been quoted by media outlets, including Forbes, USA Today, Money Magazine, Huffington Post, as well as many other publications. She is also author of The Infographic Resume and co-author of Social Networking for Business Success.