This week's summary has tips to help revitilize your job search, find the right companies for you and advice for the long-term unemployed.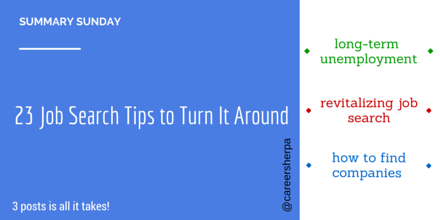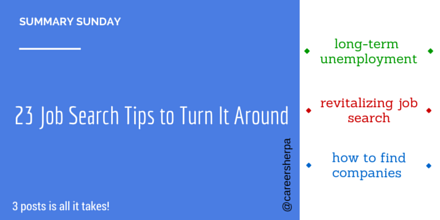 I'm rounding up some of my favorite job search advice to help you with your search. Hearing other voices and ideas sometimes gets the point across better, right?
Here are three posts that touch upon important topics: long-term unemployment, revitalizing your job search and how to find companies you may want to work for!
Out of Work Over 6 Months? Read this!
My colleague Arnie Fertig, as well as 250 leaders in academia, government, nonprofit support organizations and other employment-related professionals, attended a conference outside Boston to discuss the plight of the long-term unemployed and what to do to help the millions who have found themselves stuck. Arnie's post summarizes the 8 ways to combat long-term unemployment.
8 Ways to Confront Long-Term Unemployment

In case you didn't read the entire post, here are things that have helped other long-term unemployed:
Counseling and therapy
Peer groups
Career One Stop
Coaching
Networking
Skill building
Midternships
Volunteering
 Job Search In the Tank? Read this!
Lea McLeod's post contains suggested actions to take your job search from drab to fab! Follow these six steps to resuscitate your search!
6 Strategies to Resuscitate Your Ailing Job Search

Short on time, here's the summary, but you'll need to read the whole post!
Stop applying. Start targeting.
Know thyself.
Research. Research. Research.
Play the insider game like a pro.
Design marketing materials that work for you.
Stop treating the interview like a Q&A session.
Trying To Find Employers That Fit? Read this!
Kristin Johnson's post, featured on The Savvy Intern, includes 9 ways to find companies.
9 Ways to Find The Perfect Employer for You

Don't have time to read the full post? Here are the 9 things to do:
Brainstorm Top-of-Mind Companies
Check out the Competition
Explore Your Geographic Location
Investigate Start-Ups
Consider Associations
Be More Social
Review "Best Places to Work" Lists
Harness the Power of your Alma Mater
Get Personal

Hannah Morgan speaks and writes about job search and career strategies. She founded CareerSherpa.net to educate professionals on how to maneuver through today's job search process. Hannah was nominated as a LinkedIn Top Voice in Job Search and Careers and is a regular contributor to US News & World Report. She has been quoted by media outlets, including Forbes, USA Today, Money Magazine, Huffington Post, as well as many other publications. She is also author of The Infographic Resume and co-author of Social Networking for Business Success.