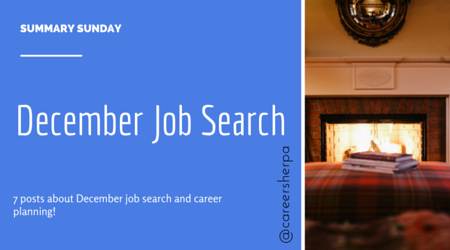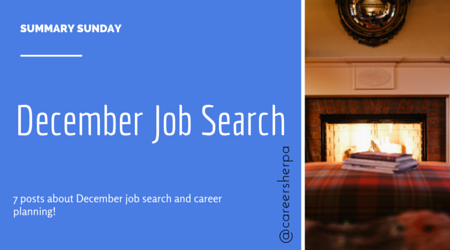 Whatever you do, don't ignore your job search this month. December is one of the best month's for building relationships and getting the news out about your search. It is also time for your to think about your goals and priorities for 2015.
December is a social smorgasbord of events! Think about the holiday events you are invited to this time of year. These events are geared towards getting people together to celebrate. And the people that attend often are in a more generous mood. Sure this is a busy time of year and there is a lot of stuff on people's plates, but that doesn't mean you should ignore your search!
Holiday Job Search
Here are several articles you should check out if you are looking for tips on how to invest your time this month!
Is Holiday Job Search A Waste of Time? | Meg Guiseppi on Executive Career Brand
Holiday Hope: How To Leverage the Holiday's For Your Search | Susan Joyce on Job-Hunt.org
(Job-Hunt.org has 4 more posts on holiday job search on the home page)
4 Ways To Stay Motivated During the Holiday Job Search | Dana Leavy on Savvy Intern
Holiday Networking Like A Pro | Harry Urschel on The Wise Job Search
Job Search
Ask the Headhunter: 7 steps to a new job — but first, burn your resume | Nick Corcodilos on PBS NewsHour
Nick is someone I started following several years ago and I'm sorry I haven't been sharing more of his work. He is a recruiter…and his perspective and advice is geared towards helping job seekers understand how to do this job search thing better! Check out Ask The HeadHunter and get the skinny on job search!
Career
Sometimes, maybe most of the time, people get stuck in a job rut. They are dissatisfied or under appreciated. They feel like they are at a dead end or the end of their rope. In short, they H.A.T.E their jobs. If this is you, please read these two articles!
7 Pieces of Wisdom That Will Change the Way You Work | Paul Jun on 99U
2015 Forecast: You'll Never Work the Same Way Again |  Micha Kaufman on Forbes

Hannah Morgan speaks and writes about job search and career strategies. She founded CareerSherpa.net to educate professionals on how to maneuver through today's job search process. Hannah was nominated as a LinkedIn Top Voice in Job Search and Careers and is a regular contributor to US News & World Report. She has been quoted by media outlets, including Forbes, USA Today, Money Magazine, Huffington Post, as well as many other publications. She is also author of The Infographic Resume and co-author of Social Networking for Business Success.