I was flipping through Deloitte's 2010  Ethics and Workplace Survey "Trust in the Workplace", and came across this slide. It asks:  "Does social networking help to build trust in the workplace?"  Social networks are tools and alone, they don't do anything.  They are a communication vehicle.  If used effectively to convey a transparent message of trust, then the answer might be yes.  In my opinion, this is an inane question.  However, you'll notice that employees and executives have a differing answers.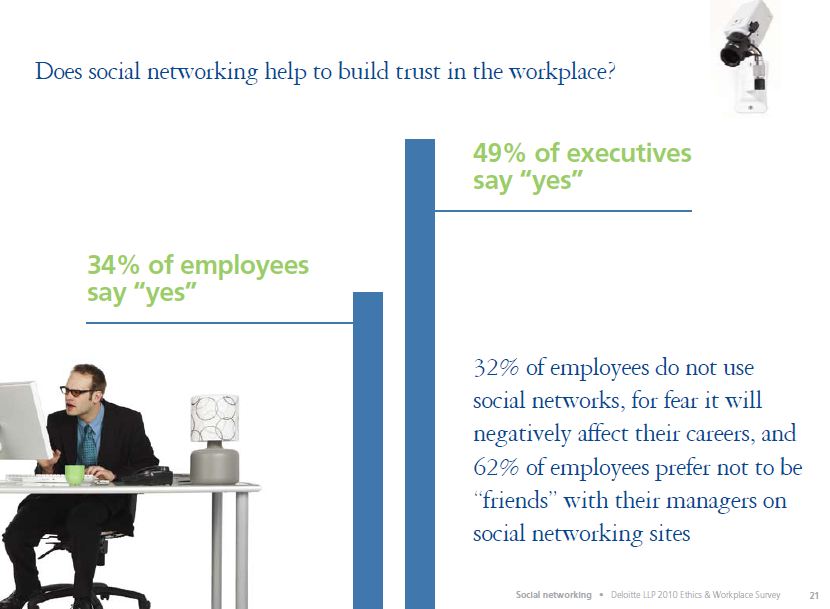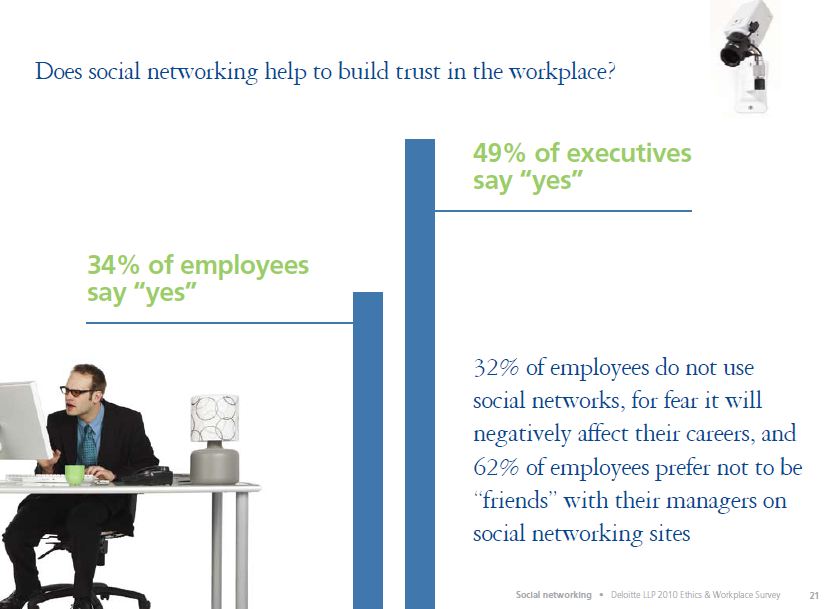 The information that disappoints me most is the fact that 32% of employees don't use social networks because they are afraid it will hurt their career.   Having an active presence on LinkedIn is going to negatively impact your career?  Really? Really???!!!!!
Developing relationships with potential customers
Lead generation
Collaborating with others
Sharing best practices
Researching new technology and ideas
Are these the things that will damage your career?  When used as a tool for networking and connecting, these are just some of the many outcomes of using LinkedIn.
The last slide indicates that 40% of the companies surveyed do not allow their employees to use social networks from the workplace.  Now what was this survey about again?  It was assessing trust in the workplace.  What message does this send to the employees then?  No social network usage because we don't trust you to manage your time, to be responsible, to be appropriate, to not share company secrets? You might as well block all emails and turn off the  phones while you're at it.
I have heard of companies that allow the use of social networks but prescribe exactly what has to be said on employee profiles.  Hmmm, setting guidelines versus canned profiles?  Where's the trust?
Do you know people who are not using LinkedIn because they are afraid it will hurt their career? Do you know employers who have banned the use of LinkedIn among their employees?   I would love to know more about this.

Hannah Morgan speaks and writes about job search and career strategies. She founded CareerSherpa.net to educate professionals on how to maneuver through today's job search process. Hannah was nominated as a LinkedIn Top Voice in Job Search and Careers and is a regular contributor to US News & World Report. She has been quoted by media outlets, including Forbes, USA Today, Money Magazine, Huffington Post, as well as many other publications. She is also author of The Infographic Resume and co-author of Social Networking for Business Success.