When was the last time you told someone how wonderful they are or how much they mean to you?  That long ago?  Change this today!
Being a woman of my word and practicing what I preach, I want to express my gratitude to the wonderful colleagues I tweet with.  I hope you find their wisdom and information as meaningful as I do!
Meaningful Friends on Twitter who share Job Search and Career Advice
There are so many more…but for now…this moment in time, THANK YOU all!
People I Wish Well
This week, I  had the great pleasure of delivering a 5-day job search boot camp to over 20 wonderful Rochester peeps! I wish them all well!
People Trying to Help
I met a new friend and really fun guy this week, Steve Healy.  He's written a book, Mid-Life Re-Creation and he's got a manifesto and he needs your help. I know what you are thinking…another job search help book!  Though I haven't read this, I did hear Steve tell his story and I honestly, really found him to be sincere in his desire to want to help.  Sometimes it takes hearing the message multiple times and spoken by different people to really resonate. Just saying!


People Who Inspire
And in my Google Plus travels, I have found an amazing site called "Five Things I Learned Today"
Ryan Nance is one of the brains behind this…follow him on Google Plus, Posterous or via the site itself!  It is refreshing and a wonderful reminder of the wonder that surrounds us!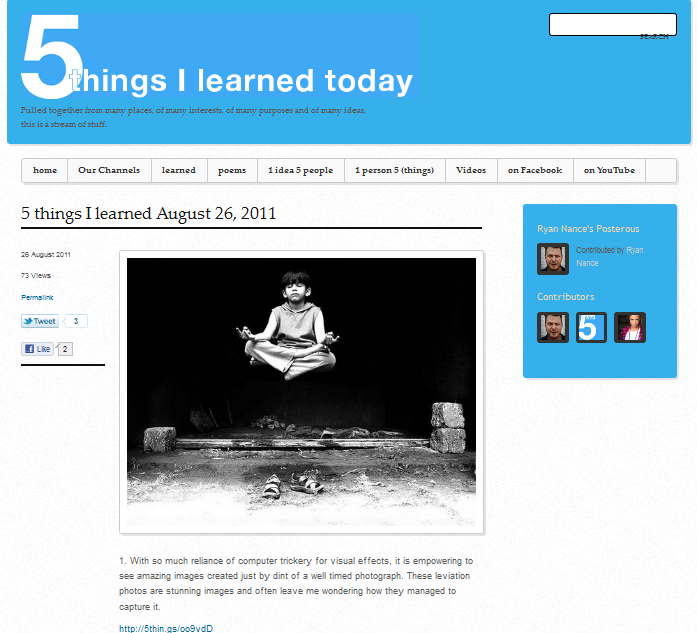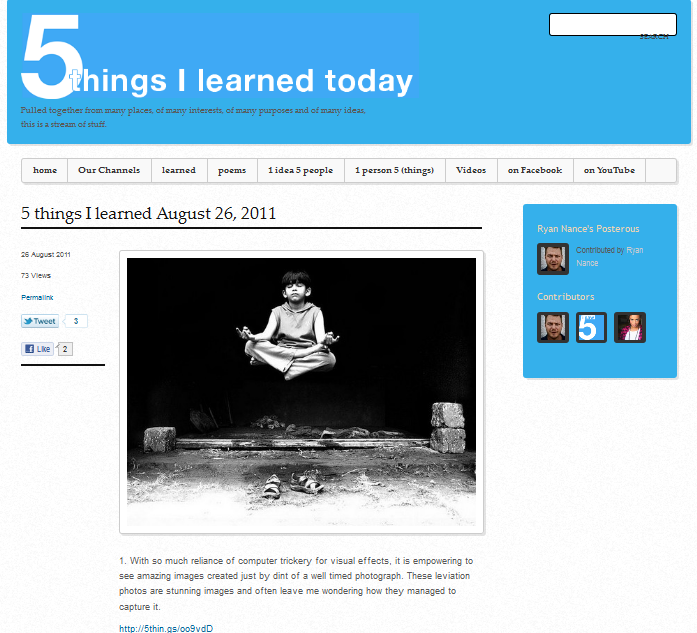 Thanks for reading and don't forget to share your gratitude!

Hannah Morgan speaks and writes about job search and career strategies. She founded CareerSherpa.net to educate professionals on how to maneuver through today's job search process. Hannah was nominated as a LinkedIn Top Voice in Job Search and Careers and is a regular contributor to US News & World Report. She has been quoted by media outlets, including Forbes, USA Today, Money Magazine, Huffington Post, as well as many other publications. She is also author of The Infographic Resume and co-author of Social Networking for Business Success.