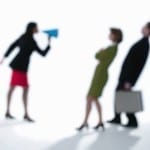 As I talk with job seekers about their adventures, there seems to be a common thread that connects them.  It seems to me that they have difficulty really saying what they mean to say.  This happens in interviews, resumes and on cover letters.
On resumes, I see phrases that mean absolutely nothing.  For example:
Excellent interpersonal skills, both written and verbal.
Adept at problem solving.
Collected and categorized billing data.
None of these differentiate the candidate from any others.  These are trite or unqualified. Convert these into accomplishments by sharing a story or talking about the specific benefits past employers have reaped because you have employed these skills.  Think STAR, PAR, CAR.  Or for more on accomplishments, you can see "I Just Did My Job" post.
In an interview (either over the phone or in person) people can send the wrong message.  For example:
Interviewer: So, would you be able to start in two weeks?
Interviewee: Well, I suppose I could get things wrapped up in two, maybe three weeks.
Holy cow!  Are you kidding me.  This job seeker has been unemployed.  Any answer short of, "Give me a week and I'm ready to start." or "I could start tomorrow if you needed me that soon." could send the message to the interviewer that there is hesitancy or lack of interest in the job.
Interviewer: I am afraid you wouldn't be content with the salary we could offer.
Interviewee: I am sure that the compensation would work within my personal budget.
Now this isn't necessarily a bad answer, however, it should be followed up by a question or a further statement of how interested you are in the position, perhaps even an example of why you are interested and what you can do to help solve the employer's problem.  Or maybe a nicely uttered question in return, "Why would you think that"?
The moral of these examples is, do not be afraid to wear your heart on your sleeve.  If you don't feel the love then they won't feel the love.  It comes across in the words you use and the tone of your voice.  Be the most enthusiastic you can be!  And be convincing.  Convey your value.  You have assets.  These assets are your brand and your uniqueness.  Show them with pride!

Hannah Morgan speaks and writes about job search and career strategies. She founded CareerSherpa.net to educate professionals on how to maneuver through today's job search process. Hannah was nominated as a LinkedIn Top Voice in Job Search and Careers and is a regular contributor to US News & World Report. She has been quoted by media outlets, including Forbes, USA Today, Money Magazine, Huffington Post, as well as many other publications. She is also author of The Infographic Resume and co-author of Social Networking for Business Success.