There are changes happening in the world of recruiting and interviewing. These are some of the trends you'll likely experience in the near future and hopefully will work to your advantage.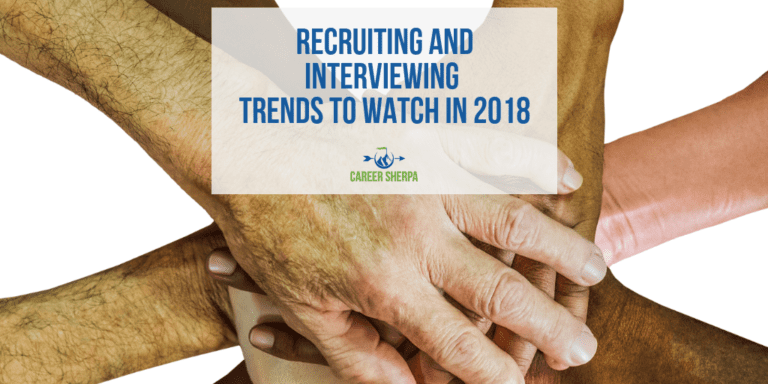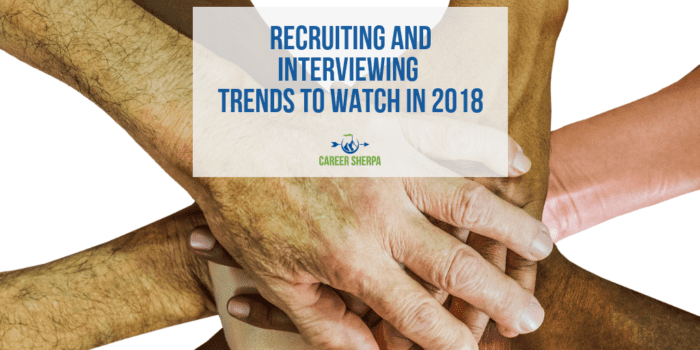 You may have heard that we're in a candidate-driven job market. This means you have the upper-hand for the first time since the 2009 recession!
Let's lay out what's happening:
Unemployment is at the lowest it's been in decades
Not as many people are applying to open jobs (because they are employed)
Employers are finding it difficult to find candidates with STEM skills (and other skills too)
HR and Recruiters Have To Work Harder
Companies are forced to work harder to find and attract people to apply for their jobs. They are more concerned about the efficiency of their recruiting cycle and are employing new tactics and technology to facilitate the process. Recruiters also know they have to be better at marketing to reach their target audience. And most importantly, people in HR and recruiting have to be nicer (to develop relationships with potential candidates).
LinkedIn's Global Recruiting Trends Report 2018 lays out four major shifts in talent acquisition: implementing artificial intelligence (AI), analyzing data, new interviewing models, and focusing on hiring diverse candidates.
Why Is Diversity Important?
According to LinkedIn's report, companies want a more diverse workforce to:
improve culture
improve company performance
better represent customers
Retaining employees is also an issue. To hold onto employees, companies need to make them feel like they belong! By creating an environment that respects differing opinions and encourages employees to be themselves, rather than fit into a mold, companies hope that this shift will keep employees around longer. Finding diverse candidates is their challenge. Recruiters are using more inclusive language and looking in new places to find the diverse candidates they want.
Where Does Artificial Intelligence (AI) Fit?
Don't worry, human's won't lose jobs with these changes. AI will make it easier for recruiters to do their jobs and save time on the very labor intensive, low impact activities.
LinkedIn's report says using AI will:
save time
remove human bias
deliver best/better employee matches
save money
AI is used to source candidates, schedule candidates and engage with candidates.
LinkedIn's report cites several examples of how companies are already using AI to improve the recruiting process. For example, Deutsche Telekom AG uses a chatbot to answer frequently asked questions about posted jobs. This bot can recommend unqualified candidates not apply. Potential candidates feel better about the process and the company when their questions get answered.
AI is also used to evaluate video interviews. At Vodafone in the UK, AI reviews the interviews and "based on role requirements, other candidates, and top performers at Vodafone, the machines assess candidate suitability across 15,000 different dimensions, from body language and facial cues to voice intonation and speech cadence. If candidates pass the video interview, they are then invited to in-person interviews."
New Types of Interviews
To better assess candidates' soft skills, companies are introducing new types of interviews. Sure, they'll still use traditional behavioral interview questions and phone interview questions, but companies want a better snapshot of the candidates.
Recruiters may ask for:
soft skills assessments
job auditions
meetings in casual settings
virtual reality assessments
video interviews
One example is Lloyds Banking Group which takes hundreds of prequalified candidates through a virtual reality scenario. "Using the virtual reality platform, candidates freely move within a 360-degree virtual world and
manipulate objects using tracked motion controls. An evaluator judges how they approach and solve
tasks, using standardized metrics to assess strengths that Lloyds Banking Group is looking for."
Time To Use The Data
Companies collect tons of data and they are finally starting to use it to:
evaluate skills gaps
increase retention
build better offers
understand candidate wants
assess talent supply and demand
forecast hiring demands
predict candidate success
JetBlue changed what they were looking for in their flight attendants. Based on customer service feedback data, "the analytics team discovered that the bet on "nice" was actually wrong, and that "helpful" was much more important. In fact, being helpful can balance out the effect of a flight attendant who is not nice. So
JetBlue tweaked its target profile."
Be Prepared
You may experience some or all of these new recruiting tactics. The bottom line is to be prepared and not surprised by these new developments in talent acquisition.

Hannah Morgan speaks and writes about job search and career strategies. She founded CareerSherpa.net to educate professionals on how to maneuver through today's job search process. Hannah was nominated as a LinkedIn Top Voice in Job Search and Careers and is a regular contributor to US News & World Report. She has been quoted by media outlets, including Forbes, USA Today, Money Magazine, Huffington Post, as well as many other publications. She is also author of The Infographic Resume and co-author of Social Networking for Business Success.