Interviewing for a receptionist position can seem simple at first, but there's actually a lot of preparation necessary if you want to get the job.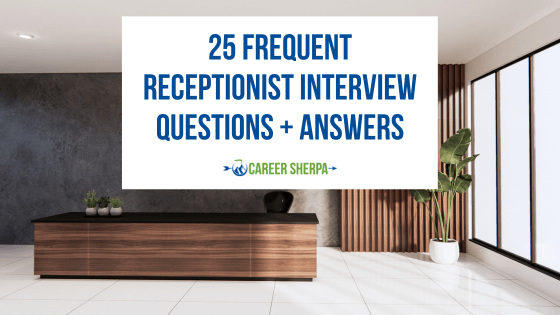 This list of common receptionist interview questions will help you practice and deliver fantastic answers.
Interview tip: When practicing your answers, remember to try and keep your response under two minutes.
1. What skill do you think is most important for a receptionist to have?
This receptionist interview question aims to highlight what skills you bring to the company. Asking about the skills you think are most important allows interviewers to gain more understanding of your work style and approach to being a receptionist.
There are many skills you can discuss. Some of the best include:
Time management
Organization
Team-building
Communication
2. Can you explain the difference between a receptionist and an administrative assistant?
While many tasks an administrative assistant and receptionist performs overlap, the former tends to be a bit more complex. Typically, administrative assistants have more variety in their responsibilities. They can include buying office supplies, drafting memos, handling billing, etc.
3. Have you worked with multi-line phones before?
Receptionists often manage multi-line telephone systems. You may be the first person a caller speaks to before you route them to different departments or individuals.
Interviewers ask this question to ensure you know how to use multi-line systems efficiently.
If you have experience, discuss it. But if you don't, you should reassure the hiring manager that it's a skill you will have no problem learning.
4. Can you share your typing speed and accuracy rate?
As a receptionist, you may spend considerable time creating documents. Employers want receptionists who can type quickly and accurately. Ideally, you can take typing tests before your interview to have figures you can provide.
5. What extra duties have you undertaken as a receptionist?
Receptionists have many core duties, but the day-to-day can vary based on the company's needs. Hiring managers use this question to learn more about the unique skills and experiences you might bring to the table beyond the norm.
The best way to answer this receptionist interview question is to discuss additional responsibilities you had at previous jobs. Focus on the duties that could be useful for this particular employer. For example, you can detail how you were responsible for organizing events, managing mailroom duties, training others, etc.
6. Share some of your past experience as a receptionist. What were your main responsibilities?
This question is your chance to highlight your proficiency in this line of work.
The best approach is to provide real examples of what you did in previous jobs. Focus on the core responsibilities and paint a picture of your day-to-day. Emphasize how your work benefited your previous employer.
7. What would you do if a client or visitor asks a question you don't know the answer to?
As a receptionist, you're often the first point of contact for clients and customers. As a result, you'll hear many questions you may not know the answer to.
Interviewers want to hear about what you do in that situation. The ideal response is to ask the client to wait as you find the answer or direct them to someone who can provide a clear solution.
8. What telecommunication systems are you comfortable with?
Companies can work with many different telecommunication systems. They may use VOIP (Voice Over Internet Protocol) systems, EPABX (Electronic Private Automatic Branch Exchange) systems for multiple lines, or in-office messaging systems to communicate with every employee.
Discuss the systems you've used and emphasize that you're comfortable learning whatever technology the company utilizes.
9. How do you handle multiple tasks when things get busy?
Things can get busy for receptionists throughout the day. With this question, interviewers aim to learn more about how you juggle various tasks and prioritize your work for maximum productivity.
Provide examples and review some organizational tricks you use to keep things running smoothly.
10. What office equipment are you comfortable using?
This interview question for receptionists is about giving hiring managers more insight into your proficiency when it comes to using standard office equipment. That includes computers, copy machines, printers, fax machines, and more.
Reflect on your past work as a receptionist and reassure interviewers that you feel comfortable learning.
11. What office software or tools are you proficient with?
Like office equipment, computer software and productivity tools play an important role in the success of a receptionist. Companies can employ various tools based on their needs.
The best way to respond to this question is to discuss the software you've used in the past. Focus on your proficiency and how well you learned how to take advantage of those tools for maximum productivity.
12. How would you respond if a colleague complained or said something negative about you?
Office drama pops up from time to time, and employers want people who can navigate those situations while remaining professional.
Rather than explain how you might hypothetically handle a situation, briefly explain your logic and then, use the STAR method to explain how you handled a complaint about you.
The most important thing, however, is that you emphasize your professionalism. Discuss the steps you would take to resolve those conflicts without affecting your work performance.
13. What actions have you taken at your current or previous job to improve efficiency and save time?
This receptionist interview question gives you a chance to highlight what positive changes you can bring to the company. There's always room for improvement. Discuss some of the techniques you've used in the past to eliminate unnecessary work and improve efficiency around the office.
It can be as simple as changing how you prioritize tasks to something big, like convincing stakeholders to adopt better technology. Highlight the positive outcome that followed those changes.
14. What security procedures did you adhere to in your previous roles?
It's common for receptionists to follow strict security protocols to protect the business and its clients. This is because your role might involve you having access to sensitive information.
With this question, interviewers want reassurance that you have the background and common sense to keep the company, colleagues, and clients safe. Talk about some security protocols you used in previous jobs and emphasize how you stuck to those rules.
15. What's your approach to managing upset customers or visitors?
This receptionist interview question is all about judging your problem-solving and communication skills. Not every person you interact with will be positive. As a receptionist, you represent the company.
Here's a great chance to tell an impactful story. Refer to past experiences, detail how you approached one of these delicate scenarios, and highlight how your methods led to a positive outcome.
16. What obstacles do receptionists typically face on the job?
Receptionists face many challenges on the job. Interviewers ask this question to ensure you understand this role and know how to navigate hurdles as they come. You can discuss issues like irate customers, managing multiple tasks simultaneously, constant disruptions to your workflow, and more.
Discuss how you manage those issues to prove you're ready for any challenge.
17. What are the core duties and responsibilities of a receptionist?
This question may seem obvious, but it serves many purposes. Employers use it to test your knowledge of the job. It's about showing that you understand what it takes to be a receptionist and fully know what the role entails.
While duties can vary from company to company, you can explain that in your past, these were the duties you took care of.
Here are a few things you can mention in your response:
Maintaining a file system
Greeting clients and visitors
Connecting callers to appropriate departments and individuals
Taking messages
Using, monitoring, and maintaining office equipment
Planning meetings or conferences
Providing secretarial support
Keeping the office running smoothly
18. Do you like working with the public?
Being a receptionist requires you to interact with new people throughout the day. If you're not a "people person," this job might not be for you!
Hiring managers want to hear that you enjoy working with the public and have no problem interacting with strangers.
19. What makes you unique among the other applicants for this position?
Here's where you can set yourself apart from other candidates.
There's no right or wrong answer, but the best way to leave an impact is to focus on your experience, skills, or traits that match up with what the job posting says the company is looking for. For example, you might have additional office skills you can employ.
The key here is to discuss the details that you possess and that align with the job plus the value you will add to the organization.
20. How do you organize and set up group meetings?
Organizing meetings or conferences can be overwhelming. Interviewers want to learn about your exact process, so rely on your work history to provide examples.
You can discuss how you reach out to attendees and confirm an appointment, what you do to ensure that the equipment required for the meeting is ready and available, and how you communicate specific details about the meeting to all attendees.
It's always best to include a specific example of how you've organized meetings in the past and the outcome of your effort.
21. How do you keep organized at work?
There are many organization methods that receptionists use. This question is your opportunity to highlight and explain how they benefit the company.
Provide examples of your techniques in action and focus on the difference they made at your former company. You can discuss task prioritization, time management tips, and more.
22. Would you be open to working additional hours if necessary?
Receptionists sometimes have to work beyond the standard nine-to-five due to important meetings, events at the office, and more.
While not every hiring manager will penalize you for not being available 24/7, most want to hear that you're open to working extra when necessary.
Just know that if you say you are not available to work extra hours, it could possibly work against your candidacy.
23. What kind of work schedule are you hoping to have?
Interviewers use this question to determine if your availability meets the company's needs. Do your research before your interview. Look at the company's operating hours to better understand when you'd need to be available as a receptionist.
Use that information to provide an example. Typically, receptionists work standard office hours, so avoid any unconventional responses.
24. How familiar are you with our company? Can you share some of what you love?
Employers want to hire people who understand the company and are motivated to succeed beyond a paycheck. If you genuinely like the company, there's a greater chance you'll represent it to the best of your ability. As a receptionist, you are an ambassador of sorts for the company and it helps to be interested in what the business does.
During your pre-interview research, learn everything you can about the company. Understand what compelled you to apply and find things you like about the company's mission statement, purpose, and operations.
25. What are the traits of a successful receptionist?
Here's another interview question for receptionists that requires you to consider how your traits can benefit the company. Receptionists need various characteristics and competencies to succeed. What you answer with gives hiring managers insight into your priorities and motivations.
Some of the best responses focus on communication and company representation. You're the first person many clients interact with when visiting the office! Being kind, warm, and professional makes a difference.
Conclusion
Now that you know the receptionist interview questions you'll likely be asked, it's time to start practicing your answers. Go back through this list and find any that gave you pause, then go over your responses again!
By doing this, you'll significantly increase your chance of getting hired.

Hannah Morgan speaks and writes about job search and career strategies. She founded CareerSherpa.net to educate professionals on how to maneuver through today's job search process. Hannah was nominated as a LinkedIn Top Voice in Job Search and Careers and is a regular contributor to US News & World Report. She has been quoted by media outlets, including Forbes, USA Today, Money Magazine, Huffington Post, as well as many other publications. She is also author of The Infographic Resume and co-author of Social Networking for Business Success.