Job Search is 99% psychological and 1% physical, or another way of saying this is: to succeed in job search, you have to put mind over matter.
A Little History
Years ago, when I first started using Twitter, there was a band of early adopter recruiters I followed. One of them, was known only as @Animal. (Long after, I finally learned his name was Michael Kelemen of Toronto)
I watched and learned from @Animal on Twitter. He provides brutally honest feedback, whether you ask for it or not. I remember he provided me feedback on my early avatar and based on that, I ended up changing it.
@Animal comes across as cruel or heartless. Take his advice with the intent it is made- to help. If you have any desire to learn more, listen to his show on Blogtalkradio. If you listen, then you've heard @Animal attack and berate job seekers. While it may seem harsh, he forewarns all his guests:
The show is rowdy. People are going to challenge you. Make sure that you will not be offended before you decide to be a guest.
Every once in awhile he let's his softer side come out. When my father died, he left a comment on my blog post expressing his condolences and we shared some emails after that about losing family members.
All these years and interactions later, I have grown to respect @Animal and his opinions (while I might not always agree!) He knows a thing or two about life and why job seekers stink at finding a job.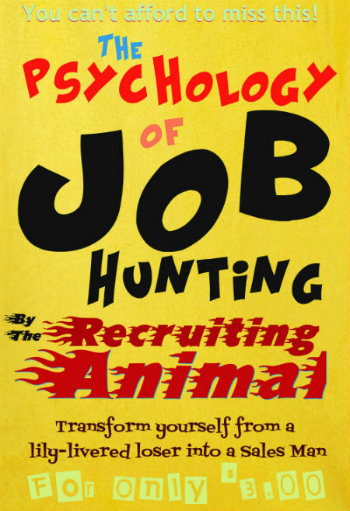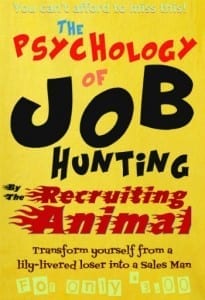 He just published an eBook "Psychology of Job Hunting" which is available on Kindle for $2.99
If you are someone who has been unemployed for a long time, I think you should read his book.
It is a dialogue between Morris, a 70 year old salesman and Lewis, an unemployed job seeker. Morris shares with Lewis what he knows about human nature, motivation, and attitudes to help him get out of his rut.
@Animal says his book is about cold calling. It is actually about doing anything we hate, fear or avoid doing.
Here's one of @Animals tweets about his book:
@careersherpa You're not going to die. U have 2B wrong and strong. And U have to practice dialing so U can do it when you're scared.

— Recruiting Animal (@animal) May 31, 2013
I tried to skim the book and it really isn't a skimmer. @Animal suggested I focus on these sections if I wasn't going to read the whole thing.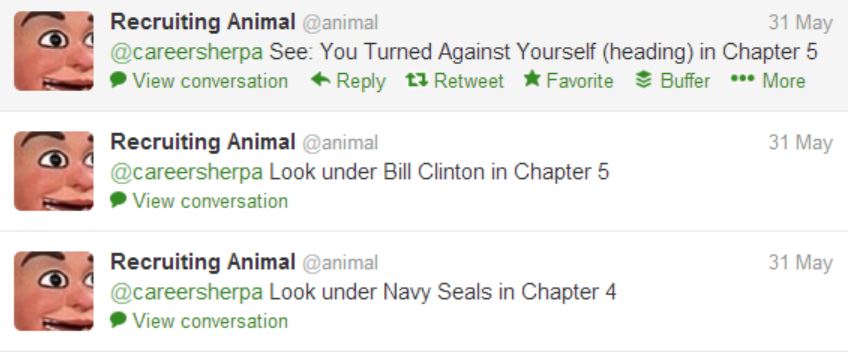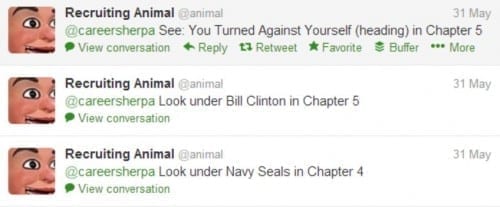 Some of the key points made include:
You aren't bad and Making Mistakes is GOOD!
It is better to be wrong and strong
Learn to ignore your dumb ideas
Do It In Your Sleep
Sources to Back Up His Story
There is actually data and substance to back up @Animal's psychobabble and you can see all the references and sources in his last chapter.
Selling IS NOT Dirty
Selling is absolutely part of job search. Convincing others is too! Daniel Pink calls it "moving people." It is a life skill we all need to develop and in order to feel OK with the concept, you're going to have to blowup your current thinking (which is what @Animal's book attempts to do!).
By the way, I am in the early chapters of "To Sell is Human" by Daniel Pink. It is a super read, especially for those who don't like sales.

Hannah Morgan speaks and writes about job search and career strategies. She founded CareerSherpa.net to educate professionals on how to maneuver through today's job search process. Hannah was nominated as a LinkedIn Top Voice in Job Search and Careers and is a regular contributor to US News & World Report. She has been quoted by media outlets, including Forbes, USA Today, Money Magazine, Huffington Post, as well as many other publications. She is also author of The Infographic Resume and co-author of Social Networking for Business Success.