If you have been in job search mode for awhile, you are probably sick and tired of it by now. Money is tight and the end of unemployment is looming. You just need a job!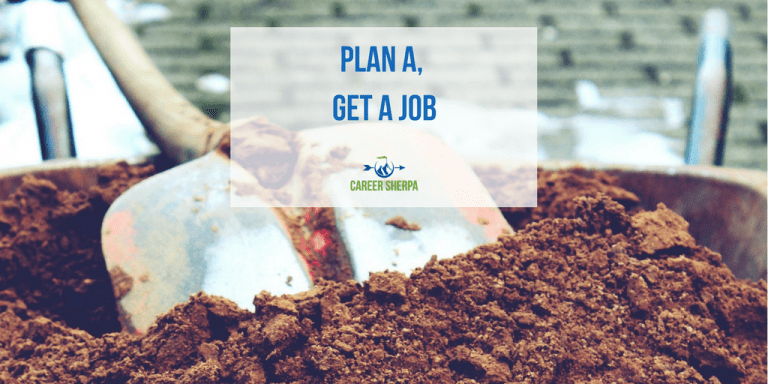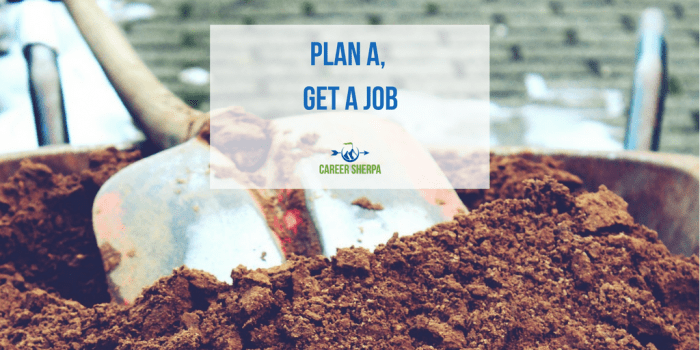 Plan A is to get a job, but… that isn't as easy as it sounds. You need motivation and a solid plan you can carry out.
There are several reasons why your job search isn't getting any traction.
You present yourself as overqualified
You only apply for jobs posted online
You haven't proved you're qualified
Presenting Yourself As Over Qualified
You may be presenting yourself as overqualified or desperate in the eyes of many employers.
If you are applying for jobs you are overqualified for, make sure you adjust your resume. Sure, some may call this "dummying it down." The truth is, you are tailoring your resume for the position. Adjusting might include:
Eliminating or re-labeling the "leadership" functions in your last position.
Remove reference to total years of experience. No one is looking for someone with 20+ years of experience.
Limit your work history to the most recent 10-15 years.
Demonstrate the use of specific skills the immediate job requires, don't imply or force the employer to read between the lines.
If you honestly haven't used the required skills in a while, they aren't fresh. Take a class or refresh your skills by working on a project.
Don't Rely On Job Boards
Remember, networking is the best way to hear about jobs.
You can ready about how to tap the hidden job market. Networking also helps you overcome any obstacles that might be glaring on the resume.
You've Got To Show You Want To Do The Job
You want to make sure you have at least a little interest in the jobs you are applying for. You will find more satisfaction and be less frustrated if you can use skills that you are good at and enjoy using in your next job.
This is why self-assessment is so important. Many job seekers see this as a waste of time, especially if the need for income is dire.
Relax, and dive into self-exploration. It is well worth the time and we all need a little reinvention right now. You can start here.
How Interest Drives You Forward
Finding a passion that will keep you engaged and interested is not as hard as it sounds. The more difficult part is finding a way to make a living using your passion. It isn't as hard today as it used to be though.
Turn Your Interest Into A Job
When I was 10, I wanted to be an Archaeologist. Really. There was a barn behind our house and one day, I started digging back there. 
Why? Why does a 10-year-old do anything…
Each day I dug, I would find something new.  I found old bottles, high button shoes, rusty tin cans, an old light bulb (which hangs on our Christmas tree), a thimble case, and all kinds of treasures and junk. 
I began to learn about old bottles and how to tell their age by how far up the bottle the seam ran.  I had books on the subject which I read and I displayed my bottles at the town's historical society. 
This was my passion.  I wanted to learn more about the items I was finding.  10 year old's don't often do research, but I wanted to.
When you are interested in something, you have the extra energy that drives you and keeps you moving forward, even in the face of rejection.
Applying Passion To Job Search
What could I do today if this was still my passion?
I could work in an antique store. I could work at a Historical society.
Those 2 options alone will probably produce at least 50 target companies I could now begin to pursue.
I would first start talking to friends and neighbors to cultivate contacts.
Next, I would get in my car and visit all the target companies- building relationships at each stop.  Scoping out their businesses and making early decisions about whether I might want to work there and for them.
I would write employment proposals to all my target companies explaining why they needed me on their team. 
I would relentlessly follow up by phone with each owner and ask for a face to face meeting to discuss my proposal (bracing for some higher level of rejection).
Someone out of those 50 organizations certainly needs someone with my passion and determination on their team.
More Personal Branding Actions
I am not done yet. I would:
Research local and national associations related to history and antiques. 
Attend meetings related to history. 
Scour LinkedIn's search function for keywords related to antiques and history. 
Lookup people on Facebook. 
Share interesting research-based articles as LinkedIn and Facebook status updates. 
Write some articles and submit them to magazines and online forums related to the topic. 
Use Twitter and Instagram to see who's talking about antiques and history in the area.
Out of all of this, something will happen.  Well, then again, there are no guarantees in life.
But I would surely meet some interesting people (who I share a common interest with). These folks would become my tribe.
Having fun and feeling good about what you are doing is more than half the battle.

Hannah Morgan speaks and writes about job search and career strategies. She founded CareerSherpa.net to educate professionals on how to maneuver through today's job search process. Hannah was nominated as a LinkedIn Top Voice in Job Search and Careers and is a regular contributor to US News & World Report. She has been quoted by media outlets, including Forbes, USA Today, Money Magazine, Huffington Post, as well as many other publications. She is also author of The Infographic Resume and co-author of Social Networking for Business Success.