If you are truly ready to accept the challenge of networking for the rest of your life, then you will need to find a way to make it FUN, otherwise, well, you just aren't going to do it.
Reach Out and Touch Someone
You have friends.  People you know a lot and a little.  One way in which you communicate with friends is via the phone.  Do you have all your contacts in your mobile? The next time you have time to kill (think about your drive home, waiting to pick up your kids, time between events or meetings) pick a friend to call.  It doesn't have to be a long call, just a quick, "Hi, I am checking in" call.  Just be sure to use hands free or avoid making calls in public places, that's dangerous and annoying, right?!
Perhaps texting a simple, "Hi, just checking in" message is more your style. That's fine.
Use Social Tools to Be Social
LinkedIn is supposed to be interactive, not a roledex of names just in case.  Review the status updates on your LinkedIn home page once in awhile and send a message when you see someone you haven't talked to recently or who has shared news (perhaps they secured a new job!).
It is the same idea on Facebook.  Comment on your friends updates.  Your message doesn't have to be anything super-smart, just be thoughtful.  Don't over-think it.
On Twitter, it could mean sharing a tweet or post or just saying hi.  Here's an example from a virtual friend @Ed_Han


What about Google+?  You can have discussions, hangouts or and share thoughts either directly or publicly. I have a new set of "friends" I am making over on Google+. Maybe you'll want to check it out!  If you want to add me to your circles, great, click here to add me.  Tell me if you are a job seeker and I'll add you to the info I share just with job seekers!
Long Live Email
Then there's email.  I love using Gist (update, Gist is gone) and Rapportive as plugins with my gmail.  Together they let me see the updates of people I am emailing.  What a super way to personalize my message to them. You could choose to start your email with this information or end your email with the information, such as: "PS, I just saw you were on vacation last week.  I hope you had a great time."
This is a shot of my Rapportive and Gist panels from a message distributed to a group of career professionals.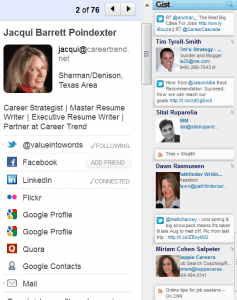 Rapportive is showing me which social networks/profiles Jacqui has and show if I am connected. If I hover over any, I can see the updates.
The Gist column is showing the most recent update from their profiles I am following for these other friends. Too bad it is no longer available! Rapportive works great though.
I could chose to re-share one of their posts, make a comment on their blog, send an email just to say hi…there are options and best of all, I can see what they are up to.
I've written about these two tools in this post on Brand-Yourself:  Get the Competitive Advantage
Unexpected
The wonderful thing about these pings is that they are pleasantly unexpected by the recipient.
Nurture
The whole idea behind networking is giving.  Sharing.  Helping others.  Build it and nurture it now! Consider this the one thing you will carve out time to work on.
Can you spare 15 minutes a day to invest in your network? That's all it takes!  Chose your weapon or weapons and get going!

Hannah Morgan speaks and writes about job search and career strategies. She founded CareerSherpa.net to educate professionals on how to maneuver through today's job search process. Hannah was nominated as a LinkedIn Top Voice in Job Search and Careers and is a regular contributor to US News & World Report. She has been quoted by media outlets, including Forbes, USA Today, Money Magazine, Huffington Post, as well as many other publications. She is also author of The Infographic Resume and co-author of Social Networking for Business Success.