There is something I find so inspiring about looking up at a cloudless blue sky! When was the last time you stopped and really looked?
Living in Upstate New York near Lake Ontario, we don't see as many true blue sky days as I would like, but when we get them, oh my gosh! I suppose it is their rarity that makes them so special.
When my 2 year old son and I were sitting at the kitchen table one morning, I asked him what he wanted to do that day.  He looked out the window and declared (with all the spunk and innocence of a child) "It's a blue sky day, we can do anything we want".
I want you to think about this.  When was the last time you said that or anything like that? We get so caught up in living our lives, we sometimes forget to enjoy the emotions associated with basic pleasures in life, like a blue sky day.
The truth is, you can do anything you want every day! Maybe not all day long, but maybe, just maybe, if we stop worrying about stuff, we can figure out what we truly WANT to do and be!
With the encouragement from my friend and talented photographer/graphic designer, Patti Jacobs, we have completed a project to help inspire and ignite your dreams!  It is called Blue Sky Day and it is a photo journal.  52 of her photos capturing the magic of blue sky days combined with a journaling prompt and inspirational quote will keep you inspired for a year!
This is what the 2 page spread looks like!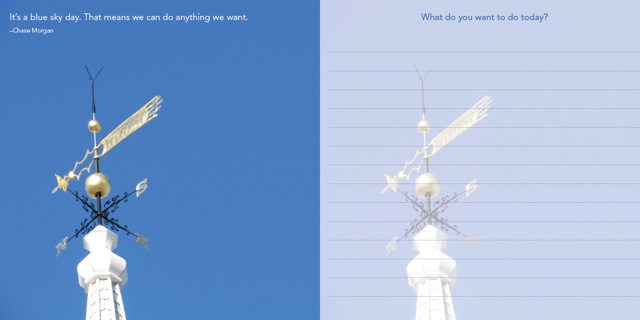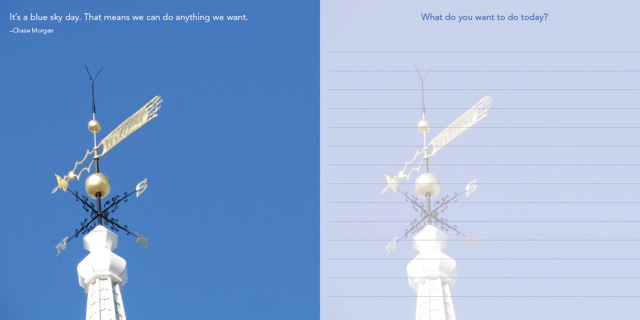 You can go to the site that Patti has put together and order your book today.  It is a work in progress, nothing fancy or over the top right now.  Plus, Patti and I aren't super pushy when it comes to sales and we hope that the photos are enough to entice you.
If you think this is something you would be interested in for yourself, or perhaps as a gift for Mother's Day, Father's Day or a graduate,  you can pre-order your copy today and we will be sending them out in early May!
Pre-order today for $24.95 (this includes shipping)

The pre-sale is over, but you can still buy the book for $24.95 (plus shipping)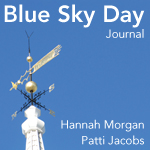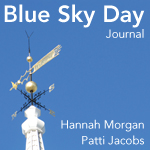 Become inspired by the endless possibilities of a Blue Sky Day! This photo journal combines photographs of blue skies, inspirational quotes and a corresponding page for journaling your thoughts.  Spiral binding makes it easy to write in. 52 photographs appear on the left side each with a corresponding page on the right for journaling.  110 pages, soft cover, spiral binding. 8.5" x 8.5" full color photographs.
52 photographs capture the beauty and awe of blue sky days.  Combine these photos with inspirational quotes and a question to prompt your thoughts, dreams and aspirations and you've got a wonderful gift to share with others or keep yourself.
Journaling is a powerful way to re-energize and create positive thoughts which will motivate and generate action.  If you've ever been at a cross-road in your life or need clarification or rejuvenation, this journal will help get you there. Think of the amazing things you can dream and accomplish once you have written your thoughts down.
We hope this brings greater purpose and meaning to your life and inspires you to live each and every day to its fullest.
Design and photos by Patti Jacobs.
Patti believes in the power of collaborating and following through on good ideas.  As a graphic artist and photographer, she captures the awe and wonder of the blue sky day moment so it can be shared, viewed and inspire others.
Patti Jacobs work can be viewed on www.pattijacobs.net
Concept by Hannah Morgan
Hannah passionately writes and speaks about job search and careers.  Her inspiration for this book came from her two-year old son's declaration "It's a blue sky day, we can do anything we want."

Hannah Morgan speaks and writes about job search and career strategies. She founded CareerSherpa.net to educate professionals on how to maneuver through today's job search process. Hannah was nominated as a LinkedIn Top Voice in Job Search and Careers and is a regular contributor to US News & World Report. She has been quoted by media outlets, including Forbes, USA Today, Money Magazine, Huffington Post, as well as many other publications. She is also author of The Infographic Resume and co-author of Social Networking for Business Success.