No more excuses…learn how to incorporate social networking into your career!
If you aren't convinced yet that you need to be using social networking tools, take a look at these demographics from Kissmetrics. There are smart, well-educated people just like you, using Facebook, Twitter and other social networking tools.
The gender split is almost 50/50.  In other words, men and women users are about even.
Twitter, by the way, has the largest division of wealthy users (27% earning over 75K)
Facebook has the largest division of older users (37% being over age 45)
And over 37% of Twitter users have at least a bachelors degree
READ UP
When I was new to blogging, one of the first career professionals I began reading was Miriam Salpeter of Keppie Careers.  Her message resonated with me.  Her knowledge is cutting edge!  In my mind, she gets it!
Over time, our connection grew and now I consider her a mentor and colleague and friend!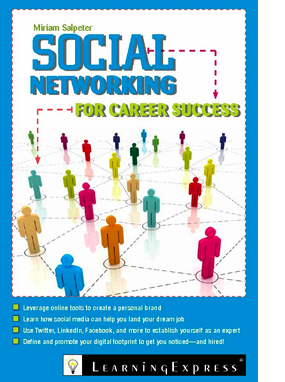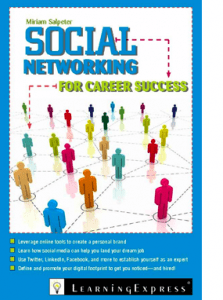 When Miriam told me she was writing a book, I knew it would be excellent.  She has first hand knowledge on the topic of social networking.  She truly gets relationship building!  When you look at the contributors to her book, you'll see what I mean!  Here's the listing. You will recognize many of the names on this list…these are the pros- the folks who really know what they are talking about, because they are using social networking as well!
This book, which I've been lucky enough to preview, is "PURE GOLD"!  It is filled with great explanations, recommendations, strategies, tips, advice, examples, stories!  It is very read-able!
You can still pre-order her book at a great discount here: Social Networking for Career Success: Using Online Tools to Create a Personal Brand
(This is an affiliate link because I believe in this book!)
Visit her book's website here: Social Networking for Career Success
What are you waiting for!
Oh, by the way, if you want to tap into Miriam's expertise, visit her blog posts on her Social Networking site… more gold!

Hannah Morgan speaks and writes about job search and career strategies. She founded CareerSherpa.net to educate professionals on how to maneuver through today's job search process. Hannah was nominated as a LinkedIn Top Voice in Job Search and Careers and is a regular contributor to US News & World Report. She has been quoted by media outlets, including Forbes, USA Today, Money Magazine, Huffington Post, as well as many other publications. She is also author of The Infographic Resume and co-author of Social Networking for Business Success.