Creativity, innovation, new ideas…Got 'em? They are not as elusive as we may think, at least according to Scott Berkun.  He delivered the keynote at the Society for Technical Communication 2012 Conference last night.  As a job seeker, you need to be a bit more creative in your job search, right? As an employee, you may want/need to develop more good ideas! Here are some things to think about.
What Kills the Idea?
Innovation and creativity are two skills said to be in demand in today's fast moving work environment. So how do you build up those skills? Berkun said that creativity is work.  It isn't just the epiphany, but the dedication to followup on the idea once its been conceived.  This is where most people give up (due to many reasons, most rooted in fear).
FEAR…did you hear that?  Job seekers and employees should deal with their fears!
You're Using the WRONG language
Another point Berkun made was that those well-meaning leaders (or others) who try to spark the fire of creativity do the exact opposite when they use "jargon" or words that are too complex to really understand.  Here is Berkun's slide (as shared by @afox98)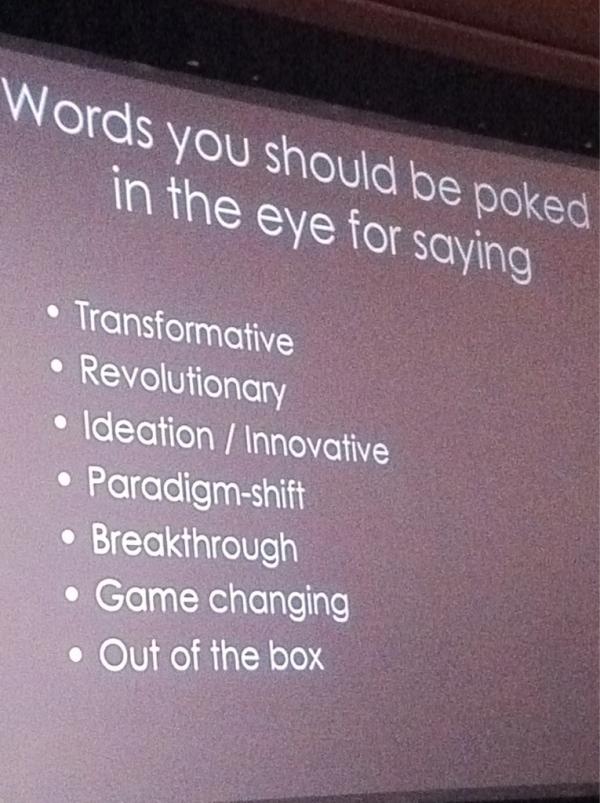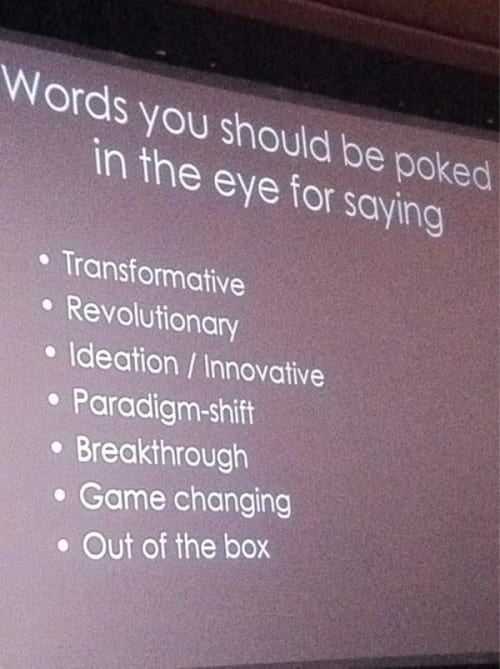 Now, to put this in terms for job seekers. You use jargon as you write and talk about yourself and you know what…it usually doesn't work. You are much better off dropping the jargon and using words that truly describe what you are a talking about.
Have a PITCH
According to Berkun, everyone needs to be able to pitch their ideas! Lack of courage prevents many from doing this.  But, he says there are some things you should think about as you pitch.
Make it short!
That means, succinctly tell what problem your idea solves!
Pitch it often!
Pitch it to as many people as possible
Have someone catch it!
Identify someone who will listen to your pitch and pull them aside to gain advocacy.
Tell a story!
Include a story with your pitch as an example of the problems it has solved in the past. Or the problems that have needed this solution in the past.
Job seekers, do you see how this relates to your situation?
I could go on and on about the motivating and inspiring points Scott Berkun made.  He got me thinking and most of the audience as well.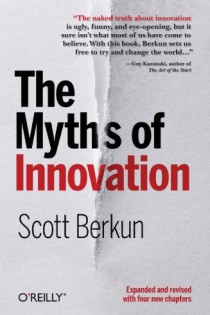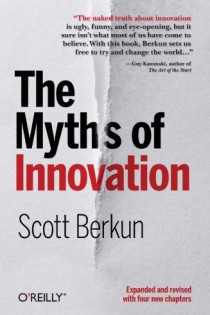 In a few hours, Ben Woelk and I will be co-presenting "Bullet Proofing Your Career Online" at the 2012 STC Conference in Rosemont, IL (that's technically Chicago).  I have now added this to my reading list:  "The Myths of Innovation".
As you begin this week, what new ideas will you work on? How will you eliminate jargon?

Hannah Morgan speaks and writes about job search and career strategies. She founded CareerSherpa.net to educate professionals on how to maneuver through today's job search process. Hannah was nominated as a LinkedIn Top Voice in Job Search and Careers and is a regular contributor to US News & World Report. She has been quoted by media outlets, including Forbes, USA Today, Money Magazine, Huffington Post, as well as many other publications. She is also author of The Infographic Resume and co-author of Social Networking for Business Success.