What makes someone successful in job search? Here are four revelations in job search to help you land a job faster.
During job search, there are times when the stars and moon align and everything works the way you wished it would.
And then there are the times of complete disaster, chaos, and discombobulation.
It's my belief that your attitude greatly impacts the road you end up on.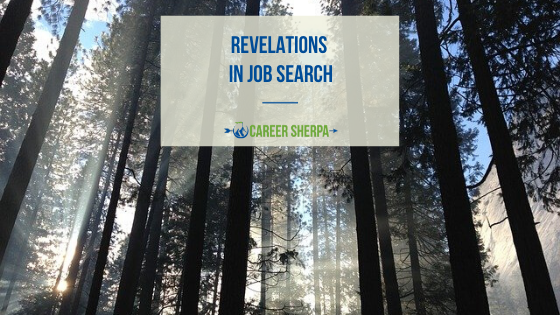 Based on my experience working with job seekers in transition, I've seen my share of train wrecks.
I've also been fortunate enough to witness "a ha" moments by job seekers who went on to have success. I'm sharing some of the common qualities they developed.
I don't think you can flick a light-switch and embody these qualities immediately, but you can have a greater sense of awareness about how you think and feel and begin working on changing your outlook on your job search.
Embrace Change
Everyday your world changes around you. This can be a good thing or it could drive you crazy. A layoff or downsizing can feel like the world has crashed around you, or it could be your ticket to a happier life! It is all how you look at it.
My favorite story is an oldie but a goodie! Two men, both close to retirement, were laid off on the same day. But their stories were completely different. One man was in shock. He was angry, and rightfully so. How could his company do this too him? He had given them his life and was banking on retiring in a few months. Now what was he going to do?
The other man, with a spring in his step, said he was so happy his company had released him early. Now he could start that business he had always dreamed of.
Revelations in job search #1: your outlook determines your outcome.
Develop Self Awareness
What do you love doing? What makes you different? These two simple questions are often difficult to answer when you are in the midst of turmoil or stress. Let's not forget to assess what your weaknesses are and how you may want to improve as well. At the end of the day, we all have a reputation or a story. You are a brand, if you want to use that term.
During one of my conversations with a budding entrepreneur, he told me he didn't know what his "brand" was.
He didn't know what made him different, unique or special. He confessed this shortly after chronicling his career path, which was quite spectacular. I said to him "Your story is your brand!" Learn how to tell your career story.
Revelations in job search #2: know who you are and why you are special.
Enthusiastically Try New Things
Don't knock it until you've tried it! Sounds kind like your mom telling you to eat your vegetables or something right? Couldn't we all benefit from experimenting with new ideas and actions?
One woman in transition (after a 20+ year career with one employer) said to me, "I am loving networking! I have met so many interesting people- who knew!"
Of course, this job seeker found a new job within several months and has a new-found appreciation for connecting with people which she still carries, even in her new job. Networking
Revelations in job search #3: never stop networking and have a growth mindset.
Admit Defeat and Reprogram
Sometimes you just need to know when to throw in the towel. But that doesn't mean give up. It means re-adjusting your goals or reprogramming your destination, if just for the short term.
There are countless stories of reinvention and those who have taken interim jobs to pay the bills.
But the wisest job seeker have opened themselves up to Plan B options in the very beginning of their searches. Who knows when the perfect Plan B job will come along? It certainly won't appear if you are looking for it. Have a back up plan and start those wheels in motion from the get-go!
Revelations in job search #4: reinvention is the mother of necessity.
How Will You Respond?
There are endless possibilities to find satisfaction in the work you do. One of my favorite quotes is:
Life is a journey not a destination
Enjoy your journey!

Hannah Morgan speaks and writes about job search and career strategies. She founded CareerSherpa.net to educate professionals on how to maneuver through today's job search process. Hannah was nominated as a LinkedIn Top Voice in Job Search and Careers and is a regular contributor to US News & World Report. She has been quoted by media outlets, including Forbes, USA Today, Money Magazine, Huffington Post, as well as many other publications. She is also author of The Infographic Resume and co-author of Social Networking for Business Success.