Hiring doesn't happen because you have the exact match of skills an employer wants. Companies hire people who fill a need within their company and whom they trust/like/see as a fit.  (I know plenty of recruiters and HR professionals will tend to disagree with me on this). But if hiring were as simple as finding someone with the right set of skills, companies wouldn't be screening and interviewing and interviewing and interviewing the way they are, would they?  How hard is it to evaluate skills?  My advice- stop playing the job application game. Build relationships instead.
How do I make this shift?
If you are serious about quitting the job boards, at least for now, you need something powerful to replace that activity with. The answer:
SOCIAL MEDIA/SOCIAL NETWORKS
Use the time you would have normally spent applying for jobs online to build and nurture a virtual network comprised of thought leaders and hiring managers!
How Do I Start Using "Social" in Job Search?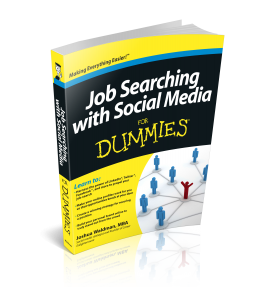 Job Searching with Social Media For Dummies (For Dummies (Career/Education))
by Joshua Waldman (This is an affiliate link, FYI)
Waldman's book isn't about how to find posted jobs on these social networking sites (but that information is in here).  He focuses on how you can connect with hiring managers and company insiders to build relationships that can lead to un-posted job opportunities.  Waldman answers this big question on his site:
How can I engage hiring managers using Social Media?

Just like dating, you just have to put yourself out there! Just don't overdo it. You wouldn't go up to a pretty girl (or handsome man) and propose, would you? With hiring managers, make a connection through a network contact or unite over common ground. Start a conversation about something important to the both of you to get the ball rolling.
The really wonderful thing about social networks is that, when used correctly, they allow you to build relationships with people you might otherwise find it difficult to connect with. Case in point: I was introduced to the author, Joshua Waldman, through a fellow career professional and blogger.  Joshua asked if I would review his book and write about it on my blog.  (Kinda similar to asking for an informational interview with a company, right?).  Because I trusted the career professional who connected us, I agreed.
Why You Need to Get Social
Hiring has changed. The job market is competitive.  In order to stand out among the sea of applicants you need two three things:
The right reputation
An online presence
Likeability
Waldman's book will help guide you in this transition away from the same-old, same-old job search and provide you with answers to questions about how to use social tools to build your online reputation and new relationships.
What are you waiting for?

Hannah Morgan is one of this year's LinkedIn Top Voice in Job Search and Careers and a nationally recognized author and speaker on job search strategies.  She founded CareerSherpa.net to combine her career expertise with her love of writing, speaking and social media. Her mission is to educate professionals on how to maneuver through today's job search process.  Hannah is a regular contributor to US News & World Report. She has been quoted by media outlets, including Forbes, USA Today, Money Magazine, Huffington Post, MarketWatch, LifeHacker, The Muse, Business Insider, SmartBrief, Payscale as well as many other publications. She is also author of The Infographic Resume and co-author of Social Networking for Business Success.