You MUST continue to re-invent yourself! I know- it's a lot of work and you don't want to, but look at the world we live in. Please, share in a comment, one thing that is the same today as it was 10 years ago. Just one thing.
You Are in Permanent Beta
If you are looking for a book to give a college student this year on the topic of career managing in an ever-changing world, please get them "The Start-up of You" by Reid Hoffman, co-founder of LinkedIn. Reid Hoffman talks about being in constant beta- a state of trial, readiness to implement change, and reinvention. Keep reading about resiliency to help get you accustomed to constant change. Here's a post I wrote about good career reads.
LinkedIn Changes
While I'm on the topic, you'll be getting a new LinkedIn profile soon. And one of the first things I noticed was missing were the apps (SlideShare, Wordpress blog, Box files). These used to nicely show up within your profile to showcase your portfolio of work. Well, there gone.  Here's the email: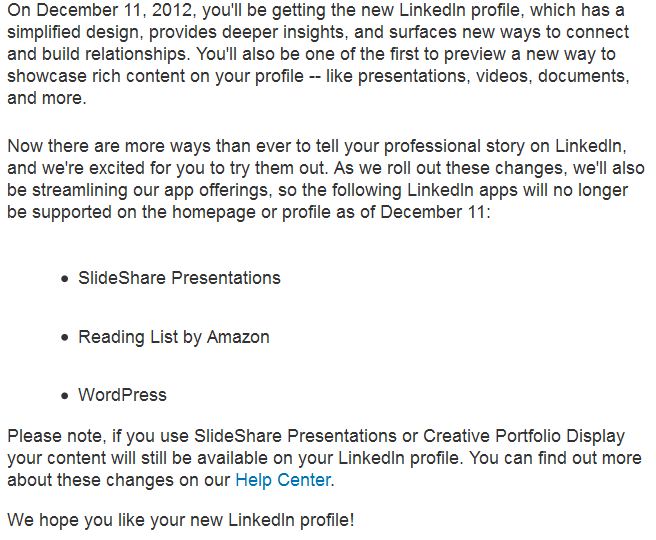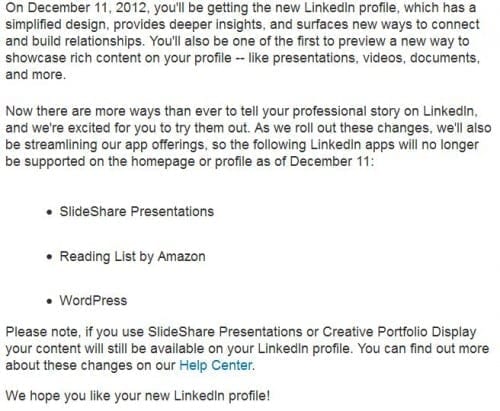 (This message seems contradictory to me, so for further clarification, you can read what LinkedIn's help center says. And for the record LinkedIn, NO is do not like my new profile. You've taken away things without adding anything. Who likes that?)
Build New Morphing Habits
This article from Inc. 8 Habits of Remarkably Successful People may help you understand what it takes to grow to the next level. Mediocrity is rampant! Extraordinary is risky! Which path to success will you take? Always chose the hardest route!
Here are the first four as a teaser to get you to read the whole article! PLEASE!
1. They don't create back-up plans.
2. They do the work…
3.  …and they work a lot more.
4. They avoid the crowds.
Google+Adds Communities
Change is all around! Google+ has added communities for celebrities, non-profits, news outlets, universities and anyone else who feels like building community! They are the equivalent of groups, kind of! Check out the listing of communities. If you want some instruction on creating one, SocialNot created a helpful post on creating a  Google+ Community
Pinterest Business Pages
Yes, now your business can have a page! HubSpot's article "Pinterest Finally Rolls Out Business Accounts: How to Set Yours Up Today" provides the details you need to get going on this.
Change is constant. I don't think you can fight it, so you might as well learn to embrace it! Again, what is one thing that is the same today as it was 10 years ago…please, share your wisdom in a comment!

Hannah Morgan speaks and writes about job search and career strategies. She founded CareerSherpa.net to educate professionals on how to maneuver through today's job search process. Hannah was nominated as a LinkedIn Top Voice in Job Search and Careers and is a regular contributor to US News & World Report. She has been quoted by media outlets, including Forbes, USA Today, Money Magazine, Huffington Post, as well as many other publications. She is also author of The Infographic Resume and co-author of Social Networking for Business Success.