Managing your career requires you to actually attempt to manage it.  How easy is it for us to go about our daily lives and not think about what is next or even ask ourselves if we like what we are doing.  Living your life on autopilot seems rather dull. Don't you deserve better?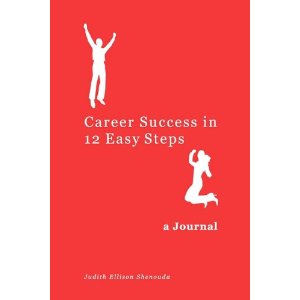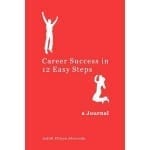 There has been significant evidence gathered that suggests journaling is a powerful way of healing, coping and moving forward.  When Judy Shenouda announced she was writing a book on career success, I was excited to learn that its true title was "Career Success in 12 Easy Steps: a journal".
There are tons of career self help books out there.  The most famous and most cumbersome is Richard Bolles' "What Color is Your Parachute".  This classic tome of assessments, questions and tools works well for those who are serious about assessing and figuring out what's next.  In comparison, Career Success in 12 Easy Steps is light and playful.  Oh, and EASY.
Each chapter follows a wonderful formula.  A story, questions, and my favorite part, a "Mad Lib-like" affirmation/summary at the end of each chapter.  Judy chunks the chapters into meaningful pieces that are just the right size to be manageable.   It is practical enough to be actionable.  It also will appeal to those who are bigger-picture thinkers as well.
Would you like a sneak peak at the chapter headings?
Step 1.  Wake Up to Your Dream
Step 2. Build on Your Successes
Step 3.  Own Your Competencies
Step 4.  Know What Emanates from You
Step 5.  Discover What is Relevant for You and Do It
Step 6. Draw from the Breadth and Depth of Your Experience
Step 7. Engage, Involve, Manage, Lead and Guide
Step 8.  Demystify and Simplify the Complex
Step 9. Discard Anxiety and Embrace Confidence
Step 10. Keep Your Reservoir Full
Step 11. Bestow Unto Others
Step 12. And Also Receive
For those wanting more out of their worklife.  For those who want to manage their future.  For those who are looking for a better way…
I guess I am saying that I thoroughly enjoyed Judy's approach to this complex career enigma!

Hannah Morgan speaks and writes about job search and career strategies. She founded CareerSherpa.net to educate professionals on how to maneuver through today's job search process. Hannah was nominated as a LinkedIn Top Voice in Job Search and Careers and is a regular contributor to US News & World Report. She has been quoted by media outlets, including Forbes, USA Today, Money Magazine, Huffington Post, as well as many other publications. She is also author of The Infographic Resume and co-author of Social Networking for Business Success.