A hot trend to watch is the desire of job seekers to search and apply for jobs from a mobile device according to Jobvite's 2014 Job Seeker Nation Report. And there are some other take-aways as well!
Who Is Job Searching?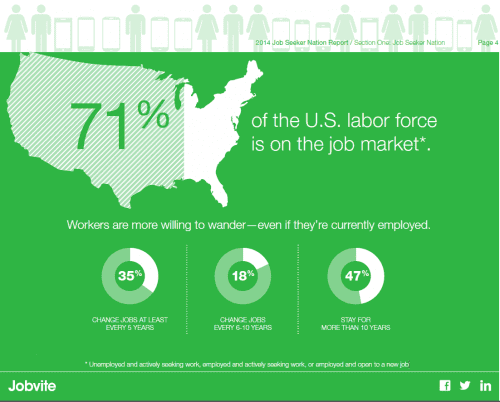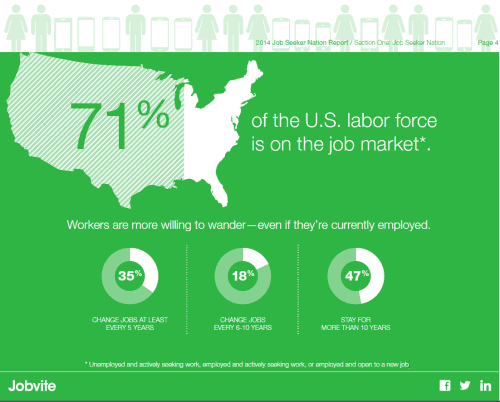 Jobvite looked at who was on the hunt for a job and it's no surprise that 71% of you are engaged in some sort of job search (In other words, you are unemployed and actively seeking work, employed and actively seeking work, or employed and open to a new job.) And 51% of employed people are actively job seeking or open to new opportunities!
So how are they going about it?
Mobile Devices Are Key


The rise of smart phones and tablets means you have access to information on the go.  Almost a third (27%) of job seekers want to use their mobile device to apply for jobs.
And 43% of job seekers have used their mobile devices for "job seeking activities."  They've logged in from their beds, in the restroom, while waiting for a bus/train and even while at work!
Job Seekers Updating Profiles and Searching For Jobs


15% of people surveyed said they updated their Facebook profiles from their mobile and 15% said they searched for a job on Facebook. Make note, the data says that younger job seekers are more likely to use mobile devices. This may explain why Facebook percentages are high.
The other point to note is that only 36% of job seekers are using LinkedIn (yet 94% of recruiters are active here!) I hope the Facebook users get the message!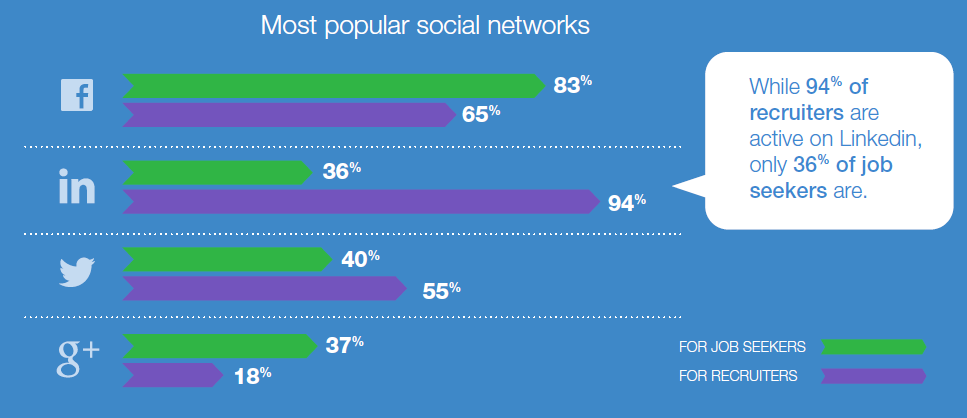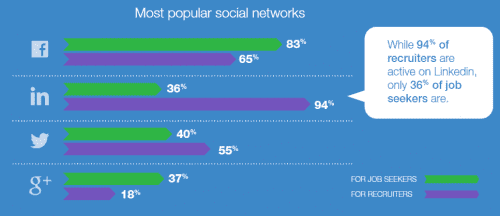 Reasons Recruiters Dismiss Candidates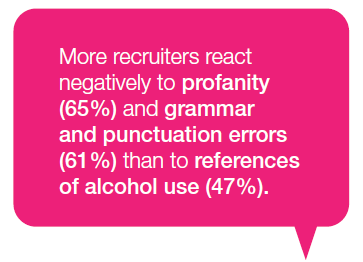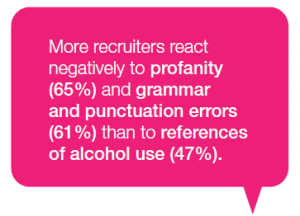 Good news (maybe) for the Facebook users sharing party photos. Poor grammar, punctuation and profanity in updates are more damaging than posts mentioning alcohol.
Sources for Finding The "Dream Job"
Pay close attention to this! Referrals ROCK! When job seekers were asked how they found their favorite or best job, they credit personal connections! (Think friends, family, and people you know!)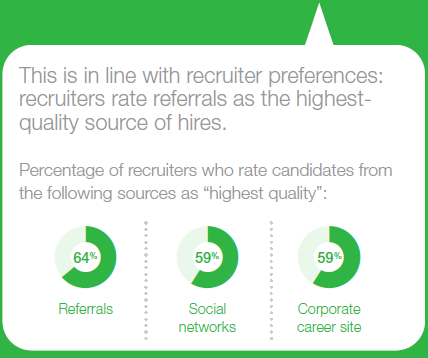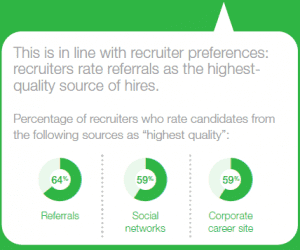 This aligns with what recruiters have found too! 64% of high quality candidates are found through referrals. But don't overlook social networks because 59% of recruiters have found quality candidates there too. 59% credit their corporate career site.
What is your "a-ha" moment from reading this summary? Will you do anything differently?

Hannah Morgan speaks and writes about job search and career strategies. She founded CareerSherpa.net to educate professionals on how to maneuver through today's job search process. Hannah was nominated as a LinkedIn Top Voice in Job Search and Careers and is a regular contributor to US News & World Report. She has been quoted by media outlets, including Forbes, USA Today, Money Magazine, Huffington Post, as well as many other publications. She is also author of The Infographic Resume and co-author of Social Networking for Business Success.