Gary Vaynerchuk's newest book Jab, Jab, Jab, Right Hook: How to Tell Your Story in a Noisy Social World launches! So what's the big deal?
Gary Practices What He Preaches
Throughout Jab, Jab, Jab, Right Hook (JJJRH), Gary talks about how to connect with your audience through the right use of social media means.
What this really comes down to for business owners, marketing teams, solo-practitioners, or community managers, it the need and ability to listen to what your potential customer is saying. Engagement with your peeps is what converts them into loyal customers! Gary does this all the time- this is why he's a master on social and why I support him!
Dating back to 2010…

And he still has the knack/gift…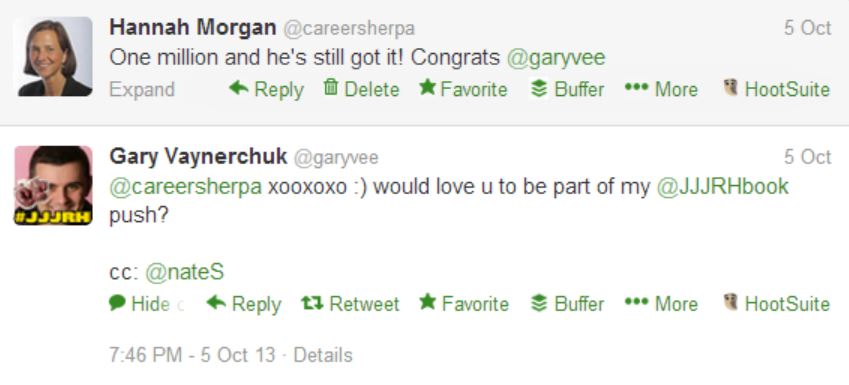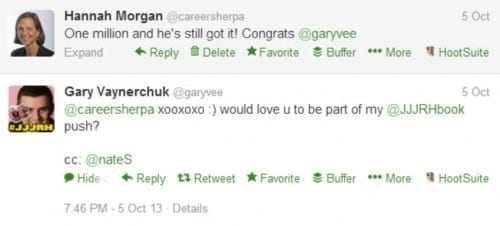 (OK, a little bragging here, but honestly, I am so flattered that someone so big noticed little 'ol me!)
Give, Give, Give, Ask
You have to practice some boxing strategy in order to win over the loyalty or support of your fans, friends and supporters. In order to do that you have to give, give, give before you ask for anything. Not a difficult lesson but one too many users overlook. Just because someone follows your account doesn't mean they are a fan and will automatically purchase everything you throw their way! Give them stuff, value, help, edutainment, a laugh…stir emotion!
You can preview a chapter -click on preview. (give)
Here is a link to a slideshare presentation about the number one mistake people make on Twitter. (give)
Here are 5 case studies from the book. (give)
Now go buy the book: Jab, Jab, Jab, Right Hook: How to Tell Your Story in a Noisy Social World (affiliate link)
Speak The Native Language
Gary includes 80 case studies in JJJRH to help you see what works and what doesn't or didn't. A re-occurring theme and reason Gary believes a social update fails is that it doesn't speak the native language of the platform it was posted on.
Sorry to tell you but, in order to get the kind of positive response you want from your followers or potential customers, you have to create content that is suited for the platform.
DO NOT CROSS POST the same update across all your social networks. Yes, it saves time, but no, it probably won't crush it! (Nod to Gary's first book.)
Beginner, Intermediate or Advanced
No matter what your experience level with social media, there are takeaways for every level!
Job Seeker's Take Note
And what about job seekers? Will you benefit? ABSOLUTELY! Marketing is marketing! Listening is listening. Engaging is engaging! All the strategies in this book can be applied to how you market yourself to potential employers as well!
Here is one of my favorite presentations by Gary and this is all about marketing yourself!
Color Makes This Book Sticky
One last reason to invest in this book is the use of color photos on heavy-duty glossy paper! It is truly too pretty to stick in a bookshelf or to order as an eBook! It is worthy of displaying on your coffee table or desk.
Thanks, Gary and Nate
I want to thank Gary and Nate for sending me an advanced copy! I was a giddy kid opening it up when it arrived (geek that I am)! I think you will be too!


Hannah Morgan speaks and writes about job search and career strategies. She founded CareerSherpa.net to educate professionals on how to maneuver through today's job search process. Hannah was nominated as a LinkedIn Top Voice in Job Search and Careers and is a regular contributor to US News & World Report. She has been quoted by media outlets, including Forbes, USA Today, Money Magazine, Huffington Post, as well as many other publications. She is also author of The Infographic Resume and co-author of Social Networking for Business Success.