This title applies in so many ways to your job search.  Each path you pursue, each person you talk to, is not a destination, but a stop along a journey.  Your final goal is yet to be defined.  You will have many stops along your journey, some will be extraordinary learning experiences, others will be places you'll never want to leave.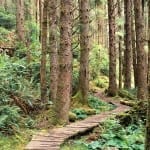 I was speaking with some girlfriends last night, and as we recalled our shared past experiences, I was reminded of how true this statement is of life as well.  We don't stop growing, learning and changing.  We are not the same people we were 5 years ago. Sure, we may hold onto certain qualities or traits, but what we have learned from our past experiences makes us wiser and adds perspective.
Would we be who we are today without our past experiences?
It has been my observation that people who have persevered and turned oppression into opportunities, are the people who are living life.
What I think they realize is, to some extent, they can shape their journey.  They are choosing paths.  They are making things happen.  They overcome fear. Every decision they make takes them down a new path.
Instead of fighting change, they use it.  They mold their decisions based on the certainty that change will happen.  They may even anticipate change and use their forward thinking to launch themselves into the forefront.
As I embark on this entrepreneurial thing, I have realized this is a journey. I am learning through trial and error, through speaking with people who think differently than I do, and listening to people I have worked with and clients.  I am reminded of the fact that I am on a journey.
Your job search doesn't end when you land a job.  You must continue to be open to possibilities.  You must not dig in and hold on tight.  Keep your journey going.  Continue to meet new people, continue to explore new opportunities, continue to live and be open to the possibilities.
So my words of wisdom are: Don't look for a final destination, because it isn't what you think it is.
Fight a fight you are passionate about
Learn something new every day
Challenge routine
Buck the system
Live outside your comfort zone
Be engaged and engaging
Know yourself (I mean REALLY know yourself)
Find a new hobby or take up an old one
Add "well-living" principles into your life (diet and exercise)
Be.

Hannah Morgan speaks and writes about job search and career strategies. She founded CareerSherpa.net to educate professionals on how to maneuver through today's job search process. Hannah was nominated as a LinkedIn Top Voice in Job Search and Careers and is a regular contributor to US News & World Report. She has been quoted by media outlets, including Forbes, USA Today, Money Magazine, Huffington Post, as well as many other publications. She is also author of The Infographic Resume and co-author of Social Networking for Business Success.