As I was talking to an unemployed web designer yesterday, I suggested she might want to look for a "tweener" job.
A "tweener" job can help you get over the loss, keep your skills fresh, and give you new purpose.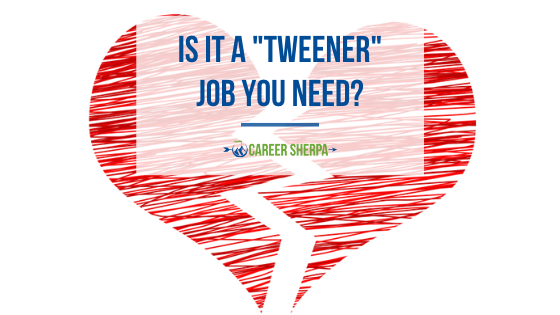 This is the analogy I used.
Do you remember your first big breakup? The one that left your heart literally aching and made you sob so hard you couldn't breathe? That breakup helped prepare you for your next great loss. The next time it doesn't hurt quite as much, right?
OK, in theory. But how did you transition from one great love to the next? In many cases, there was a relationship in between.
I remember my first heartbreak. It was the Summer of 1991. Unrequited love, not a breakup so to speak. I cried my eyes out over a pint of Ben & Jerry's Oreo Mint. Every song I heard on the radio sent me into uncontrollable sobbing. That lasted a month.
Life goes on, I moved on. Without going into too much detail, it wasn't until I had a "fling" with someone else, that I was really ready to move forward and ditch my strong feelings of loss. (I confess, hearing Chicago still makes me feel a bit nostalgic).
Maybe, just maybe, you need to have a "fling" with a new job at a new company to help you get over your loss and be ready to find the next great love! That is what the "tweener" job is- the one between great loves.
Your greatest chance of finding this job? Networking, not through a job posting. Because even if tweaked, your resume can present you as overqualified.
However, you need to consider several things.
Be very focused on what you are looking for or what purpose it will serve. It could be the job is part-time and you prefer full time. It could be that there isn't any real challenge to the job. Maybe it is a job with a company with less than a perfect reputation.
Be convincing and show that you are sincerely interested in this less than perfect job.
You must know that this will not be a "forever" job, which means that you continue to look for work, network, etc. (No, your boss doesn't need to know this!)
This might not be the best strategy for everyone. Consider your situation and consider this as an option. It is OK to leave a job on your own accord (and in less than a year if necessary). It is OK to move forward when it is time!

Hannah Morgan speaks and writes about job search and career strategies. She founded CareerSherpa.net to educate professionals on how to maneuver through today's job search process. Hannah was nominated as a LinkedIn Top Voice in Job Search and Careers and is a regular contributor to US News & World Report. She has been quoted by media outlets, including Forbes, USA Today, Money Magazine, Huffington Post, as well as many other publications. She is also author of The Infographic Resume and co-author of Social Networking for Business Success.