CareerXroad's 2012 Source of Hire survey results are out! This annual survey has been running for over a decade and provides a summary of how companies have filled their open positions in the past year.
External Hires UP .5%
The great news is that external hiring is UP.  In previous year's this number has been much smaller (27.5% in 2010 and 26.7% in 2009) as a result of the unstable economy.  Most hiring in the past years came from internal sources.
What About the Little Guys?
There is a flaw with this study, in my opinion.  Only large companies were surveyed- each with 1,500 to 10,000+ North American employees. My instincts tell me that surveying the smaller companies (with smaller budgets) would shed a different light on hiring practices.  I am also a huge advocate for the little guys.  I believe, like others, that the success of our economy in the immediate future is going to come from smaller companies.  They are nimble, generally more innovative and can get product/service to market faster and cheaper than the bohemiths.
Are Job Boards Really Alive and Well?
According to the companies surveyed, yes.  20.1% of their external new hires credited the job boards with their finding the job posting.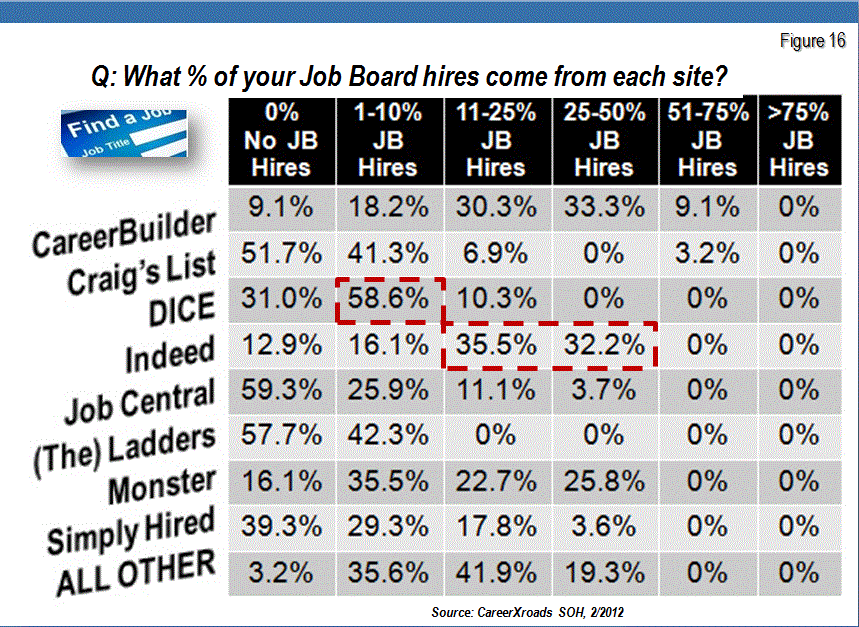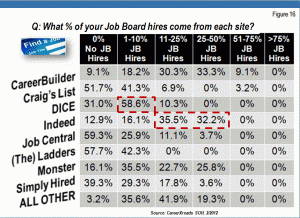 Your take-away…if you aren't searching Indeed, you are missing opportunities!
 The Other Sources of Hire
9.8%Career Site
9.1% Recruiter initiated
6.6% College
4.3% Rehires
3.5% Social Media
and I'll stop there.
Add all of these to your search strategy:
Initiate conversations with recruiters geographically and by industry niche.
Contact your college and see what services they provide
Keep an eye on your past employers career sites
And jump on social media, most importantly LinkedIn
 Is Social Media a Source?
It is becoming increasingly difficult to credit a single source of hire. Actually, it always had been pretty complicated.  When you think of all the different ways a job lead can be shared: word of  mouth, email, social networks, etc. Who should really get the credit?
This year's study looks at how different channels influence the actions of job seekers.  Social media may not be a direct source of hire, however, it is certainly a strong influencer.
Job boards were influenced 44% by social media.
Referrals were influenced 40% by social media
Boomerangs (meaning people who had already been working for that company) were only slightly influenced (21.9%) by social media.
 Your take away…if you aren't using social media, it may take you longer to find out about jobs or you may miss them all together.
LinkedIn is the big Winner for Companies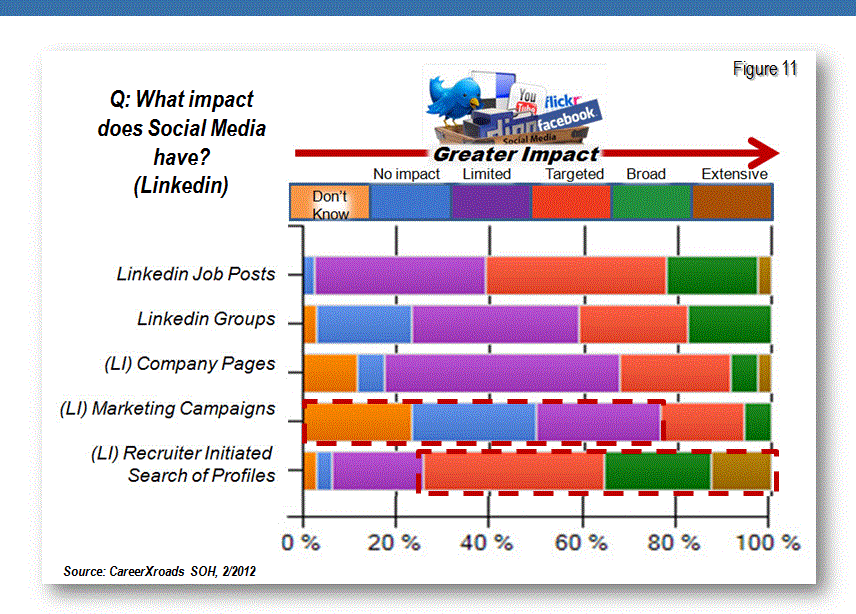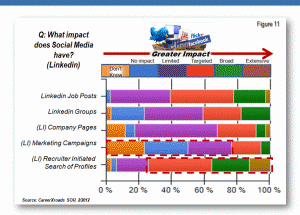 LinkedIn is of significant benefit to recruiters searching candidates as you can see from this image.  Facebook and Twitter don't even rank as having extensive impact at all, that is, according to these large employers, at this point in time.
Companies seem to feel that their company pages also have somewhat of an extensive reach.
What the Experts Are Saying About CareerXroads study
In John Zappe's post on SourceCon, he quotes Gerry Crispin of CareerXroads:
says Crispin, offering this scenario:

A job seeker goes to a job board and sees a job at a company where they previous worked. Now the job board has alerted somebody who used to work there. They go to the company site, because that's where the posting sends them. But they call a friend who still works there, and the friend makes a referral, because the company pays a bonus.

The source of hire gets listed as 'referral.'
And then there is this humorous, but oh-so-true, illustration of a real-life source of hire scenario in Lance Haun's post on SourceCon.
 Leave a comment and let me know what your reported as the source of how you found out about your last job!

Hannah Morgan speaks and writes about job search and career strategies. She founded CareerSherpa.net to educate professionals on how to maneuver through today's job search process. Hannah was nominated as a LinkedIn Top Voice in Job Search and Careers and is a regular contributor to US News & World Report. She has been quoted by media outlets, including Forbes, USA Today, Money Magazine, Huffington Post, as well as many other publications. She is also author of The Infographic Resume and co-author of Social Networking for Business Success.