Job search will take longer than you want or expect! Are you being realistic when you set your goals?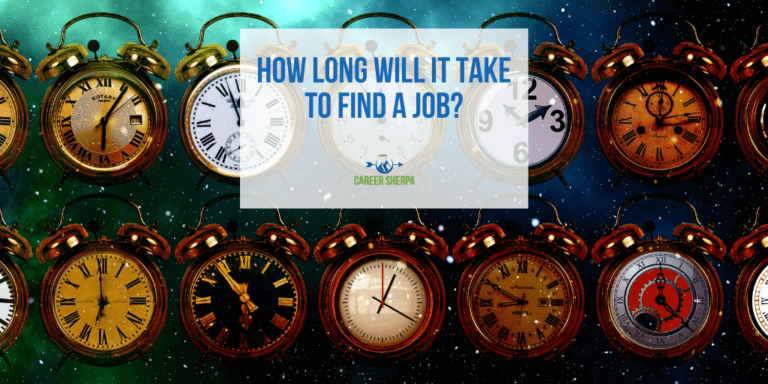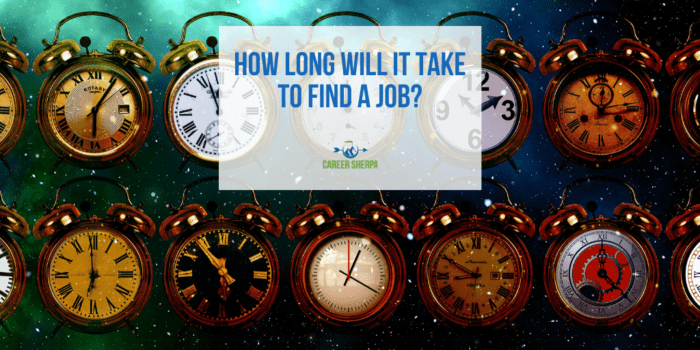 I regularly run into job seekers who tell me they plan to have a job within the next 30 days.
Sadly, it can take that long for some companies to review resumes.
So how long should you expect your job search to take?
Job Search Data
4.6 months, according to the Department of Labor, is the average duration of job search (Nov 2019).
How long does it take for employers to respond after you apply?
42 days average time it takes to fill a job but it varies across industries – from 14 to 63 days (HireView 2019)
As you can see, it is challenging to provide a general answer. There are just too many factors.
Keep these general guidelines in mind as you think about how long it will take to find a job.
Be Realistic
Your desired pay, job level, uniqueness of skills, all impact how long it will take to find a job.
For example, if what you do is rare or openings seldom become available, you may be at this awhile. Just understanding this can help you set a more realistic time frame.
The old formula of 1 month for every $10,000 is close to what you should use. This means, if you were making $50K, you should expect about a 5-month job search. (Disclaimer: your search may be longer or shorter!)
Control What You Can
Much of the job search process lies in the hands of the employer, however, there are things you can do to increase your probability of finding a job faster! When you take ownership of these things you feel better. That's huge. You'll become more productive and confident!
Read this Take Control of Your Job Search
Proactive Prospecting
Instead of responding to job postings, build a list of companies who could or would potentially hire someone with your skills. Build a list of 50 companies. I know that sounds like a lot, but this is a numbers game and the more companies you are looking at, the greater your chances of being at the right place at the right time!
How To Find Target Companies For Your Job Search
If you aren't sure what industry to narrow your search down by, start with a company you know you would like to work for. Who are their competitors? What industry have they been categorized in? Perhaps your career could exist within multiple industries, that's great.
Make this a full-time job…or not
Stay on schedule! Each time you allow distractions (personal or otherwise) that take away from your 30+ hours of job search time, you potentially extend your job search time.
It is fine with me if you decide not to work on your job search because you need to take your mom to the doctor, just know, that extends your job search.
I get it. It's important to have balance in your life. In fact, you may never have this type of flexibility to spend with family or work on projects again. So enjoy it – you owe it to yourself to practice self-care.
But again, let me remind you that your choice comes at a price. If you do not invest your time doing the right types of job search activities, you will find yourself in an extended job search, thus taking longer to secure a new job.
Gear up! Buckle down and go for it!

Hannah Morgan speaks and writes about job search and career strategies. She founded CareerSherpa.net to educate professionals on how to maneuver through today's job search process. Hannah was nominated as a LinkedIn Top Voice in Job Search and Careers and is a regular contributor to US News & World Report. She has been quoted by media outlets, including Forbes, USA Today, Money Magazine, Huffington Post, as well as many other publications. She is also author of The Infographic Resume and co-author of Social Networking for Business Success.