What is flexible work? Well, if you've been looking for a job that doesn't mandate a traditional work schedule or doesn't require you to report to an office, that's what I'm talking about.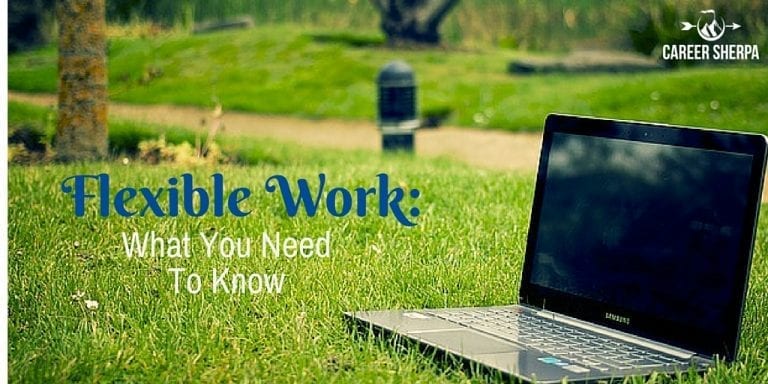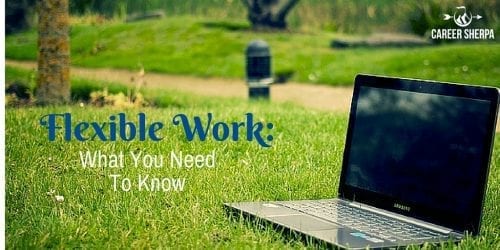 For those looking for a side gig or even flexible work, you've either been disappointed by the lack of posted opportunities or discouraged by the too-good-to-be-true looking scams.
So what's the secret to finding legitimate telecommuting jobs, freelancing opportunities, part-time or flexible work?
The good news is that 80% of companies offer flexible working arrangements according to a survey conducted by WorldatWork, a human resources association, and FlexJobs, an online career site. However, only 44% publicize these benefits.
Flexible Work Has Many Different Meanings
It can mean working a non-traditional schedule or performing work from an alternative location. The top three flexible work programs offered to most or some employees according to the study included:
flex time
part-time hours
telework, sometimes called telecommuting
The majority of companies surveyed allowed employees to work from a remote location on an as-needed basis, such as staying home with a sick child or meeting a repair person. Ad hoc telework, was the most popular flexible work alternative.
The second most frequently referenced work alternative was flexibility in working hours, which allows employees to start and end their workdays at times that are different from the normal operating hours.
Offering a part-time schedule, either with or without benefits, was the third most cited flexible option.
Companies also reported offering employees the ability to work remotely at least one day per week or one day per month, but these types of telework were offered less often than ad-hoc telework. Half the companies surveyed say they customize flexible work to suit an employee's situation.
If you are looking for a more flexible work schedule, these findings should be good news. More companies are open to the idea of making the workplace more conducive to employees' schedules.
It Isn't Always Formalized
There are still flaws in how employers roll out flexible work programs. Most don't have a formal policy in place. In fact, 64% of companies admit that the policies for flexible work were informal or not in writing.
An additional problem is that 67% of managers offer flexibility at their own discretion. This adds inconsistency in the interpretation and administration of an already contentious work benefit.
Companies that have a strategically embedded culture to support flexible work programs have greater employee engagement, higher employee motivation and significantly better employee satisfaction than employers with a weak or nonexistent flex work program.
As more companies educate managers and potential employees on how flexible work programs work, the more prevalent it should become in our workforce.
Few Employers Market Flexible Work
Good luck finding companies or jobs that welcome candidates looking for flexible work. The study found that almost half of the companies that offer flexible work schedules admit they do not publicly promote their offering.
It Isn't Always a Work-From-Home Scam
There are legitimate freelance and telecommuting opportunities. The key is to vet the opportunities.
Start by looking at companies that are recognized for offering legitimate opportunities. You can search online by using keywords, such as "top flexible employers" or "top work-from-home companies."
When you see flexible jobs advertised, be wary if the posting offers a huge salary, requires payment upfront or offers immediate interviews. These are some tell-tale signs of a scam.
Also realize that sites, such as Craigslist or other job boards with low or no fees, make good targets for posting scams.
Don't Get Discouraged
You can search job posting websites geared specifically for telework or flex work, such as Flexjobs.com, which pre-screen and vet opportunities to make your life easier. You will also want to tap into your network and ask employees how to open their managers or company is to working nontraditional schedules.
Self Advocate
Once you find a lead on a flex-friendly employer, you still need to advocate for yourself prior to joining a company.
Ask managers and employees during the interview process to talk about flexible work arrangements. And even if the employer isn't open to flexing the work arrangement, it is worth asking about making an exception for you. The worst you will hear is no.
This post originally appeared on USNews & World Report On Careers
Want To Learn More About Remote Work Options?
50 percent of people will work remotely by 2020 according to estimated projections.
Telecommuting, remote, and distributed work is disrupting the traditional report-to-an-office work model.
I was honored to moderate a panel discussion and met amazing people doing amazing things for this up and coming workplace trend.
How Employer Branding Leaders Leverage Remote Work to Attract Top Talent @careersherpa @JenniferNAtDell #tradworks pic.twitter.com/UGi192jHTz

— The TRaD Works Forum (@trad_works) June 9, 2016
@JenniferNAtDell in action describing the brand impact of work flexibility @ Dell #tradworks @CareersAtDell pic.twitter.com/j9z0m1FPqW

— Mo Chahdi at Dell (@MChahdi) June 9, 2016

Hannah Morgan speaks and writes about job search and career strategies. She founded CareerSherpa.net to educate professionals on how to maneuver through today's job search process. Hannah was nominated as a LinkedIn Top Voice in Job Search and Careers and is a regular contributor to US News & World Report. She has been quoted by media outlets, including Forbes, USA Today, Money Magazine, Huffington Post, as well as many other publications. She is also author of The Infographic Resume and co-author of Social Networking for Business Success.