Today's Fix It Friday answer is on whether you need to be an expert in every job requirement requested.
On Friday, I respond to YOUR job search questions! If you have a question, ask me! Honestly, most questions are not all that unique. Chances are, someone else has the same question you do!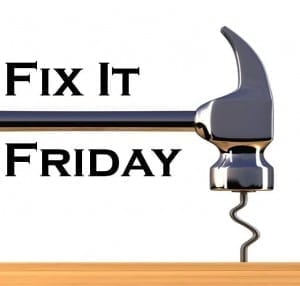 Here's today's question:
When a job search requires two separate and distinct skill sets (such as training abilities and technical abilities) and you match one set extremely well and are slightly under-qualified in the other how should you handle the one that you are under-qualified for? I am an Implementation and Training Specialist and while my training skills are exemplary and award-winning, I may lack some experience on the technical side. I am not talking about knowing nothing, but instead being intermediate or advanced level when the job description calls for expert level.
All Jobs Require Multiple Skill Sets
In today's work environment, I would be hard-pressed to identify a job that doesn't require vastly different skills. We are always being asked to do more with less. In your case, not having "expert" level technology skills COULD be a factor, but maybe not as much as you think. Honestly, what is the big difference between what an advanced user knows versus an expert user knows how to do?
Understand What Expert Means
You will need to better understand what you are really lacking. You can do this by talking to industry leaders in training and development or attending your local ASTD chapter meetings. You could reach out to someone who is an expert and ask for an informational meeting to better understand what capabilities you lack. This is really important because you need to understand WHY not having expert level skills may or may not be an issue.
Dismiss It
One option is to dismiss this missing knowledge as "no big deal."Focus on what you CAN do and why this benefits the company's offerings. You may have other skills need and these would be your value-add (and make up for the missing expert level skills). Be sure to provide examples of times you have been able to overcome "lack of knowledge" and your ability to master new skills easily and quickly! This surely happens regularly.
Actions Speak Louder Than Words
Once they see you in action, they may be willing to overlook missing skills. Your exemplary platform/deliver skills may woo them. If you have video of yourself training, share it! You may even offer to present on an expert level subject matter topic so they can see you in action.
Fix It
The other option, once you have determined your missing knowledge, is to go fix it by developing those skills.
Trainers Are Not Always SMEs
Not all trainers NEED to be SMEs (subject matter experts). Focus on training opportunities with organizations that do not require these higher level of technical skills.
Confidence Is King
As you know, your presence and confidence "in the front of the room", so to speak, is what engages and impresses. Focus on your strengths, not your weaknesses! Believe in what you do have to offer and don't obsess over what you don't have. There will always be candidates without key skills. They got their job because of the value they provide to the organization.
Got a Question?
Submit your job search question here:

Hannah Morgan speaks and writes about job search and career strategies. She founded CareerSherpa.net to educate professionals on how to maneuver through today's job search process. Hannah was nominated as a LinkedIn Top Voice in Job Search and Careers and is a regular contributor to US News & World Report. She has been quoted by media outlets, including Forbes, USA Today, Money Magazine, Huffington Post, as well as many other publications. She is also author of The Infographic Resume and co-author of Social Networking for Business Success.