Having some examples of leadership experience to share during an interview is important no matter what job you're going after. After all, interviewers love to hear (and ask) about situations where you were able to lead others.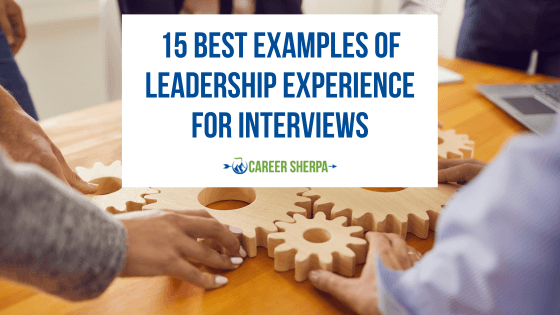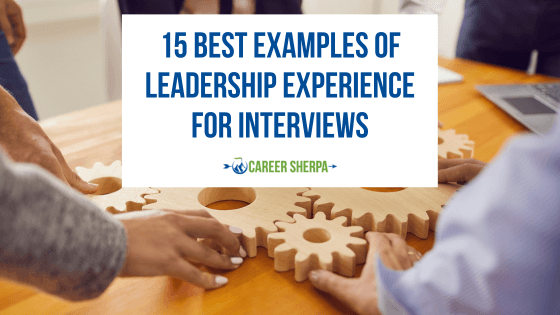 This guide goes over some great leadership examples you can use, even if you're just starting out in your career.
Table of contents
Why Interviewers Want to Hear About Your Leadership Experience
Good leadership skills are important for any job. While you can always expect interviewers to ask for examples of leadership experience when you're applying to supervisory and managerial roles, this can also apply to entry-level jobs as well.
Even if you're not interviewing for a leadership position, those skills give hiring managers a glimpse of your potential. Your response highlights what you bring to the organization now, and how you could impact the business moving forward.
Examples of Leadership Experience
Even if you have yet to hold formal leadership roles, there are a number of leadership examples you can share during an interview. Here are several to consider.
1. Leading a project at work or in school
Leading a project at work or school is one of the best direct examples of leadership. If you choose a moment from school, stick to the largest and most recent project. That could be a research project, a big group presentation, or other team assignments.
For work examples, the same applies. Focus on high-impact projects that made a difference for your company.
The best way to discuss these examples during your interview is to emphasize your role. Detail how you led the project and how you approached the job. If you delegated tasks, you can mention how you managed that job by finding the best fit for every member of your team.
Lean into the core leadership skills you utilized. That could include organizing the work, delegating tasks, motivating collaborators, and more. Then, wrap up with a positive outcome to prove that you successfully fit into that leadership role.
2. Working in a role that had direct reports
Here's another fantastic leadership example that's direct and easy to connect to the job you're interviewing for. Any position you held that came with direct reports is a leadership role. It doesn't matter if you didn't directly supervise others or not.
Talking about these experiences is an excellent way to show that previous employers trusted you to lead others. It's a good stamp of approval that shows you're cut out to lead.
When providing this example, focus on specific leadership tasks and how they impacted the organization and your direct reports. For example, you may have spent days delegating tasks, doing performance reviews, or hiring new employees. Whatever the case, talk about your influence in this position, what you learned, and how it prepared you to take on more leadership responsibilities.
3. Planning an event
Event planning might not seem relevant to your career at first, but hiring managers understand how much leadership it takes to pull off a successful gathering. Whether a business meeting or a wedding, planning an event requires leadership. For example, you need to stay organized, manage a million little things, and oversee every specific detail.
It's a big job, and demonstrating that you oversaw a big event successfully gives interviewers everything they need to know about your potential.
When discussing these examples of leadership experience, treat it as if you're putting it on your professional resume. Focus more on the leadership side of things as you talk about your role and responsibilities. Discuss your approach and emphasize the skills you utilized to ensure the event was a success.
4. Identifying a problem at your job and figuring out how to solve it
Identifying a problem and working to resolve it shows great initiative. Like planning an event, solving a workplace issue requires tapping into many leadership skills.
For example, you need the initiative to draw attention to the problem. That alone is a great sign for potential employers. It shows that, instead of having a "not my problem" mindset, you take action to mitigate its negative impact on your company.
Secondly, solving problems often requires you to get buy-in from others. You have to convince supervisors and colleagues that the issue needs fixing. Then, you must coordinate with others to find a solution.
It's a multi-faceted scenario that puts your leadership on full display.
Tell a story when speaking about these examples. Mention the core problem, why it was bad, and what you did to address it while taking charge.
5. Being a leader within your family
Here's a great example you can fall on if you don't have relevant work experience. There are many instances in which you have to become a leader for your family.
For example, you might have to step in to help your children understand tough lessons or complete projects. You may also have to direct them to handle their chores, stop fighting, etc.
Many people also take charge when managing the healthcare needs of an elderly parent. In those instances, you'd have to make tough calls and work with others to ensure your family member gets the right care.
Those are just a few examples. Think about how taking on the role of a family leader prepares you to lead at work. Connect the dots and emphasize the core leadership skills you use at home.
6. Coaching or being a captain of a sports team
Sports is more than just a hobby. Being part of a team teaches you many valuable skills you can apply to your career. One example is being a leader for a group of players.
As a team captain, you're responsible for motivating and helping your team members reach their full potential. You may even lead drills and exercises. Those are all experiences worth talking about in your interview.
The same goes for any experience as a coach. Whether you coached Little League or a college team, your work directly impacted the success of others.
Mention how you worked to improve your teammates' skills and how successful your approach was.
7. Training new employees
You may have taken on a leadership role in your previous job without realizing it! If you've ever had to train new employees and get them up to speed on how things work in your company, those examples of leadership experience qualify.
Even low-level jobs at a retail store or fast food restaurant apply. When you train others, you pass on your skills, motivating them to succeed and helping them maintain maximum productivity. Those are all great skills to have.
More importantly, training others shows that your previous employer trusted you to take responsibility. Your work directly benefited the company, even if it was only temporary. Your old boss knew they could rely on you, and that's something you should not hesitate to talk about in your interview.
8. Working and assisting clients
Experience working directly with clients is always something hiring managers want to hear about. Client-facing positions require great professionalism, impeccable communication, and tons of leadership. Employers don't trust just anyone to assist clients.
If a previous employer did, that's a huge boon for you in the interviewing process.
There are many examples you can talk about. Perhaps you interacted with clients directly whenever they visited or called the office. Or, maybe you managed client accounts to ensure they continued generating revenue for the company.
Whatever the case, talk about what you did and how you tapped into your leadership skills to be successful. Mention how your work benefited your previous employer to prove that you did the job well.
9. Leading the development of a new product
Developing a new product is a massive undertaking. New products don't arise from the work of a single person. In most cases, there's an entire team working to bring ideas to fruition.
If you've ever led a development team, this is a great example of leadership experience that's worth talking about. Creating a product from the ground up requires collaborating with others while organizing the entire project.
When discussing this experience, don't be afraid to talk about how challenging the process was. Mention how many people were involved, what steps you had to take during development, and what obstacles you had to overcome to reach the finish line.
Of course, always talk about the product's success to show that your work had a major impact on your previous employer.
10. Running a meeting
Running a meeting requires many of the same leadership abilities and competencies as planning an event. While it's on a much smaller scale, you're actively working to lead others and inspire. Whether it's a simple weekly meeting with the team or a more important meeting with investors, having that experience shows you're a capable leader.
When you talk about this experience with interviewers, focus on your responsibilities. What weight did these meetings hold, and what did you do to ensure they were successful? Lean into your approach and the core skills you tapped into.
11. Serving in the military
Most people in the military start as privates, falling in rank and following a leader. But as you climb the ranks, you'll take on more responsibilities. Most ranks require leadership to some degree, so bringing up your military experience is always a good idea.
Employers love to hear about military experience because it proves you can show discipline and be serious about your work. But when you focus the lens on examples of leadership experience, your response will have a big impact.
The best approach to discussing military experience is to focus on your core tasks and how you interacted with the people you led. Mention what skills you employed and how you ensured that your leadership met the high expectations of your leaders.
12. Experiences solving conflicts
Conflict resolution is a valuable skill, and it's something hiring managers like to hear about.
Resolving conflicts is a good example of leadership because it requires you to take charge. It's about finding a beneficial solution and usually involves compromise.
There are many examples you can lean on. One of the easiest and most common is solving disputes at work.
When you talk about those moments, discuss how you stepped in and why you needed to take action. Then, detail how you resolved the issue and reached an agreement that benefited all parties involved.
13. Academic tutoring
Here's another great example that people without professional leadership experience can use. Many entry-level job-seekers fresh out of college can use these examples to exemplify leadership.
Being a tutor is like being a teacher. The difference is that you're working with a smaller group of students or helping people individually. Even still, you need to be a natural leader.
Teaching anyone new facts and concepts requires leadership skills. You need to motivate while communicating effectively to help your students grasp difficult concepts.
Talk about your experience as a tutor, and bring up any memorable moments that exemplify how your work made a difference. For example, you can highlight how your lessons helped a student ace a difficult exam or what you did to change their perspective on a topic they hated.
14. Volunteering leadership experience
Discussing leadership experience as a volunteer is beneficial for multiple reasons. First, employers always view volunteering as a green flag for candidates. But when you take on leadership roles while volunteering, you also prove you have tons of potential.
It doesn't matter how long you led others. You can talk about a one-off event or something you did long-term. What matters most is that you focus on how you led and what difference it made.
Detail your responsibilities and the impact your contributions made. Highlight the positive outcome and mention how your work as a volunteer leader prepared you to lead in your career.
15. Teaching a class
Teaching a class is another fantastic leadership example that's worth sharing! Like tutoring, teaching others new concepts requires good communication, the innate ability to motivate, and a penchant for problem-solving. Teaching a class isn't easy, and discussing your experiences doing it can give interviewers more insight into what skills you'll apply in this new role.
You don't need experience in academia to be a teacher. Leading a crafting or exercise class applies. Any experience that required you to get up in front of others and inspire them to learn something new works.
Lean into the techniques you used to be successful. You can also discuss what you learned and how you plan to apply those lessons to your career.
Tips to Remember When Giving Your Examples
Now that you have some leadership examples to pull from, let's take a look at some valuable tips to keep in mind when sharing them.
Refer to Recent Examples When Possible
It doesn't make sense to talk about something you did in high school when you're well into your career. As you'd expect, recent examples have more impact. Try to keep your leadership examples to moments from the last few years.
Keep Your Examples Relevant
It's OK to discuss experiences far removed from the job if that's all you have to lean on. However, the best way to impress a hiring manager is to bring up similar experiences. For example, you can discuss moments when you led large projects if the position you want to land requires frequent collaboration.
The more relevant your example of leadership is to the job at hand, the easier it is for hiring decision-makers to connect the dots.
If you don't have relevant experience, find ways to link it back to the job. For example, you can find ways to show that leading a sports team taught you how to motivate and inspire others to do their best work, a skill that can benefit you in any role.
Choose High-Impact Examples
Our final tip is to identify and use the experiences that are most impressive from an outside perspective. You may have multiple examples of leadership that apply to the job, but you don't have time to talk about all of them. Instead, focus on the high-impact situations where your work as a leader made a difference.
For instance, discussing a moment when you led a team on a sprawling multi-discipline project is more impressive than leading a small team to overcome a minor tech issue. Think about how your work as a leader made a difference to others and the organization where it occurred.
Choose the moments that made a substantial difference, and be sure to highlight the positive outcomes of your work.
Conclusion
No matter who you are, at least one of these examples of leadership will apply to you. All it takes is a brainstorming trip down memory lane to find them!
Once you have some examples you're happy with, spend a little time practicing your delivery. That way, you'll be ready to make a great impression when the topic comes up.
Good luck!

Hannah Morgan speaks and writes about job search and career strategies. She founded CareerSherpa.net to educate professionals on how to maneuver through today's job search process. Hannah was nominated as a LinkedIn Top Voice in Job Search and Careers and is a regular contributor to US News & World Report. She has been quoted by media outlets, including Forbes, USA Today, Money Magazine, Huffington Post, as well as many other publications. She is also author of The Infographic Resume and co-author of Social Networking for Business Success.