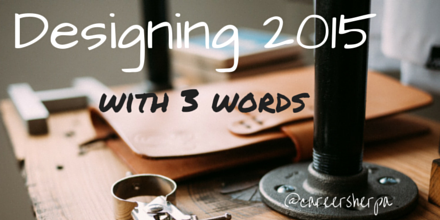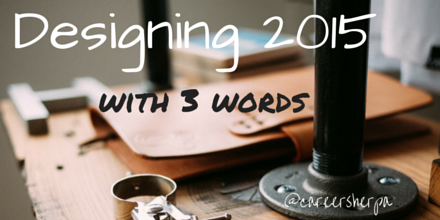 Yes, it's a new year and with it comes the un-ending posts on resolutions- making them and keeping them. So what will you and I do differently this year to help it be as productive as you want it to be?
There is all sorts of research and theories on how to do this right, but I'm a simple gal and don't like to over-think stuff. I find it difficult, almost impossible, to set goals for the year. Maybe I'm afraid they won't happen or maybe I'm afraid they will.
When I discovered the post by Chris Brogan, CEO of Owner Media Group, listing his three words for the new year,  I was instantly drawn to the idea. Here is his post with his 3 words for 2015 so you can fully understand his logic.
A Historical Look At My 3 Words
Over the past few years, I've carefully and thoughtfully selected three words that I want to take action on. Some I do better with than others. But to give you an idea of what I've committed to, here they are:
Sensation. Promotion. Veracious. 2014
Connection. Reflection. Direction. 2013 
Persistence. Performance. Deliver. 2012
My 3 Words for 2015
I've been feeling overwhelmed and scattered for the past few years and I need that to end. In fact, I visited with an intuitive healer to reconnect with my spirit and find grounding. She saw clutter, piles of stuff around my house. No, I'm not a hoarder, but these piles may be the symbolic of the many unfinished ideas and projects in my head or the many pots I had my hands in during this past year.
During a conversation with a colleague a couple of months ago, she encouraged me to pursue developing my expertise around infographic and visual resumes. I loved that idea and want to incorporate that into my goals for 2015!
Being able to share ideas, best practices, trends, etc. with an audience is something I love to do and want to do more of!
So hear are my three words:
Fresh. Discoverable. Discourse.
Fresh as in uncluttered. Discoverable meaning viewable as in graphics. Discourse as in, speak.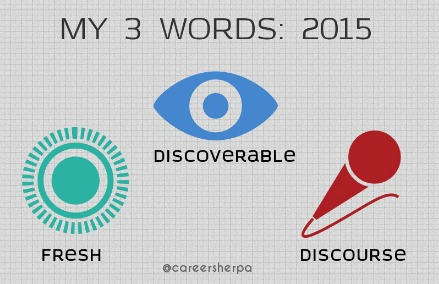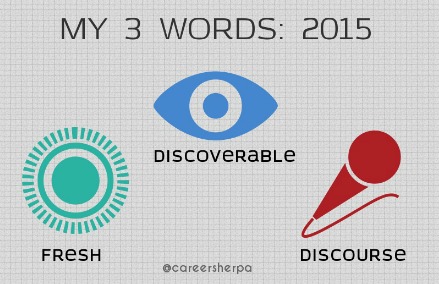 What words will you use to define your new year?
Here are some from my friends:
I love the way Dorlee has included a watercolor which she hangs in a visible spot to help inspire and keep her on track!
Go ahead, add yours! Share for accountability. And pin somewhere so you don't forget!

Hannah Morgan speaks and writes about job search and career strategies. She founded CareerSherpa.net to educate professionals on how to maneuver through today's job search process. Hannah was nominated as a LinkedIn Top Voice in Job Search and Careers and is a regular contributor to US News & World Report. She has been quoted by media outlets, including Forbes, USA Today, Money Magazine, Huffington Post, as well as many other publications. She is also author of The Infographic Resume and co-author of Social Networking for Business Success.