This week I delivered a week-long job search workshop called Career Navigator.  It is an intensive boot camp for professional level job seekers.  It is  a whirlwind of information and emotions.  Any way, as I was reviewing the smile sheets, oh, I mean evaluations, one comment jumped out at me: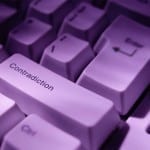 "Sometimes the facilitator contradicted herself."
My first reaction and thought was, NO!  I did not!
I went back over the five days in my mind, trying to recall anytime when that might have been possible.  Being a straight-forward kind of presenter, I couldn't figure out when this might have happened.  When I woke up this morning, I knew exactly where the contradiction was.
Pursue your passion vs. Keep your options open
Those two concepts were thrown around a lot throughout the week, but never put together in the same sentence.  No wonder the person said I contradicted myself!  How do you do this:  pursue your passion AND keep your options open?
I think this answer is different for every individual.  Pursuing your passion of being an engineer is the first part.  If you truly love something, don't give it up.  The answer to the second part requires you answer this question: where else can you do what you love to do?  Is that another city or state?  Is it engineering in a different industry?  Is it a different type of engineering? Is it lesser/lower role than an engineer?
Only you can answer these questions, you see. Money, values, relocation, all are part of how you answer these.
What disappointed me most about this comment was that the person didn't bring it up in class.  If they had, the class would have be able to respond with their reactions/response to the contradiction and  I would have said exactly what I am saying here.  Yes, job search is a bunch of contradictions.  There aren't always black and white answers.  That is one of the reasons job search is so difficult.  We want concrete answers and sometimes they just don't exist.

Hannah Morgan speaks and writes about job search and career strategies. She founded CareerSherpa.net to educate professionals on how to maneuver through today's job search process. Hannah was nominated as a LinkedIn Top Voice in Job Search and Careers and is a regular contributor to US News & World Report. She has been quoted by media outlets, including Forbes, USA Today, Money Magazine, Huffington Post, as well as many other publications. She is also author of The Infographic Resume and co-author of Social Networking for Business Success.