There's a major communication break down between job seekers and employers. This study by Career Advisory Board spells it out clearly.
Would you like to know one reason why you might still be unemployed?  Are you communicating the qualifications employers are looking for?
Have you told them and shown them, in terms they can understand, why you are a fit for their job? 
It may not be how you are looking for a job, but what you are saying (or not saying) that is impacting your results. 
Learn how you can bridge the communication gap and land a job faster!
Study Data
Devry University built a Career Advisory Board who commissioned Harris Interactive to conduct a study in September 2011.  The survey queried 540 hiring managers at top U.S. companies and 734 job seekers to determine what skills are valued most by employers and which qualifications job candidates demonstrate during the hiring process. 
You can learn more about the study and it's results by visiting the Career Advisory Board site.
Key Findings
The study found a disconnect between attributes presented and attributes valued.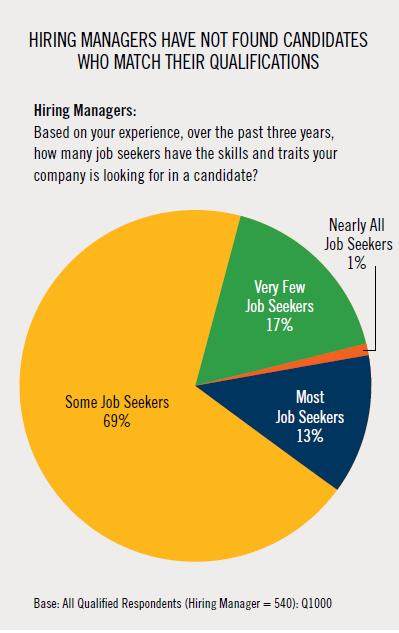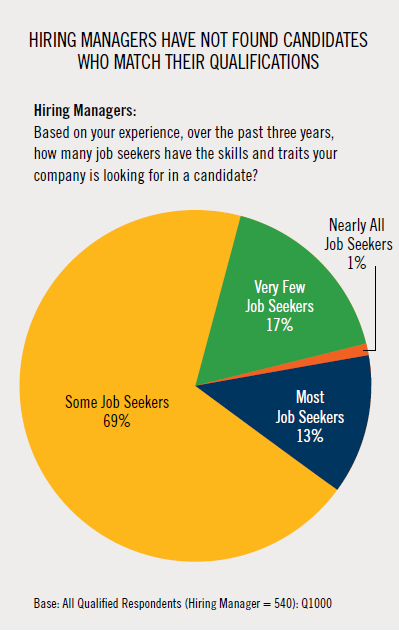 69% of hiring managers felt that some job seekers had the required skills and traits. Not bad, but not great either.
Now, you may be thinking, yeah, but employers create this really unrealistic wish-list of requirements.  I don't think that's what's happening here.  If you read on, you'll see it's a communication break down.
This is something that job seekers can control. It is what you put on your resume and in your cover letter and online application that determines how the employer views your qualifications. Become really, really good at reading the job descriptions and matching your qualifications to their needs and quantifying whenever you can. The interview is another key opportunity to demonstrate the skills and traits required. Develop relevant, emotionally intelligent stories of success, failure and lessons learned!
You Think You're Qualified but…
How job seekers view themselves and how they are viewed by employers shows the mis-communication.
Entry Level Candidates
The opportunity for improvement here is for entry level workers to demonstrate and prove their work ethic. They think they have it, but employers don't see it. Overall, there are pretty close with how they show their accountability, time management, work well with others and self motivation.
Tip:
Tell stories and give examples of times they have gone above and beyond, cite perfect attendance recognition, describe taking on and completing extra assignments.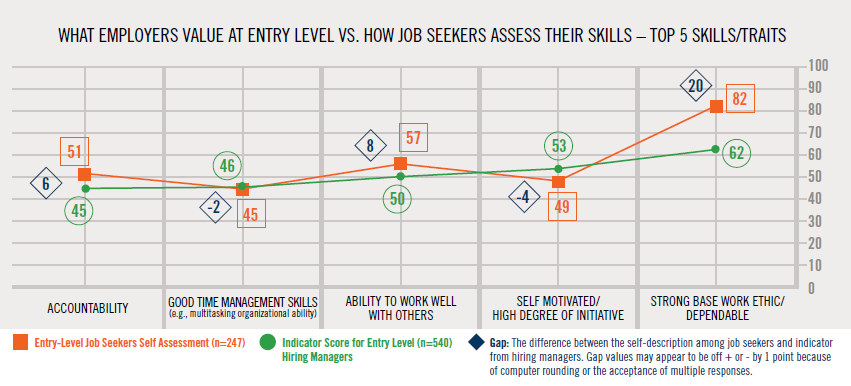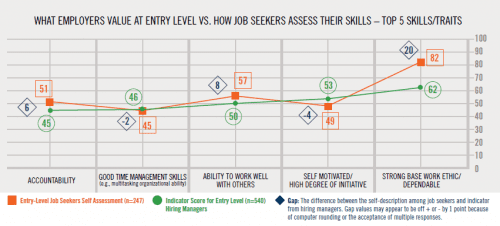 Mid Level Candidates
Mid level candidates need to do more to show they are motivated. But as you can see below, mid level candidates over estimate their qualifications consistently. They think they are qualified, but the hiring manager doesn't see it. Better examples of time management, examples of being accountable, and more concrete stories about communication and problem-solving successes would improve their chances of being a better match.
Tip:
Talk about taking initiative to solve problems or identifying problems and solutions. Give examples of projects requiring time management and prioritization.
Managerial Candidates
Wow! In this case, the managerial candidates realize they lack some of the essentials. They will need to develop a better global outlook and business acumen and strategic perspective to reach the expectations of future employers (and they know this). They view their high integrity to be greater than perceived by hiring managers therefore, demonstrating those qualities in their materials will greatly benefit their observed qualifications.
Tip:
Begin now building some of those requisite competencies around strategy, business acumen and understanding of a global economy. And be able to provide examples of situations requiring integrity!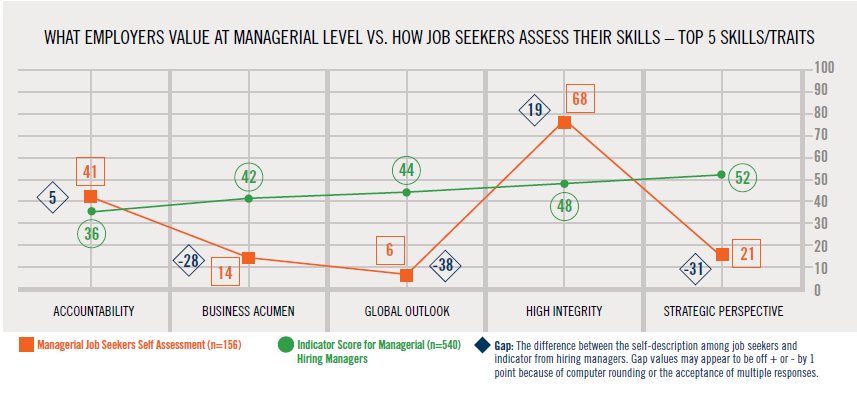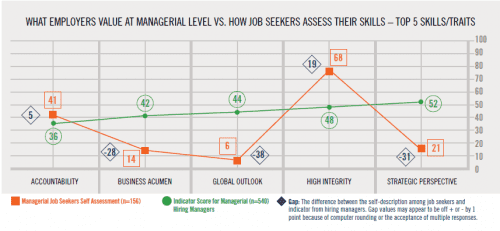 As you can tell, there's a communication break down between what employers are looking for and what job seekers are providing and how they communicate.
You can fix this.

Hannah Morgan speaks and writes about job search and career strategies. She founded CareerSherpa.net to educate professionals on how to maneuver through today's job search process. Hannah was nominated as a LinkedIn Top Voice in Job Search and Careers and is a regular contributor to US News & World Report. She has been quoted by media outlets, including Forbes, USA Today, Money Magazine, Huffington Post, as well as many other publications. She is also author of The Infographic Resume and co-author of Social Networking for Business Success.