When you rely and depend upon a single employer to provide you with a salary and benefits and everything else you need for a financially and emotionally secure career, you are putting all your eggs in one basket.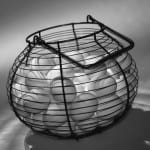 This has been the norm for a very long time, however, it is risky.  Especially today and even riskier in the future. Your financial advisor would never recommend you put all your investments in a single fund, yet this is what you are doing when you don't have other streams of income.  Does this make sense?
In principle, it probably does make sense.  However, I know what you are thinking…
I am not hardwired to be an entrepreneur.
I don't know what I would do to generate another income stream.
I don't have enough time for this.
I don't have money to start my own business.
I hear you. There are so many obstacles and unknowns.
Ask around, look around.  People you know may already be doing it. Do know people with rental property?  An Etsy site? (If you don't know what that is, please, look it up!) Refereeing a sport on the weekend? Repairing equipment, cars, or computers on the side?  Developing websites?  Consulting? Speaking? Writing?
Perhaps deep down inside, you've always dreamed of starting some business or going out on your own.  Open your mind to the possibilities. The best time to start a business is while you are employed.  You won't feel the financial pressure to replace your income.
When Tom Peters wrote The Brand Called You for FastCompany in 1997, it was just the tip of the iceberg. Peters belief about managing your personal reputation or personal brand is  absolutely a critical part of this.  Then came  Jay Block.   I was first exposed to Block in 2010 when he wrote Welcome to the New Realities in the Age of Protean Careers on QuintCareers.  A must read!  In February of this year he wrote The New Era of Protean Careers on Personal Branding Blog.  This post  lays it out pretty clearly and Block has devised 6 actionable steps to start embracing Protean strategies.  Block says:
…let me share with you six initial strategies for thriving in this transformational workplace:

Reduce television time and spend an hour a day contemplating the future and where you fit in.  You can't change anything tomorrow with the same thoughts you have today.
Don't put all your financial eggs in one basket; consider multiple sources of income.
Bring more value to the marketplace tomorrow than you did today; invest in lifelong education and increase your worth, so you are compensated accordingly.
Create your own job. You don't have to invest big bucks to start a business.  Just seek out opportunities and go for it!  Become a painter, a cook, an electrician, a subcontractor, or form a web-based business. Be resourceful and identify ways to self-generate income.
Downsize your life and live within your means. The federal government is broke and most states are as well.  All of society must become fiscally responsible.
Invest in good health. No one can build a thriving future with poor health, no energy, and a negative mindset.  We all must work as hard on ourselves as we do on our careers.
I want you to read these links. I want you to seriously consider what the future looks like, not just your future, but the future of our globally connected world.
My colleague and friend, Meg Guiseppi featured me on Executive Career Brand.  Branding and multiple income streams go hand in hand and I talked a bit about this with her.  I strongly believe that we can't ignore the changes going on and that we deserve to take ownership and accountability of our careers TODAY!
What do you think about this idea?  Please, let me know!

Hannah Morgan speaks and writes about job search and career strategies. She founded CareerSherpa.net to educate professionals on how to maneuver through today's job search process. Hannah was nominated as a LinkedIn Top Voice in Job Search and Careers and is a regular contributor to US News & World Report. She has been quoted by media outlets, including Forbes, USA Today, Money Magazine, Huffington Post, as well as many other publications. She is also author of The Infographic Resume and co-author of Social Networking for Business Success.