Interviewing for a business analyst position can be intimidating, especially if you're just starting your career. But fortunately, there are a number of questions that get asked all the time.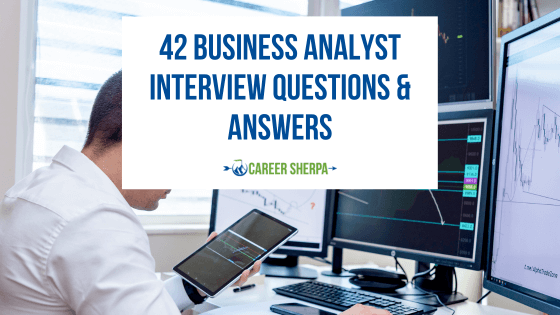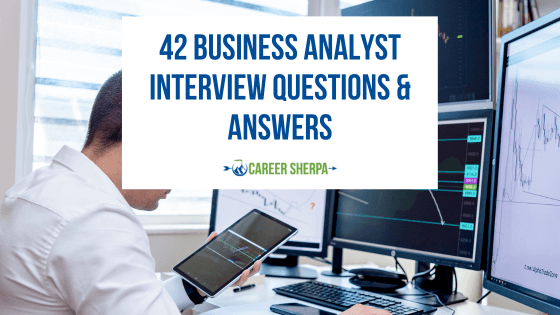 This list of business analyst interview questions will help you give fantastic answers that improve your chance of getting hired.
1. What kinds of diagrams do you use as a business analyst and what purpose do they serve?
There are many diagram models business analysts use. Hiring managers use this question to gauge your understanding of analysis diagrams and how you would apply them to various cases. The best approach when responding to this business analyst interview question is to refer to your past experiences while providing examples to show that you understand what purpose diagrams serve.
Some of the most common models to discuss include:
Flowcharts
Activity diagrams
Use case diagrams
Sequence diagrams
Collaboration diagrams
Detail what these diagrams are, how they serve clients, and what experiences you have with them.
2. What do you like to focus on first when beginning a new project?
This question serves multiple purposes. First, it gives the interviewer more insight into your methodologies, showing them how you would approach a real-life project in this role.
Secondly, it highlights your project management skills. While there's no finite right or wrong answer, the best way to respond is to focus on the project management and organization aspects of starting a project.
Walk the interviewer through a typical scenario of what you focus on and explain your logic as to why those are the first things.
3. Can you tell me about a time when you failed to meet a deadline?
As a business analyst, you'll often work on time-sensitive projects. Time management and proper task prioritization are crucial in this line of business.
Contrary to how it sounds, hiring managers don't want you to fluff the truth. They want honesty. Reflect on your past experiences and discuss a time when you failed to meet deadlines.
When you provide your answer, focus on what you learned from the experience. Discuss the valuable lessons that experience taught you and how you applied them to prevent missed deadlines in the future.
4. How do you manage working with multiple stakeholders on a project?
Business analysts often interact with multiple stakeholders with unique opinions and personalities. A big part of this job is to navigate interactions with all stakeholders and complete the project while meeting everyone's needs.
This interview question for business analysts is for you to show how you apply your skills and competencies to get the job done. They want to hear about your communication, problem-solving capabilities, negotiation, etc.
Refer to a real-world example to prove you can work with several stakeholders. Using the STAR method will help you structure your answer and ensure you cover just the right amount of information.
5. What's the difference between SRS and BRD?
Here's a core competency question that interviewers use to understand your knowledge.
SRS refers to System or Software Requirements Specification. The SRS is a set of documents that describe the features of a piece of software or system. The purpose of an SRS is to explain what the final product will do and how it should perform.
The SRS may include details like the scope of work, acceptance criteria, functional and non-functional requirements, etc.
A BRD is a Business Requirement Document. It refers to the formal contract between a business and the client concerning the development of a software application, system, or product. Business analysts typically create the BRD after interacting with clients.
Your answer should clearly explain the difference between these two documents. It will help if you briefly explain when and how you've been exposed to them in your answer.
6. Explain what project deliverables are
This question seems simple, but interviewers often ask it to test your knowledge and ensure you understand the basics of this line of work.
A project deliverable is the outcome of the project. It's the measurable products and services delivered to the client after the project reaches completion.
Your answer should include deliverables as well as some of the types of deliverables you've been responsible for providing. If you've received compliments on your deliverables, be sure to highlight that and why.
7. How do you approach requirement elicitation?
Requirement elicitation is the process of gathering information from both end users and all stakeholders. It's about collecting information about the project's requirements, and business analysts will use elicitation techniques to collaborate directly with clients.
There are many elicitation methods. These include interviews, brainstorming, prototyping, and more. Refer to your work experience and detail the methods you use most.
8. Tell me about UML and its various uses
Another knowledge-based interview question for business analysts, this one gives you the opportunity to put your experience front and center.
UML refers to Unified Modeling Language. It's a general-purpose modeling language that serves many purposes. Its main use is to provide a standard for envisioning the system.
Analysts also use it to rationalize a system's behavior, allowing teams to detect and address issues as they come. Be sure your answer addresses some of the ways you have used it.
9. How do you stay current on the latest industry trends?
This line of work is constantly changing. Innovations are changing how analysts work, and you must keep up with industry changes to remain successful in this field.
Interviewers ask this question to ensure you're interested enough in the topic to learn more. Employers want to bring people in who invest time outside work to stay abreast of industry trends. Doing so proves you're committed to your profession and want to improve your skills.
10. What is business modeling?
Business modeling is a core competency that employers want to know you have. It's one of the foundations of this profession, so you need to provide a thoughtful answer with real-world examples to prove you understand how it works.
Business modeling is how you determine the value proposition of a company. You use it to strategize a plan of attack and outline how an organization will accomplish its objectives.
You can go one step further by explaining one of your recent business modeling projects.
11. Explain what a feasibility study is
Business analysts must fully understand a client or project's problems and requirements. To do that, an analyst will typically do a feasibility study.
During a feasibility study, you'll learn about the scope of a business problem. It'll help you identify the possibility of success for proposed ideas and let you identify new opportunities or solutions.
Start by defining what it is. The next part of your answer is to explain how you've worked with feasibility studies.
12. Share some of your most relevant technical skills
This business analyst interview question aims to evaluate what skills you possess. It's about showing your value to the company and understanding what you bring to the role.
More importantly, it gives hiring managers a better idea of what you believe is most critical to your success. You must possess many technical skills to succeed as a business analyst. Your response shows what you value most. Review the job posting and do research on the company to determine which technical skills they require. This allows you to match your skills with the technical skills they value.
The best skills to talk about involve relational databases and SQL. Consider discussing those skills and your experiences with them.
13. Share some of the most important tools that a business analyst uses. How familiar are you with each of them?
Business analysts use a mix of technical and non-technical tools. Review your work experience and discuss what tools you've used most. Highlight how they've helped you in your career and how you utilize them.
Common technical tools include office standards like Microsoft Office, Google Docs, etc. You can also talk about databases, ERP systems, SQL, and other tools you utilize.
For non-technical tools, you can review software that helps with documentation, requirement elicitation, management, etc.
Review the job posting carefully to make sure you can speak to some of the tools they use within the company.
14. What are the advantages of using the Waterfall method instead of Scrum?
Waterfall and Scrum are two development methodologies that business analysts often use. Both have their merits, but interviewers often ask this question to see if you understand how they work and know when to apply these methodologies to specific development scenarios.
The Waterfall method is usually best when a project has well-defined requirements and deliverables. It focuses on linear progression from start to finish. When a project has clear-cut requirements and won't evolve much during the development cycle, Waterfall can avoid bottlenecks and ensure that the project moves smoothly.
If you've had personal experience with either method, explain what the results of your methodology were.
15. Share how you approach requirement prioritization
Requirement prioritization is about ensuring that you use resources efficiently. It's part of the requirement-gathering process, and you must prioritize requirements to address the most important ones first.
There are several prioritization approaches. Cost-basis analysis, stakeholder analysis, and value-based prioritization are the three main methods.
In your answer, explain these methods and provide examples of when you would use them.
16. Explain gap analysis
Gap analysis is a way to understand the gap between where a business currently is and where it wants to go. For example, developers might use gap analysis to assess how current system functionalities compare to goal functionalities.
Your answer will be more convincing if you include a real example of your experience conducting a gap analysis.
17. What is RUP methodology?
RUP is an acronym for Rational Unified Process. It refers to a development methodology that uses an object-oriented approach. RUP offers various tools to support the coding process and any associated tasks.
This method helps improve development efficiency and plays a big part in successful project management.
Your answer should explain RUP and how you've had experience with it.
18. Have you ever worked directly with clients?
Business analysts need good communication skills and must interact with several stakeholders throughout a project. Interviewers use this question to gauge your ability to take on those responsibilities. If you don't have any experience working with clients directly, and the role requires it, this question may serve as a big qualifier for the job.
Be honest! If you don't have direct client-facing experience, you can discuss skills that prepare you for that responsibility. Keep in mind, you may have experience working with internal clients/customers. The best answer includes a specific example of how you effectively engaged with a client and the positive outcome.
19. Tell me about a time when you had to persuade a stakeholder or client
Like solid communication, business analysts need to tap into their powers of persuasion. Sometimes, the job requires convincing a stakeholder or client to go a certain way. When you're dealing with multiple stakeholders, not every requirement is possible.
It's your job to persuade stakeholders or clients of what's right for their project. Provide a single example of a similar situation in your work history and the positive outcome that followed.
20. What is critical path analysis?
When working on a project, your goal is to meet objectives in the most efficient way possible. Critical path analysis helps you do that.
In development, the critical path refers to the longest path to completion while including every task required to deliver the final product. Critical path analysis allows you to reduce the timeline and control costs.
Your answer can include how you used this analysis and the positive results that came as a result.
21. What does the process flow for a business analyst look like?
The process flow for a business analyst includes many steps and tasks. Potential employers use this question to see how you work and ensure you understand everything it takes to complete projects successfully.
Typically, the multi-step process looks like this:
Gathering all data related to the project
Identify stakeholders and set up a meeting
Examine all documents relevant to the project
Make notes on all facts and information you learn
Take time to understand the problem
Identify the business objectives
Determine options and opportunities
Scope the definition
Introduce and define requirements
Implement plan and evaluate
22. What is scope creep, and how do you avoid it?
Scope creep is a common issue in development projects, so it's only natural that one of the most common business analyst interview questions would be centered around it. Scope creep occurs when changes affect the development process so much that the project scope grows out of control.
There are many ways to avoid it. You can discuss the importance of well-defined requirements, ongoing communication, continual monitoring, etc.
Include a brief example of a time when you avoided it. Be sure to explain the processes or processes in place to prevent it from being a problem.
23. Explain Kano analysis
Here's another business analyst interview question that tests your knowledge of common processes and techniques.
Kano analysis is a way to identify customer needs and preferences. It's a form of quality management that you can use at various stages of development to ensure that the final product will meet or exceed expectations.
If you have first-hand experience with Kano, be sure your answer includes how it helped you and the business.
24. What's your approach to dealing with difficult stakeholders?
Dealing with difficult stakeholders is common when you're a business analyst. This question sheds light on how you approach those situations and what you do to keep the project moving forward.
The best way to answer the question is to refer to a real example you had. Explain the problem and walk through the steps you took with the stakeholder to find common ground and resolve the problem. Highlight your communication and problem-solving prowess.
25. Explain Pareto analysis
Pareto analysis is a way to plan for potential issues and find the best solutions to overcome obstacles standing between the goal. It's a useful technique in business and quality management. Many factors can contribute to a problem, and Pareto analysis aims to identify them.
With Pareto analysis, you can determine the most important areas to focus time and resources on. In doing so, a project can achieve the best improvement. It's about resource prioritization to ensure optimal results.
When answering this question, define Pareto and also explain how you've used it successfully.
Questions like this can come up in any job interview because it gives you a chance to differentiate yourself from other candidates. The goal is to identify your strengths and show why you deserve the job offer.
Interviewers look for many things in candidate responses. They want to hear about what sets you apart, what experiences prepared you for this role, and what you have to offer the company.
Focus on your strengths and provide examples to prove your competencies.
27. What's your approach to risk management?
Things can go wrong during a development project. However, risk management helps you prepare for any and all scenarios.
Risk management involves identifying potential issues before they occur and having contingency plans to overcome them.
There are several risk management approaches, but the process usually involves:
Identifying risks
Determining their probability of occurring
Understanding their impact on the project
Treating the risks to minimize its dangers
Your answer should explain how you embed risk management into your everyday work and Include a situation where you assessed risk and the steps you took to reach a conclusion.
28. What's the difference between a requirement and a need?
Business analysts must understand the difference between a requirement and a need. It's a huge red flag for hiring managers if you don't.
A requirement is a condition that solves a problem or meets an objective. Requirements come from stakeholders and guide the entire project.
A need is the purpose or result of the requirement. It's what the client wants to achieve or the company's core objectives that the requirement will support.
A good answer not only provides the definition and differences of these but how they each impact the business analyst role.
29. Tell me what analytical reporting is
Interviewers use this to ensure that you understand the importance and limitations of analytical reporting.
Analytical reporting refers to reports that include critical information, data analysis, and recommendations. What makes analytical reporting unique to standard informational reporting is the recommendations you include.
The best answers to this interview question refer to real examples where you used analytical reporting to your benefit. Explain how you made recommendations from data resources and the positive outcomes they led to.
30. What is INVEST?
INVEST refers to an acronym that business analysts use to deliver quality results and end products. Think of it as the business analyst code.
INVEST stands for independent, negotiable, valuable, estimable, sized appropriately, and testable.
Defining the term is part one of your answer. Part two of your answer explains how you apply it to your work.
31. How do you explain your findings to individuals who are not familiar with business analysis?
It's common for business analysts to present findings to other departments and colleagues who don't understand business analysis. As a result, they must communicate ideas and information in a way that's accessible to everyone.
When this business analyst interview question gets asked, the intention is to find out about your communication skills and ability to break things down to the simplest terms for those outside business analysis.
When developing your answer, think back on experiences when you worked with people outside this field. How did you convey your ideas and report findings while avoiding confusion? Pick a single experience and walk through the actions and results.
32. What are the core elements of BPMN?
BPMN stands for Business Process Model and Notation. It's a type of graphical notation that business analysts use to model business processes. Its goal is to create a common language that people on the business and technical sides of the equation can all understand.
There are four core elements of BPMN.
The first is the event that triggers a process. Next is the gateway, a decision point in the process. Third is the activity that needs to happen in the process. Finally, there's the data object, which is the information required or produced by the activity.
After you've defined BPMN, describe a time you applied it.
33. Can you explain the difference between XP and Scrum?
XP, or extreme programming, is another development methodology like Waterfall, Scrum, and Agile.
Scrum is a phase-based method that prioritizes working software quickly and efficiently. Meanwhile, XP is more about code quality and customer satisfaction.
With XP, developers must work closely with customers and adopt a test-first approach.
If you have first-hand knowledge or exposure to either one, explain how it benefited you.
34. What is the Kanban approach?
Kanban is a technique for managing workflows, and many business analysts use it for its efficiency.
With Kanban, you can manage work throughout a lengthier process through real-time communication and status transparency. It relies on visual representations of a process that allow all team members to see the state of work as a project progresses.
If you have experience with Kanban, talk about it when you answer this question.
35. What core competencies should a business analyst have?
Here's an interview question for business analysts that comes up quite regularly. Hiring managers use it to see if you understand the specific role you're applying for. It also highlights what you deem most valuable in your line of work.
Before your interview, review the job description and research the company to understand the needs of the position. Core competency requirements vary between organizations, so you'll need to see what this company values most.
You can discuss communication, negotiation, problem-solving, business process management, and more.
36. Why do you want to work here?
Don't let this question catch you off guard! Interviewers ask it to see how much you know about the company. Employers want to hire people who understand the organization and its objectives.
Research the company and understand what appeals to you most about this position. It could be the organizations standing in the industry, the types of work it does, or even the office environment it fosters. Be specific and discuss what you want to gain from your time working there.
37. Tell me about the project life cycle
When an interviewer asks you to explain the project life cycle, they're testing your core knowledge of this work and learning more about how you work.
A project life cycle refers to the framework analysts use to break a project into smaller phases. It allows them to identify key decision points and manage progress.
You can talk about many methodologies, including Scrum, Agile, and Waterfall. Most importantly, you must recognize that life cycle models can vary based on the scope of the work involved and what you're trying to accomplish.
38. How do you deal with requirements that change after a project has begun?
Requirement changes happen, and it's an analyst's job to navigate them without sacrificing quality or progress. When a stakeholder changes requirements, it's not as simple as accommodating them.
A business analyst must understand their impact on the project, calculate the costs to make the change happen, see what resources the team needs to accommodate the change, etc. Business analysts typically provide documents to dictate how many changes a stakeholder can make and detail the process of accepting or denying them. This document helps analysts reduce catering to ever-changing requirements.
Your answer should provide a real example how you managed changing requirements, using the STAR method.
39. Explain the difference between basic flow, exception flow, and alternate flow
Basic flow represents the operation of activities. It's what the company requires and is the basic activity in a use-case diagram.
Alternative flow involves activities or actions outside the basic flow. Alternative flow can still lead to positive outcomes and accomplishing goals, but it uses different steps to get there.
Finally, exception flow refers to the steps you take when errors occur. Exception flow does not achieve the goal of the use case.
Beyond defining the differences, include examples of times when you've used each.
40. Explain the role of a business analyst
It's common to hear this interview question for business analysts early in the conversation. Hiring managers ask it to ensure you understand the responsibilities of the role.
A business analyst helps to fulfill business objectives by linking different stakeholders within a company. It's an analyst's job to balance the needs of multiple stakeholders while developing solutions to the company's problems.
While the basics of the role are similar from company to company, there can be subtle differences in what the employer expects. Therefore, it's important to review the job posting to make sure you don't miss anything.
41. What is the RAD methodology?
RAD stands for rapid action development. It's a methodology that focuses on fast prototyping. With RAD, you develop a prototype and continue to make changes through different iterations.
Generally, developers will work in short increments called "RAD cycles." Teams work with stakeholders and end users to design, test, and develop working prototypes.
Then, they move into another RAD cycle, building on the previous version. With RAD, you can have quick deliverables, get feedback from real users, and constantly improve.
42. What is the purpose of the Requirement Traceability Matrix?
A Requirement Traceability Matrix is a document that maps and traces the relationship between requirements and other components of the project. The purpose of the matrix is to record all given requirements and ensure that each one is met during development.
It helps track progress and check that all project requirements are getting the attention they need.
Defining the purpose is key to this answer. You may also want to include an example of how you've applied it to your work.
Conclusion
Being comfortable answering these business analyst interview questions will significantly improve your chance of getting a job offer. So run through the list again, find ones that stump you, and get prepared.
Good luck!

Hannah Morgan speaks and writes about job search and career strategies. She founded CareerSherpa.net to educate professionals on how to maneuver through today's job search process. Hannah was nominated as a LinkedIn Top Voice in Job Search and Careers and is a regular contributor to US News & World Report. She has been quoted by media outlets, including Forbes, USA Today, Money Magazine, Huffington Post, as well as many other publications. She is also author of The Infographic Resume and co-author of Social Networking for Business Success.