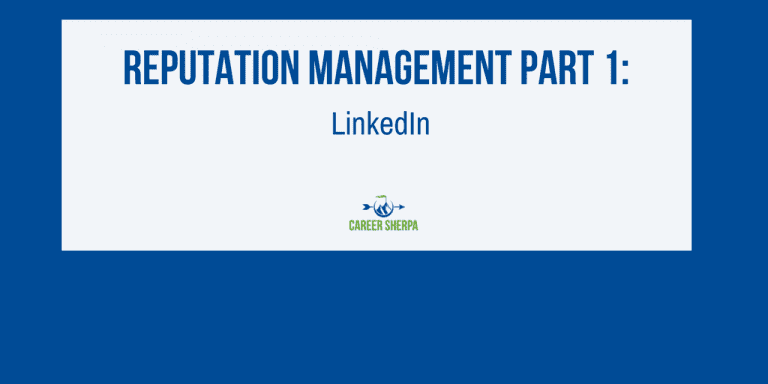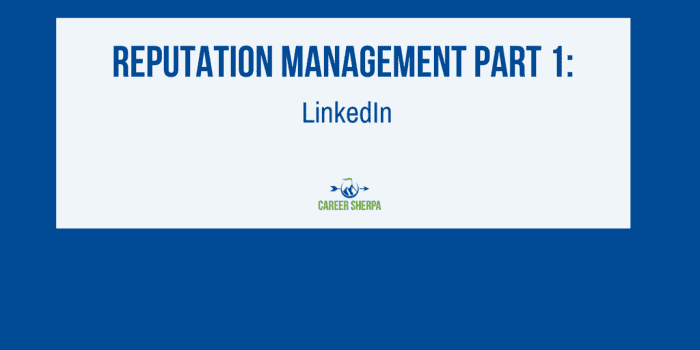 Your reputation on LinkedIn matters a lot! It's time to give some thought to your profile. 
This is the first of a four-part series to help you understand how really easy it is to begin to build the right reputation for the work you do. [Updated to reflect changes to LinkedIn]
Hopefully, you can begin building this before you need it, in other words, while you are still employed. I know how busy you already are keeping your job.  However, this is your career insurance.  Building it now will certainly pay off.
If you are not working, starting this now gives you the opportunity to teach yourself new things and interact with new people!
Step 1:
Answer these questions:
What is it you want to be known for?
How do you want people to perceive you?
What makes you unique?
What problems have you solved in the workplace?
What are the keywords associated with your occupation and industry?
Got it!
Step 2:
Now, log into your LinkedIn account and make sure this message (the answers to those questions) is coming across in your SUMMARY and within your work experience too.  YES, you must have a summary on your LinkedIn profile.  Use the right keywords in your summary and throughout your profile.
Step 3:
Collect samples of your work. Think about the projects you have worked on, especially those you reference within your resume.  Find visual representation of your work.
A presentation you gave
Letters of support from customers or clients
Newsletter or report you created
Screenshots of websites you worked on
Step 4:
Depending on your work samples, you may want to use SlideShare or Box or BOTH, to capture and share your work.
You have to create your accounts first before you can sync them with LinkedIn.  These are free and don't take much time to log in to.
Box allows you to upload a variety of different files (Word, Excel, .PDF, Powerpoint) and the bonus is you can access these files from the web anywhere, just in case.
Slideshare is public/searchable which makes it a great solution for building your reputation! Use the right keywords to describe your presentations so it will be found!
Step 5:
Integrate the best files within your LinkedIn profile.
Feel free to get creative and create a LinkedIn profile that really demonstrates and SHOWS what you are all about and why you are great at what you do!
Just because you build it doesn't mean they will come.
The next phase is sharing these samples. You now have digital terrain!  You have a sharable resource online!  Use this link!
Include a link in your email signature
Add it to other social profiles (especially Google+)
Share it with friends
Part 2:  Blogging and commenting on blogs
Part 4: Facebook for Job Search

Hannah Morgan speaks and writes about job search and career strategies. She founded CareerSherpa.net to educate professionals on how to maneuver through today's job search process. Hannah was nominated as a LinkedIn Top Voice in Job Search and Careers and is a regular contributor to US News & World Report. She has been quoted by media outlets, including Forbes, USA Today, Money Magazine, Huffington Post, as well as many other publications. She is also author of The Infographic Resume and co-author of Social Networking for Business Success.