I was all ready to see the Lunar Eclipse the other morning.  I was awake and looking forward to the spectacular event, but alas, it was cloudy, no moon to be seen.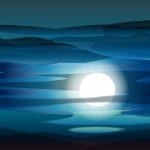 When seeking employment, you are the moon in the lunar eclipse.  You have a limited window of time to show your awesomeness.  However, if there are clouds, no one can see it.  Clear away the clouds!
You are not seeking an employer, you are seeking an opportunity to solve problems that need solving. Instead of pursuing job postings, create a list of potential employers who will need your kind of problem-solving skills.
Be armed with research on these potential employers to know what their issues are and how you can make a difference.
Prepare examples of your work, in story form and in written form!
Be able to present yourself as a solution.  Know what makes you special and STICK TO IT.  Don't waiver.
You know what you are great at doing, so don't mix messages.  Don't try and be something that you don't want to be.  Sure you can do anything, but really, that's not what you want and that certainly isn't what the company is looking for.
Not long ago I met Steve Levy (virtually).  (Technically, he introduced himself to me after a Twitter chat).  Now here's a guy who is sure of what he knows and how he is a solution. He commands respect, really!  One of his more recent blog posts "Interview Like A Consultant" came about after he was participating on #Megajobhuntchat and suggested that job seekers interview like a consultant.  He explains the mindset of this approach to interviewing.
But just so I am clear, the communication of what problems/issues you are great at solving has to come much earlier than the interview.  It happens while you are attending conferences, online, chatting with friends!
What can you do to be more clear in your communication?

Hannah Morgan speaks and writes about job search and career strategies. She founded CareerSherpa.net to educate professionals on how to maneuver through today's job search process. Hannah was nominated as a LinkedIn Top Voice in Job Search and Careers and is a regular contributor to US News & World Report. She has been quoted by media outlets, including Forbes, USA Today, Money Magazine, Huffington Post, as well as many other publications. She is also author of The Infographic Resume and co-author of Social Networking for Business Success.