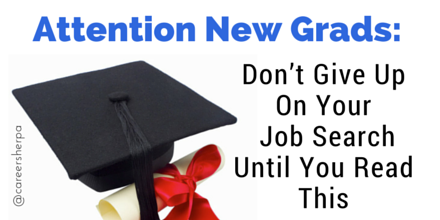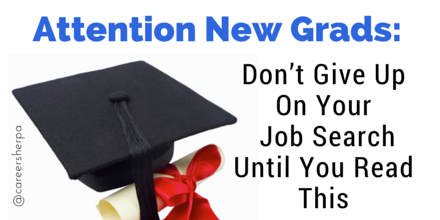 Finding and landing a job isn't easy for you as a new college graduate. You invested a lot of money and incurred a bunch of debt to make yourself look employable, so why can't you land a job? Have you done all these 9 things?
What you really need is on-the-job experience. But how do you land a job without it? All you want  is a foot in the door because your first job won't be your last.
Although the odds may seem stacked against you without any real work experience, you do have assets employers are seeking: a fresh perspective, willingness to learn and loads of energy. Your strong technology skills are also a plus. And because you presumably have fewer outside responsibilities and financial obligations, you demand a lower salary.
Your odds of landing a job solely because you applied online are slim. In order to tip the scales in your favor, you'll need to diversify what you do to uncover opportunities.
These nine tips should help get you started in your job search. Use as many as you can to speed up your search!
1. Reach Out To Your School
It isn't too late. Many career centers and alumni offices have services you can access remotely. Your school may offer resume writing assistance, interview prep help and even a job board with postings. You should probably talk with some of your professors as well to see if they know about any projects or opportunities. after you move.
2. Check Out Multiple Job Boards
There are thousands of job boards out there, which means companies have to be strategic about where they choose to post opportunities. Indeed is a job board that's consistently scored well with employers as a source of hire, so be sure you use it.
If you have a specific occupation or job in mind, find a job board that focuses on those types of job postings. For example, if you are looking for a job in accounting, look for a job board focused on accounting jobs. Also keep in mind that companies almost always list job postings on their company career page. You can search for these jobs using LinkUp.
3. Don't Dismiss Employment Agencies
Contingent (project-based, contract and short-term) work is on the rise. Employers often need someone to fill in for short-term projects. When this happens, companies turn to staffing agencies to help find what they are looking for. Temp jobs are great for acquiring work experience and getting your foot in the door with a company. Some agencies even offer temp-to-hire jobs, which provide you the opportunity to test drive the employer.
4. Volunteer
Since you have some extra time on your hands, invest it by volunteering with an organization. Any volunteer experience can serve as a helpful source of networking contacts. Ideally, you'll want to volunteer in an organization related to your career aspirations or fulfill a role that allows you to use some of your new skills. Any organization can use your help, just ask!
5. Get Out of Your House!
It's tempting to spend your time looking online for your next job. But people hire people, and one of the best ways to meet people is to attend events. Look for young professional meetups, attend meetings for groups that support causes that are important to you, or even join a local kickball team to interact with people.
6. Hit Up Your Parents' Friends
It sounds pretty desperate, but you've got nothing to lose. Maybe one of them needs an intern for the summer or just someone to do the grunt work. Asking them yourself is better than having your parents ask. It says something about your character and maturity.
7. Clean Up Your Online Dirt
Using social media can help convey your personality and style. That's not a bad thing as long as you're representing your best side.
Check your privacy settings on all your social media accounts, and make sure you aren't publicly broadcasting every update to the world. Also realize that nothing is ever private on the Internet, despite your privacy settings.
If you haven't searched for the results of your name online, audit and monitor that as well.
8. Stay Connected
Your college friends who are landing jobs may be able to help you secure one, too. Keep in touch with your classmates, and see where they're getting jobs. Many companies offer incentives for employees to refer people for job openings.
And, if you haven't started yet, now is the time to start building your professional network on LinkedIn. Join alumni groups, follow companies and (most importantly) connect with people you know. The people you choose to connect with on LinkedIn could be professors, classmates, your parents' friends and old bosses. Be sure to customize your request to connect, which must be done via the desktop version by clicking on the person's profile.
9. ANY Job is Better Than No Job
Don't worry if you can't find the ideal professional job right away. It may take longer than you want. In the meantime, get a job – any job. There are many benefits to working besides the obvious financial gains. Going to work every day creates a sense of stability and routine that makes you feel better. You'll also be able to use some of your talent and maybe even develop some new skills along the way. Most importantly, you will fill the gap in your work history so you won't have to explain that you were unemployed and looking.
You must be relentless in your quest for a new job. This means you have to do more than search the job boards. Actively pursue jobs by finding inside connections, following up after you apply and even networking. You need to do all three things for every job you are interested in.
Don't get discouraged, and don't give up. You will secure that first job, but it may not be the one you imagined.
Originally posted on USNews & World Report

Hannah Morgan speaks and writes about job search and career strategies. She founded CareerSherpa.net to educate professionals on how to maneuver through today's job search process. Hannah was nominated as a LinkedIn Top Voice in Job Search and Careers and is a regular contributor to US News & World Report. She has been quoted by media outlets, including Forbes, USA Today, Money Magazine, Huffington Post, as well as many other publications. She is also author of The Infographic Resume and co-author of Social Networking for Business Success.