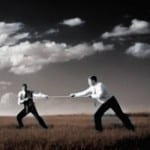 This is a common question for those who are unemployed and there are other variations of it:
When do I start looking for other jobs?
How to I implement a Plan B (Plan C or Plan D)?
Will it hurt my career to take any job?
The answer to these questions is as individual as you are.  The answer is almost always: It depends on your needs.
The Tough Questions
Can I ask a question though?  What if there wasn't any unemployment?  What if, the day you left your job you had $0 to live on?  What would you do?  Would there be a different sense of urgency?  Would your priorities change? Honestly, what would you do?
Being in job search erodes self-confidence.  The longer you are out of work, the harder it is to believe in yourself.  And by the way, the harder it is for others to believe in you.  Everyone knows that the last two years have been tough for job seekers and yet we see companies that declare "No Unemployed Need Apply".  How cruel, you say.  Well, the EEOC is looking into it, never fear (hear the sarcasm?)!
Are the Under-Employed Winners or Losers
I am writing this after having read "Any Hope for the Unemployed 99ers" written a couple of months ago by Brent Peterson (Interview Angel).  We feel sorry for the 99ers.  But who is feeling sorry for the huge number of people who have taken "any" job- the underemployed?   It is estimated that somewhere between 17-20% of the workforce is "underemployed" (The Christian Science Monitor summarizes the BLS data well here). Who's advocating for them? Well, maybe they don't need advocates.  Maybe they are the true winners.  They have been lucky enough to secure some type of employment.  Who knows, maybe they are happier than the 99ers.
Now that your blood is boiling (mine too!), over the injustice, the lack of "good paying jobs", the discrimination, the bureaucracy, what's to be done?
The New Reality
What I think the last few years have taught me, and I hope others, is to realize and believe that putting all our eggs in one employer basket is so incredibly risky.  We can't count on a single employer to provide us with a "good job".  Sure, some are out there.  But we can't count on it.  We are responsible for our own financial well being.  That includes looking at career management in a new way:
Creating multiple income streams
Networking all the time
Developing and managing a strong personal brand (reputation management)
Being pro-active
Thinking outside of the traditional employment box
Welcoming contract work or project-based work
Open to the opportunities of temporary relocation
Living well below our means
Wishing things could go back to the way they used to be probably isn't going to make it happen.  What will it take for you to accept this new way of thinking? If only for a short time.
I don't think we can hope that Obama or any other President or politician can fix this problem, at least right now.  So can we all buy into the new reality of instability?  What other choice do we have?

Hannah Morgan speaks and writes about job search and career strategies. She founded CareerSherpa.net to educate professionals on how to maneuver through today's job search process. Hannah was nominated as a LinkedIn Top Voice in Job Search and Careers and is a regular contributor to US News & World Report. She has been quoted by media outlets, including Forbes, USA Today, Money Magazine, Huffington Post, as well as many other publications. She is also author of The Infographic Resume and co-author of Social Networking for Business Success.