A friend called me the other day, excited and nervous because she had gotten an interview for a job she had recently applied for.
"What do I ask them", she asked me.
"What do you want to know" I said.
"How much do they pay, what are their benefits like, what is their vacation policy" she answered questioningly.
"NO!" I screamed into the phone.
"You want to decide if you want this job!  What are the most important things they'd like to see you accomplish within the first 90 days or so, what is the culture of the company, why is the person leaving this position…these kinds of things."
"Can I really ask these kinds of questions?" she asked me.
Holy cow, of course.  And more!  The interview is a mix of exploration and sales.
Would you know a good job when you saw one?  Make a list of the things
that would constitute a good job and don't forget to include the work
environment and less tangible things.
Explore what their needs are, who they really are- is there a match!  IF the signs are positive, show that you are interested.
A very important part of sales is asking for the sale.  Why then is it
so difficult for a job seeker to ask for the job during the interview?
Practice asking questions out loud.  Write a script and work from it.  It may not feel comfortable.  It may not even sound like you.  That's OK.
There is a fine line between assertive and aggressive. However, in most cases I don't believe we ever really try to figure out where that line is, we just know we don't want to get near it.  Try crossing the line once, I dare you.  See what happens!
If you are looking for more help to confidently interview, here it is!   
  Just $5.00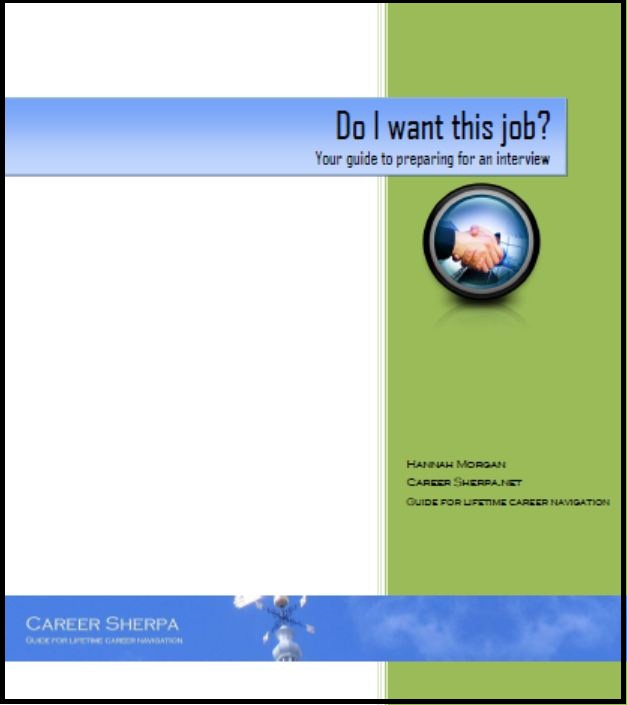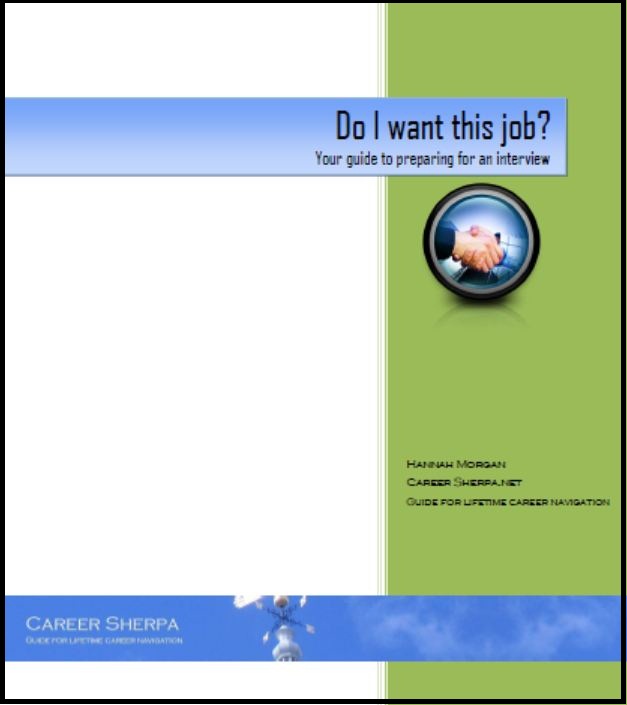 Interviewing is tough. But, if you have the right outlook and you've done a good job preparing, it can be so much simpler!
This book includes:
Steps to prepare for an interview
Over 100 Sample questions to practice
The best way to structure your interview answer
The 8 most dreaded interview questions and how to answer them
Questions YOU, the job seeker, can and should be asking during the interview
And tons of other stories and examples to help make your interview a less stressful!
The one question you need to walk away from the interview knowing the answer to is…Do I want this job?

Hannah Morgan speaks and writes about job search and career strategies. She founded CareerSherpa.net to educate professionals on how to maneuver through today's job search process. Hannah was nominated as a LinkedIn Top Voice in Job Search and Careers and is a regular contributor to US News & World Report. She has been quoted by media outlets, including Forbes, USA Today, Money Magazine, Huffington Post, as well as many other publications. She is also author of The Infographic Resume and co-author of Social Networking for Business Success.