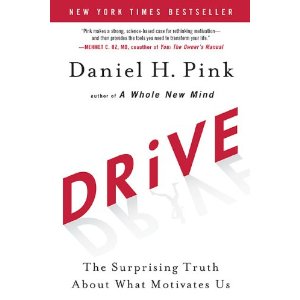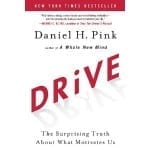 Daniel H. Pink's book Drive is a fascinating study on what motivates us.  He sites reputable studies that prove that money is not the best motivator for creative work.  If you understand where the US economy is moving, you realize we don't make widgets like we used to.  Many businesses and economists are saying that our future lies in producing creative, innovative stuff (that's a technical term). Thus the push to improve our science and math curriculum in schools.
Pink believes that autonomy is a true motivator, especially for creative work.  Think about call centers.  Pink said that there is close to 100% turnover in most call centers.  The work is grueling with little opportunity for autonomy.  Or so the leaders of call centers think.  (I used to work in a call center and believe me, I know.)  Your calls are recorded, you have quotas to reach, your outbound calls are dialed for you- basically your performance is rated on call stats.  Pink explained that Zappos call center is doing it differently.  They don't follow any of the normal call center metrics.  Call center reps are encouraged to take as long as they need to resolve a call,  talk to whomever they need to to resolve a problem, and given the freedom to manage their own time.  As a result, Zappos customers are some of the happiest in the world, so are the call center employees.  The turnover is very small.
What is going on here is a movement away from compliance, rules, must-do-it-our-way kind of thinking.  People want to be able to do the right thing.  That's the intrinsic value and the greater purpose behind work.
Each of us, leaders or not, needs to evaluate how we can move from compliant to engaged.  Engaged employees are better long term fits, provide greater value to the employer and contribute to the bottom line.  Sure, it would be great to work for an organization that fosters engagement principles, that believes in autonomy and purposeful work leads to better overall company performance, but not all "leaders" are there yet.
We can, with a little effort, propel ourselves into engaged work by going above and beyond.  We can ask for additional problems to solve or suggest special projects we would like to work on.
This idea crosses over into the "Linchpin" mentality that Seth Godin writes about.  Each of us has the opportunity to do great work, the kind of work that matters.  We can turn the mundane into the extraordinary by applying our passion and interest.
That is the huge challenge.
We aren't compensated or motivated to do extra, it has to come from within.  Hopefully, more organizations will begin to think about how they can create this environment.  There are many around the world successfully doing it already. Pink mentions several in his book.
As an employee, job seeker or leader, how can you evaluate autonomy?
Time:  Do you have freedom in determining how your workday is structured-start time, lunch time?
Team: Can you decide who you work with and how?
Tasks:  Can you determine what tasks you want to work on?
Technique:  Are you able to decide how you will work on tasks?

Hannah Morgan speaks and writes about job search and career strategies. She founded CareerSherpa.net to educate professionals on how to maneuver through today's job search process. Hannah was nominated as a LinkedIn Top Voice in Job Search and Careers and is a regular contributor to US News & World Report. She has been quoted by media outlets, including Forbes, USA Today, Money Magazine, Huffington Post, as well as many other publications. She is also author of The Infographic Resume and co-author of Social Networking for Business Success.