Imagine a resume writer showing you how to land an interview not using a resume. Well, that's what happened when Lisa Rangel of Chameleon Resumes and I decided to collaborate on 8 ways to land an interview without a resume. We each came up with 4 ways below, totaling 8 ways.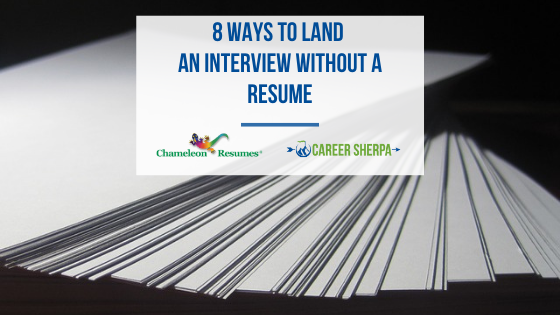 Once you master these 8 ways, does this mean you shouldn't have a resume or a LinkedIn profile or biography done? No. There are many ways to get hired. Some of those ways are with a resume and many are without a resume, as evidenced below.
The bottom line is, as Lisa says,
You need a resume to sell you when your reputation doesn't precede you."
These 8 ways allow you to create a reputation for yourself or lead with your reputation that you may not need the resume to land the interview. So you should have one ready, just in case. But never let not having a resume hijack your search. You can keep moving forward starting with the tactics in this list.
Here are Lisa's suggested ways:
(1) Attend a professional association networking event to connect with decision makers
While this may seem harder in pandemic types, professional associations are doing online events. And they are super excited when people log in! Make a deliberate point to reach out to 5-10 decision makers that seem like they are in your area of expertise, and ask for an informational interview. It's in the follow up where the opportunity lies.
(2) Comment on a professional blog of a department head leader
I personally landed an interview this way. I commented on a blog post of a department head and the author/department head called me in for an interview.
(3) Reach out to an author of a professional trade publication seeking an informational interview
Clearly this may not work if you are reaching out to someone as notable as Anthony Fauci, but if you reach out to leaders in science, healthcare and medicine companies specifically, citing the article on the research as the inspiration for reaching out, you can garner an "inspirational interview" versus an informational interview—and that could be the "in" you need.
(4) MPC Yourself
When I was a search firm recruiter, we would take the "most placable candidate" we were representing in any given moment, and market the MPC to decision makers at companies to see if we can set up an exploratory interview between the candidate and the decision maker. No reason why candidates cannot MPC themselves. Make a list of decision makers in your field at companies where you want to work, and reach out to promote your wins that may be relevant to the prospective company and ask for an exploratory chat.
Here are my suggested ways:
(5) Create A Presentation That Shows How You Solve A Company's Problems
Pitch decks are frequently used by sales to walk someone through how their product or service solves business problems. Guess what? You could do the same thing. Identify companies that you know have problems you could fix and send them your presentation about why they need you at the company. Use the same logic that Lisa spells out in MVP yourself above.
(6) Reach Out To Past Colleagues
Your past coworkers know your work well. Why not reach out to them at their new place of employment and find out what's going on there. Employees tend to find out about upcoming jobs before HR posts a job. And it isn't unusual for companies to promote job vacancies internally first. Your past colleague may even be the hiring manager or at least know a hiring manager they could introduce you to. You don't need a resume to have these conversations.
(7) Post Regular Updates Related To Your Industry/Occupation
Regularly share news or trends happening in your line of work. Even better, if you have strong writing skills, write about trends in your industry/occupation. You may even create a case study featuring one of your target companies and what they have done to improve their business. Be sure to tag the company or people you reference or the author of the article. This will get you on their radar and open the door for future conversations.
(8) Announce Your Job Search On Facebook
You likely have many "friends" on Facebook who you are not connected with on LinkedIn. And these "friends" may be able to help you reach your goal (or know someone who can). Your announcement on Facebook should clearly state the types of roles you are pursuing, the types of organizations you would like to work for and perhaps some of your top skills, certifications or qualifications. And why not include a link to your LinkedIn profile so your friends can connect with you there or at least check out your profile? You want as many people as possible to be able to help connect you to opportunities and Facebook is just one more place to do this. And if you are active on Instagram or Twitter, you could do the same announcement there.
Your Next Steps
Have any of these 8 ways to land an interview without a resume inspired you? Don't procrastinate, take action immediately! In order to do this, try putting the action on your calendar. Allocate an hour to get it done. That gives you more than enough time to do the research or reading to be able to make it happen.
Set Aside Time To Revise Your Resume
If you take any of these steps, eventually, you'll be asked for your resume and you don't want to feel embarrassed that it's not up-to-date.
If you're looking for a template to make crafting your resume easier, let me save you the work of googling. I greatly respect Lisa's work and this is why I recommend her resume templates as an affiliate link. This means if you click on the link and purchase the item, I will receive an affiliate commission at no extra cost to you. Here are three resume templates by Chameleon Resumes and everything you need to build a resume that will generate interviews.
You'll want to make sure your resume adheres to the latest best-practices. Your resume should be optimally laid out so that it appeals to the human reader and is ATS-friendly. And your resume bullets should highlight your accomplishments, not just job responsibilities.

Hannah Morgan speaks and writes about job search and career strategies. She founded CareerSherpa.net to educate professionals on how to maneuver through today's job search process. Hannah was nominated as a LinkedIn Top Voice in Job Search and Careers and is a regular contributor to US News & World Report. She has been quoted by media outlets, including Forbes, USA Today, Money Magazine, Huffington Post, as well as many other publications. She is also author of The Infographic Resume and co-author of Social Networking for Business Success.